Valvoline Full Synthetic with Max Life Technology 5W-30 Motor Oil, 5 Quarts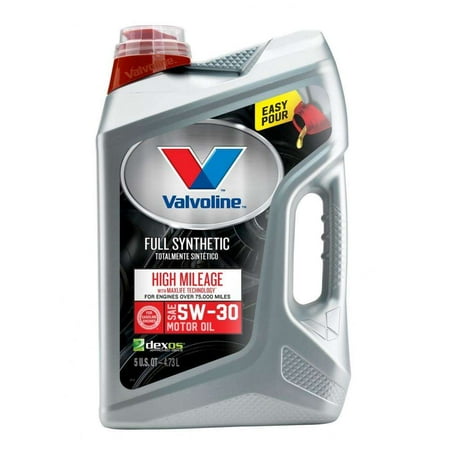 Sale :

$24.97

Sold & shipped by Walmart
Product Description

Additional Information

Reviews
Product Description
Full Synthetic with Max Life Technology SAE 5W-30 Motor Oil Choose our ultimate oil for long engine life! Engines over 75,000 miles have added stress from aging seals and typical running over 400F. Full Synthetic with MaxLife Technology handles the heat and has extra ingredients that recondition seals to help reduce leaks and future wear.
Additional Information
Valvoline Full Synthetic with MaxLife Technology™ 10W-30 Motor Oil, 5 qt:
40% more anti-wear film than Mobil 1* to the important metal surfaces of your engine
Special seal conditioners rejuvenate seals within the engine block to help prevent oil leaks
Increased anti-oxidants reduce oil breakdown to help prevent engine-clogging sludge and deposit formation
Additional friction-reducing additives help enhance fuel efficiency and horsepower
Shear stable viscosity modifiers help prevent viscosity break down
Enhanced detergents bond to metal surfaces to help prevent deposit formation
Additional advanced ashless anti-wear agents help prevent pre-mature engine wear
All of the benefits of a Full Synthetic motor oil with added technology for engines over 75,000 miles
*Based on anti-wear film generated in Cameron Plint Test, Valvoline Full Synthetic with MaxLife Technology™ 5W-30 vs Mobil 1 5W-30
Reviews
bwtral
LESS CONSUMPTION
Does not use oil like Mobil 1 did. Engine seems to be a little quieter.
MickyB
Good stuff
Of all the what's considered a group 3 motor oil this is better than Mobil One. The reason your new car (if you have one) comes with Mobil One it's because the company gives money and perks to companies and shops that will use it. It use to be great 20 years ago. Valvoline is a American company and makes outstanding products.
Red
My truck loves this oil
My Dodge truck is nearing 11 years now and is at 190k. I've done every oil change since the day I bought it and when it hit 100k I switched over to synthetic (coming from synth. blend). It help increase mileage and ran smoother, but it caused a very slow leak due to seals swelling. I have tried every oil out there labeled for "high mileage/full synthetic" and Valvoline's is the only one that doesn't cause my truck to leak.
Zesauce
Valvoline Full Synthetic with Max Life 5w30
This motor oil has 40% more protective Film than Mobile 1. This is the BEST 5w30 motor oil on the market!!!! Google (540 Rat Blog) this engineer did independent testing of 200 motor oils. This has "Seal Swell" Conditioners to prevent leaking as do all High Mileage motor oils. This is the best!! Quaker State Ultimate Durability Full Synthetic in 5w30 is $4.00 less and is 2nd best. But it is not a high mileage oil meaning it does not have seal swell. Best Prices on Walmart. com
Money
Best Bang for the Buck!
Best name brand high mileage full synthetic at the best price. You just cannot beat Walmart for oil pricing!