Valvoline™ Advanced Full Synthetic SAE 5W-30 Motor Oil - Easy Pour 5 Quart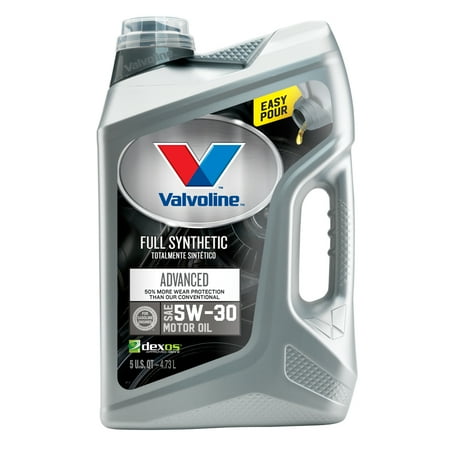 MSRP :

$33.58





Sale :

$24.97

Sold & shipped by Walmart
Product Description

Additional Information

Reviews
Product Description
Valvoline SynPower Motor Oil is designed to deliver engine protection by fighting the three major causes of engine stress: heat, deposits and wear. This full synthetic Valvoline 5W30 Oil provides engine cleanliness through sludge and varnish protection, and high-temperature and cold-temperature protection under severe driving conditions and for faster oil flow at engine start-up. Fully compatible with all conventional and leading synthetic motor oils, this 5-quart motor oil helps maintain fuel efficiency for the life of the oil. Valvoline 5W30 Oil is Dexos 1-inch compliant, has improved viscosity stability that reduces engine wear at high temperatures and provides more durable anti-wear additives that remain in the oil longer for superior protection against friction and engine wear.
Additional Information

Valvoline Full Synthetic Advanced 5W-30 Motor Oil, 5 Quarts:
Provides excellent engine cleanliness through superior sludge and varnish protection
5W-30 motor oil helps reduce engine wear at high temperatures with improved viscosity stability
Provides outstanding high-temperature protection under severe driving conditions
Provides superior cold-temperature protection through faster oil flow at start-up
Provides more sturdy anti-wear additives which remain in the oil longer for outstanding protection against friction and wear
Fully compatible with all conventional and leading synthetic motor oils
Reviews
carboncrank
Motor oil really is just motor oil.
I was a Valvoline user for 50 years and used the quick oil change shops from day one until they at first would no longer let me look under my car as they had for decades to get a look at things like tie rod bushings and especially CV boots, then stopped even letting me out of my car at Valvoline quick oil change shops. That is right, they don't even allow you to get out of your car at quick oil change locations anymore. Nobody does anything to my car that I can't see. As a former service manager in a transmission shop for years, I've seen what some shops will do. when you aren't looking. That is not an accusation, it merely means that if I can't see, the door is open, and cars are an open target for scammers. What they didn't know was that I already knew motor oil is motor oil and the only thing they had going for them was brand loyalty. I was just using their shop out of convenience, not because it's a great product. That fact is that motor oil is not a product, it's a marketing device. All you need to know about any brand of oil is the federally mandated information right on the bottle. API SG, JASO MA for instance totally describes Valvoline 4 stroke motorcycle wet clutch application oil. It is no better than any other oil that is certified in the same way. The brand on the label is irrelevant. The ONLY difference between brands is the way they are marketed. Motor oil is not a product, it is a marketing device. (and synthetic motor oils are not synthetic in any way most people think of when they hear the word synthetic. The base oil they use is out of the ground petroleum. So if you think you doing a good thing by not using petroleum, you are not.) If you doubt anything I've said about oil here just do your homework and go to google and find unbiased facts. Also notice Walmart doesn't put the mandated information in their product descriptions.
ignitor
make your engine happy
I've used Valvoline exclusively for 4 decades, because of the excellent results. SYN I've used about 10 yrs.. I've got 1 vehicle with over 325,000 miles, another 285,000, and valves,rings still in good condition, not burning oil. With SYN, I change oil & filter every 8>10,000 miles.
HeyDudeshopper
Best Deal Going For Full Synthectic Oil!!!!
This is a very good deal on the purchase of synthetic oil period ... And it being Valvoline Brand is just another big plus. This eliminates the excuse that synthetic oil is too expensive to purchase for ordinary oil changes ... Take care of that ride in the best way possible ... The best oil change possible!!!
Reefrat
Premium synthetic oil at a bargain
Cannot beat this synthetic oil for value or performance. I highly recommend this oil.
DrewfromRVA
Great Product. Does its job.
I've used this product on 2 different vehicles. Wife's 2002 BMW (this oil is listed by BMW North America as an approved OE oil for BMW 3 series) and the newer 2012 Chevy Equinox LT. Had no issues thus far and oil looks fairly clean at regular oil intervals. Take care of your car, spend the extra $ for full synthetic. Can't beat Walmart's price on a top known brand of full synthetic.