Valvoline MaxLife Multi-Vehicle Automatic Transmission Fluid, 1 Gallon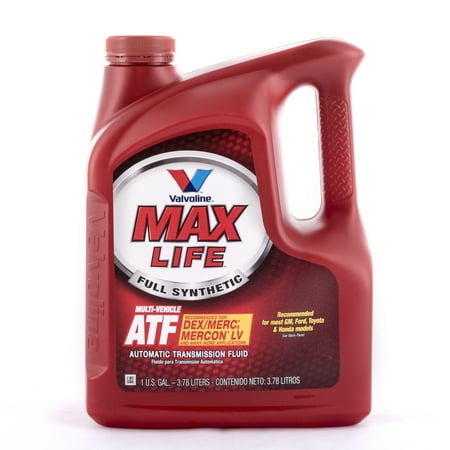 Sale :

$17.97

Sold & shipped by Walmart
Product Description

Additional Information

Reviews
Product Description
"Valvoline™ MaxLife™ Multi-Vehicle ATF is a full synthetic formulation with advanced additives to prevent the major causes of transmission breakdown and help extend transmission life. Developed to help prevent leaks, maximize transmission performance, reduce transmission wear, and maintain smooth shifting longer than conventional fluids. It is suitable for use in a broad range of ATF applications including most Ford, GM, Toyota & Honda models as well as Dex/Merc, Mercon LV and many more applications.. "
Additional Information
Valvoline™ MaxLife™ Multi-Vehicle ATF, 1 qt:
High-performance seal conditioners maintain and perserve the elasticity of seals to help prevent leaks
Full synthetic base oils and long-life friction modifiers help improve smooth shifting, eliminate slippage and shudder, prevent clutch wear and improve drivability longer than conventional fluids
Enhanced cleaning additives help reduce varnish formation and keep the transmission running properly longer
Engineered with unique blend of viscosity modifiers and base oils to provide better oil flow at low temperatures and greater film protection at higher temperatures
Reviews
hondoman45
The full synthetic version max life is great!
To clarify, this review is for the full synthetic Maxlife atf. The picture here is not accurate, but the price is. Others have mentioned this in their reviews, but I've never seen the container pictured on Walmarts website at any of their stores. I've been using this for some time now in different vehicles with no issues, and it appears to work as well as the Amsoil signature series atf I had been using until it became cost prohibitive for me to continue using with multiple cars. I do a complete flush using the trans cooler lines as well as draining the pan. Amsoil has info on how to do this and it isn't hard to find sites that offer similar advice. Basically, this atf does the same job as Amsoil for less than half the price. I love Amsoil but it costs an arm and a leg with all the cars I am servicing. Thanks Valvoline for a great value in a premium atf! BTW, don't despair if you can't find this at every Walmart, as only a couple of stores carry it where I live. Their website shows where it is available.
ykor
Great ATF for my 2003 Hyundai
This ATF so far is working fine on my 2003 Hyundai Santa Fe as a replacement for original SP-III ATF. Shifting is smooth again, but I replaced the whole fluid. Highly recommended.
ZAGAT
BEST TRANSMISSION FLUID ON THE MARKET!!!
VALVOLINE MAXLIFE is without a doubt the best transmission fluid on the market especially for older cars that have over 75,000 miles on it. I've had my orginal transmission now on my 2003 Pontiac Grand Am GT Sedan for 187,000 miles and it runs like new. I started using this VALVOLINE MAXLIFE when my car reached 75,000 miles on it and it has continued to run flawlessly ever since. I also use VALVOLINE MAXLIFE oil and that too is phenomenal.
Sackattack
Excellent Product at a great price!
I know several people that use this Maxlife ATF, and every one of them love it. I use it in some of my cars and I have not been disappointed. Although I do use Amsoil ATF and Mobil1 ATF in some of my other vehicles, the Maxlife is the best bang for the buck by far.
Albuquerqueman
Great alternative to expensive Toyota T IV and WS
I use it in all my Toyotas and Lexuses. I've total 4 of these.