Valvoline™ MaxLife™ Multi-Vehicle Automatic Transmission Fluid - 1 Gallon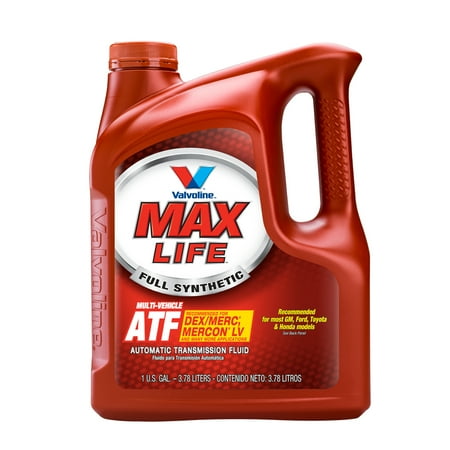 Sale :

$17.97

Sold & shipped by Walmart
Product Description

Additional Information

Reviews
Product Description
Valvoline™ MaxLife™ Multi-Vehicle ATF is a full-synthetic formulation with advanced additives to prevent the major causes of transmission breakdown and help extend transmission life. Developed to help prevent leaks, maximize transmission performance, reduce transmission wear, and maintain smooth shifting longer than conventional fluids. It is suitable for use in a broad range of ATF applications including most Ford, GM, Toyota, Honda, Nissan, Hyundai, BMW, Mercedes, Volvo, VW & Audi. Recommended for use in the following applications: GM DEXRON-II, DEXRON-III, DEXRON-VI, Ford MERCON LV, Toyota/Lexus Type T, T-II, T-IV, WS, Honda/Acura, ATF-Z1, Nissan/Infiniti Matic-D, Matic-J, Matric-K, Matic-S, Hyundai/Kia SP-II, SP-III, SP-IV, SPH-IV, BMW 7045E, ETL 8072B, LA2634, LT71141, Allison C-4, Mercedes Benz NAG-1, Volvo 1161521, 1161540, 97340, 1273.41, and VW/Audi G-052-025-A2, G-052-162-A1. For CVT applications Valvoline recommends Valvoline Full Synthetic CVT Fluid.
Additional Information

Valvoline™ MaxLife™ Multi-Vehicle Automatic Transmission Fluid - 1 Gallon:

Formulated with full-synthetic base oils and long life friction modifiers to help improve smooth shifting, eliminate slippage and shudder, prevent clutch wear and improve drivability longer than conventional fluids

High-performance seal conditioners maintain and preserve the elasticity of seals to help prevent leaks in high mileage transmissions

Developed with anti-wear technology to help improve transmission durability

Engineered with a proprietary blend of base oils and advanced additives to provide better oil flow at low temperatures and greater film protection at higher temperatures

Reviews
Mysai
Valvoline MAXLife is good as OEM fluid.
This Valvoline MAXLife is helping me to save a lot of money for sure and my 1999 Toyota Sienna Trans run as good as OEM fluid without any problems.
hondoman45
The full synthetic version max life is great!
To clarify, this review is for the full synthetic Maxlife atf. The picture here is not accurate, but the price is. Others have mentioned this in their reviews, but I've never seen the container pictured on Walmarts website at any of their stores. I've been using this for some time now in different vehicles with no issues, and it appears to work as well as the Amsoil signature series atf I had been using until it became cost prohibitive for me to continue using with multiple cars. I do a complete flush using the trans cooler lines as well as draining the pan. Amsoil has info on how to do this and it isn't hard to find sites that offer similar advice. Basically, this atf does the same job as Amsoil for less than half the price. I love Amsoil but it costs an arm and a leg with all the cars I am servicing. Thanks Valvoline for a great value in a premium atf! BTW, don't despair if you can't find this at every Walmart, as only a couple of stores carry it where I live. Their website shows where it is available.
Lumberjack
Valvoline MaxLife ATF fully synthetic
Best transmission fluid bar none for my 03 Avalon or any other model of vehicles that used Dexron Ill. Before this l used Oreilly's brand of non-synthetic blend so l constantly had delay of engagement in transmission shifting first thing every morning or whenever the transmission is cold. I hardly ever drive during the 2 years l changed to O'reilly's was why l still have my transmission. Personally l believe this Valvoline MaxLife has saved my transmission with smooth and sailing and un-notice in shifting. I even changed to OEM Toyota ATF brand on my first try, but it didn't fare well either. Please note that older Toyota cars or trucks used Dexron Il or lll. If it says OEM Toyota ATF doesn't mean it is 100% compatible. Please always first check the Owner's Manual.
oboyt
I like it
Glad to find it at a nice price. I bought 2 gallons and just did a drain and fill (not a full flush) on a 2003 Sequoia. That replaced a little over 4 quarts of the existing fluid and seems to work fine. Of course, time will tell but I feel confident about this product.
Zero
Great value
It works! 4Runner first change in 187k miles and still going smooth. What else can I say. Better than the expensive Toyota stuff. I don't mind even if I have to change it more often for the price.