Valvoline™ MaxLife™ Multi-Vehicle Automatic Transmission Fluid - 1 Gallon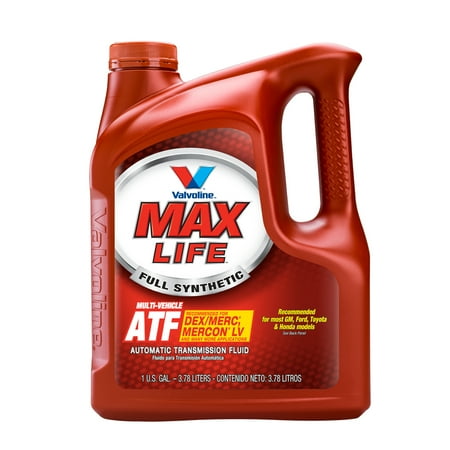 Sale :

$17.97

Sold & shipped by Walmart
Product Description

Additional Information

Reviews
Product Description
Valvoline™ MaxLife™ Multi-Vehicle ATF is a full synthetic formulation with advanced additives to prevent the major causes of transmission breakdown and help extend transmission life. Developed to help prevent leaks, maximize transmission performance, reduce transmission wear, and maintain smooth shifting longer than conventional fluids. It is suitable for use in a broad range of ATF applications including most Ford, GM, Toyota & Honda models as well as Dex/Merc, Mercon LV and many more applications..
Additional Information
Valvoline™ MaxLife™ Multi-Vehicle ATF, 1 qt:
High-performance seal conditioners maintain and perserve the elasticity of seals to help prevent leaks
Full synthetic base oils and long-life friction modifiers help improve smooth shifting, eliminate slippage and shudder, prevent clutch wear and improve drivability longer than conventional fluids
Enhanced cleaning additives help reduce varnish formation and keep the transmission running properly longer
Engineered with unique blend of viscosity modifiers and base oils to provide better oil flow at low temperatures and greater film protection at higher temperatures
Reviews
Mysai
Valvoline MAXLife is good as OEM fluid.
This Valvoline MAXLife is helping me to save a lot of money for sure and my 1999 Toyota Sienna Trans run as good as OEM fluid without any problems.
hondoman45
The full synthetic version max life is great!
To clarify, this review is for the full synthetic Maxlife atf. The picture here is not accurate, but the price is. Others have mentioned this in their reviews, but I've never seen the container pictured on Walmarts website at any of their stores. I've been using this for some time now in different vehicles with no issues, and it appears to work as well as the Amsoil signature series atf I had been using until it became cost prohibitive for me to continue using with multiple cars. I do a complete flush using the trans cooler lines as well as draining the pan. Amsoil has info on how to do this and it isn't hard to find sites that offer similar advice. Basically, this atf does the same job as Amsoil for less than half the price. I love Amsoil but it costs an arm and a leg with all the cars I am servicing. Thanks Valvoline for a great value in a premium atf! BTW, don't despair if you can't find this at every Walmart, as only a couple of stores carry it where I live. Their website shows where it is available.
Casper
Best quality fluid at a fair price. Thanks Walmart
A full synthetic atf fluid at a fair price. Go to Valvoline websight to see all the applications this fluid covers , amazing all the applications it covers .Mine called for mercon5 and this fluid covers mercon5 . Was having downshifting problems and fluid filter change fixed it. 1998 Windstar .Thanks Valvoline ! Thanks Walmart !
mimis
not good for cars that require dexronIII
i bougt 3 of this at Walmart and drain and refill my auto transmission and changed filter and gasket on Nissan xterra 2001 and man do I REAGREAT doing this. now I have a a code p0705 transmission sensor switch . may car reverse lights are on now and I have to spend more money to flush it out and put dexron iii if I can find it. so my advice is do not put this in your transmission stick to the regular dexron iii . even do this says you can put in there don't do it or you will have the same problem I have now
Wigman42
Be used instead of Toyota WS transmission fluid!!
I used this in my 2013 Tacoma. Excellent product, great price and I did a complete flush on my transmission with NO problems!