Valvoline High Mileage with MaxLife Technology SAE 5W-30 Synthetic Blend Motor Oil - Easy Pour 5 Quart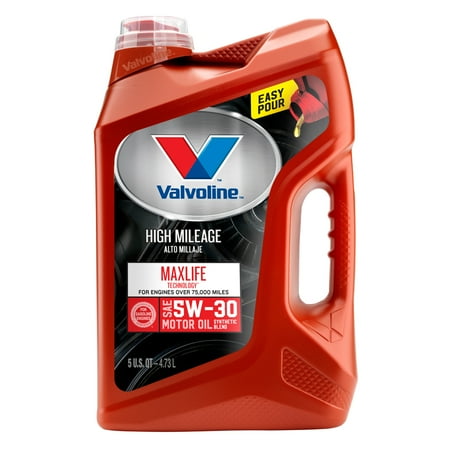 MSRP :

$18.27





Sale :

$17.97

Sold & shipped by Walmart
Product Description

Additional Information

Reviews
Product Description
The Valvoline 5W30 MaxLife Motor Oil is designed for high-mileage engines. This automotive motor oil extends your engine life by fighting the four major causes of breakdown - leaks, deposits, sludge, and friction. The synthetic blend formula contains patented Multi-Life additives designed to fight the problems unique to older engines. It includes special seal conditioners that rejuvenate seals and help to prevent oil leaks which lead to sludge and deposits. The synthetic blend motor oil also includes additional friction-reducing additives that help to reduce abrasion within the engine. Keep your higher mileage car or truck running for a longer period and with extra protection by using the Valvoline High Mileage engine oil.
Additional Information
Valvoline MaxLife High Mileage 5W-30 Motor Oil, 5 qt:
Superior performance when fighting the four major causes of engine breakdown: leaks, friction, deposits, sludge
Special seal conditioners rejuvenate seals within the engine block to help prevent oil leaks
Additional friction-reducing additives help enhance fuel efficiency and horsepower
Increased anti-oxidants reduce oil breakdown to help prevent engine-clogging sludge and deposit formation
Advanced dispersants bind to contaminants and combustion by-products to help prevent sludge formation
Additional advanced ashless anti-wear agents help prevent pre-mature engine wear
Reviews
astepabove
UPC : 074130001848 - Valvoline High Mileage with MaxLife Technology SAE 5W-30 Synthetic Blend Motor Oil - Easy Pour 5 Quart - PickPanda.com
great for new cars too! I have a 2018 hyundai elantra and I tried them all ,and did not get the performance I was expecting, I decided to give max life synthetic blend, and the result were astounding, 3mpg increase, smoother better response and quieter, you honestly won't find anything that comes close to the quality of valvoline max life.
Corey
Excellent product
I decided to use Valvoline after I discovered a leak coming from underneath my 96ranger. The leak was coming from the rear of the engine and was slow. I put Barr's stop leak in the engine and it stopped the leak, but became pricey. I do my oil changes my self if possible and just really started to read the back of the containers to understand the blends put in types of oil.. Valvoline impressed me with there claims.. Like stopping oil leaks through conditioning.. So to cut costs I tried it, and now have been using it for over 1year.. Pound for pound ,best oil I've put in my vehicles.. It stops leaks and your engine likes it ,at least mine do.. I put it in my 06 expedition that consumed about a quart of oil between changes.. I consume hardly any now.. I'm just saying I know my vehicles and I think I know a good oil.
Blacklabelmaster
GOLDEN AFTER MILES AND MILES
So in my LEXUS ES350 ive been using the oem filter and mobil 1 oil. After just 250 miles i would get completly black oil. So i thought its time for a change so i switched to a purolator classic filter and valvoline maxlife synthetic blend. After driving 726 miles i pulled the dipstick wiped it on a paper towel and the oil was golden like it had just come out of a new oil case. I am also seeing a increase in my fuel economy i was getting 18-22 on mobil 1 now with valvoline im getting 24-26 easy. I am NOW A PERMANENT VAVOLINE CUSTOMER. This oil on top of quality its very affordable. For the high mileage mobil 1 i was using i would pay 30 for 5 quarts now. THis cheaper and better. You get way more then you pay for with this oil.
Pmac
Works well!
Okay, last month my 2010 Toyota Highlander had 124,800 miles on it when I noticed oil was leaking from an engine seal. I decided to switch to the Valvoline "high mileage" oil to see if it would condition the seal and stop the leak as they claim. I switched over at 125,000 miles and now have 126,100 miles on the vehicle. Well, I'm happy to report that the oil did as it claimed. The seal no longer leaks after 1100 miles of use! Motor oils are very hard to differentiate from one another and I cannot tell differences between the brands myself, but the Valvoline works well in the Toyota and sealed the leak. An added benefit is that Walmart prices the 5 QT. jug very reasonably. Happy to recommend it.
Hottot
Works very well
Valvoline MaxLife 5w30 is the only oil I use in my vehicle. It performs very well at sub-zero temperatures, and has never failed me. I change my oil between 3500 and 4000 miles, using Valvoline MaxLife, and have not experienced a leak yet with close to 122,300 miles on my vehicle. I used to take it to a local dealership, who used their own house brand. At 95,000 miles I switched to Valvoline MaxLife at the recommendation of an AutoZone employee, and started changing the oil myself. I'm glad I did. It does what it says, and I would recommend it to anyone who wants to make their engine last.