Conair Soft, Bouncy Curls Foam Rollers, 48 count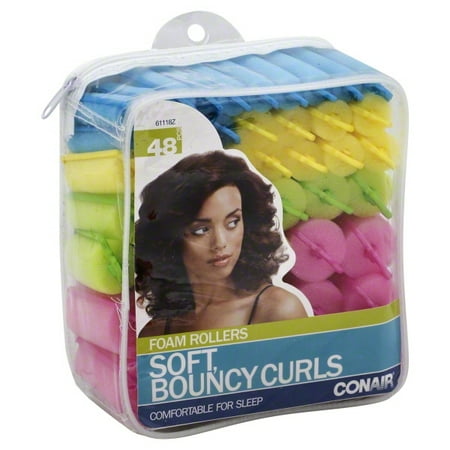 MSRP :

$8.99





Sale :

$9.47

Sold & shipped by Overstock Drug Store
Product Description

Additional Information

Reviews
Product Description
Conair Soft Foam Rollers are a convenient tool for creating the style you want. Use this 48 pack of hair rollers to create tight and defined curls, as well as adding body, volume and waves to your hair. Conair Rollers are designed with comfort in mind and are made from soft foam so you can sleep in them without losing a wink.
Additional Information

Foam Roller, 48 Pack:
Creates tight and defined curls
Conair Foam Rollers are comfortable to sleep in or to wear at any time
Helps to create body, volume and waves
Reusable hair care accessories
Zippered container for easy storage
Good for thin, thick or any style of hair
Easy to use
Multicolored hair rollers
Get ready for a special event or big night out
Apply and remove them quickly
Turn heads once you step out of the house
Reviews
Kathor
Foam Rollers
I have long hair and roll my hair twice a week. I roll my hair up damp and have two styles. One where I start at the tip of my hair and roll for a curl at the end of the hair, and the other I start at top of curler and wind the hair around the curler to get a curly springy look. The curly look I usually sleep in and it turns out just right the next day when I take the curlers out. The one for just the ends of my hair I spritz with a little water on the ends then dry with a hair dryer once the curlers are in. Once dry I use hair dryer on each curl for about 10 seconds each and do that about four times in a two hour period. I let them cool in my hair for at least 15 minutes and then remove curlers in about two hours or whenever getting ready to leave for the day. I am always getting compliments from people on my hair. These are great curlers to sleep in and are gentle on your hair. Other curlers seem to pull your hair out, especially if you try to sleep in them.
JenniferJustBoughtIt
Very Pretty and Functional
I bought these for some wet and dry sets to a pixie that is growing out - heavily layered with tapered ends - probably not the best ends for rollers with such an open clasp system. The rollers are soft and do not grip on their own, they are foam, so if you have tapered ends, you must either twist them around a bit tight, or use a lotion, or apply wet. The are brightly colored, and the clips are pearl and shiny - very pretty overall, and the case is a clear plastic with a zipper - great for these, or something else. They do tangle hair if you do not set them in the middle of the foam, or if they slip, so secure well. Best used overnight with a scarf, but these can be used for a short time with some product and heat for a quick set, too. Wet-sets will take longer to dry, since the foam rollers are rather dense and air needs to get to them, unless you use a hood dryer. Overall, they are a good, solid purchase, and are extremely versatile. The case makes them great for on the go. I believe there are about a dozen or so of each color in the four sizes - about an inch on down. Remind me of my Gram, so I love them more for that.
Bebbie
The 'oldies' are the best!
I just wanted to leave my opinion about these foam rollers/curlers. I love them! I can remember using these back in the mid 60's, funny how many of the old products are superior to the new ones! I bought 4 packs of these, gave a pack to my 8 yr old granddaughter and a pack to my 13 year old granddaughter. I kept the 2 packs for ME. I am 67 and have noticed the past 6 mths or so how dry my hair is getting...I have been using a curling iron for many years and I was sure that was the culprit. When I saw these rollers on sale for alittle over $3 for a pack of 48, I ordered them. It has been 2 wks and my hair, believe it or not, is shiny and starting to get some bounce and life about it again!! I am very satisfied with my purchase. I use the green and yellow mostly for the 'curly' look with my med short hair. I am very pleased with the results. The only negative thing I can think of is: sometimes when curling your hair the long 'arm' that snaps shut will pop off the curler and you have to snap it back on before completing the roll up, or take the curler off and start the 'rolling up' process over again. And, if you are not careful, a few strands of hair will miss the foam and get taggled in your snap 'hinge' making it hard to take out your curler/roller. I don't wet my hair much, very little, otherwise it will not dry completely for me. It takes about 10-12 mins for me to roll my hair and I have taken it down in 45 mins and it is great, most the time I leave it up 1-2 hrs while I do chores. Hope this helps. Oh and by the way....I went to Walmart the day after my curlers arrived by carrier (fedex or ups) and they were $8 and something a pack! I sure got a bargain on each pack...that's a $5 a pack savings!!! I am happy.
lovecurlyhair
awesome rollers!!
Bought 2 of these for my 3 girls, 2 who have long thick hair. I used green and yellow on them. on my daughter with short thinner hair, I used blue. I put them in at night after baths and in the morning they have the prettiest curls ever for school. With three girls to get ready in the morning it just rocks to be able to get hair done the night before. And they love to sleep in themm not uncomfortable hardly at all for them. Much better than stick rollers or velcro ones. These rock!!!
ReadMyLips26
Great for pretty curls
I've had these for some time and I love them! They are great to put in my hair at night and no damage to my hair at all. I take them out when I get dressed and love to pull my hair into a loose, curly, messy bun. They are a great alternative to a damaging curling iron and I can do my hair in half the time! I used them on a friend's updo for her prom, with touch ups from a curling iron, and she was so happy with them! I love them and would definately recommend them to anyone!