Conair Foots Spa with Bubbles, Massage & Heat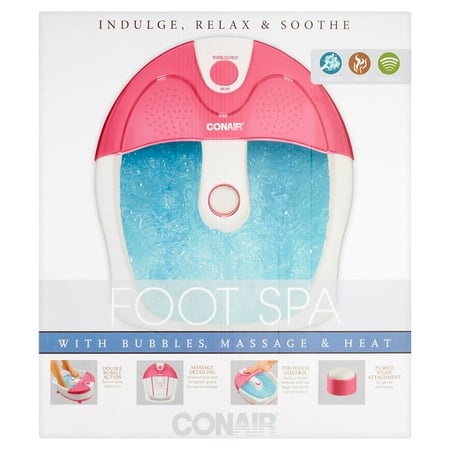 MSRP :

$19.88





Sale :

$9.94

Sold & shipped by Walmart
Product Description

Additional Information

Reviews
Product Description
Foots Spa with Bubbles, Massage & HeatWith Bubbles, Massage & Heat❶ Foot Spa Comfort your feet with invigorating bubbles & calming heat❷ Toe-Touch ControlEasily activate features with the large toe-touch control button❸ Pumice Stone AttachmentFor gentle exfoliation❹ Massage DetailingTextured foot rest on splash guard for extra massage❺ Extra-Deep BasinFor enhanced massage
Additional Information
Product Features
Bubbles, heat, massage
Indulge, relax & soothe
Bubbling action to create invigorating sensation
Heat provides calm relaxation
Massage soothes tired and aching feet
Box - Recyclable
Conair Corporation,
East Windsor, NJ, 08520,
Glendale, AZ, 85307.
©2016
Reviews
RlNlGllsp9
No Heat, Get What You Pay For
I got this as a Christmas gift and was really excited! As a server, I come home with achy feet almost every busy night. I tried this out immediately and was slightly disappointed. The heat feature, which is described as to maintain the water temp you begin with, is faulty. No, the water does not get cold, but it definitely simmers down to a lukewarm temp. I personally love HOT water so I started with a gallon of boiling water and a gallon of my sinks hottest water. Of course I wasn't expecting it to keep it THAT hot, but I was expecting it to at least maintain a temp that's warmer than an infants bath water. The bubbles didn't stop for me, they felt nice against the bottoms of my feet. I was able to sit comfortably in my chair while using this. The sound level is about the same as a fan, I had to turn my tv up a couple notches-no biggie. I wish there was more pressure/massage and I wish the heater element worked better but for the price, it's nice.
Monique
No Heat
It very misleadingly says that it has massage and heat. THERE IS NO HEAT!!!!! It claims to maintain the temperature of the warm or hot water you put in, and it doesn't. It does not heat the water AT ALL!!!
Topaz
Bad!!!!
Did not heat at ALL!! Says that it bubbles also but when you put your feet down in it the bubbles stop. Waste of money I returned it
jenn
would not recomend
It states that it will maintain the temperature of the water if its warm when you put it in but it does not it still gets cold quickly. i returned the item.
Angry
Horrible
I would not recommend this to anybody!!!! It does not heat!!!!! Very misleading!!!!!