Two-Sided Lighted Makeup Mirror with 4 light settings and 3 Panels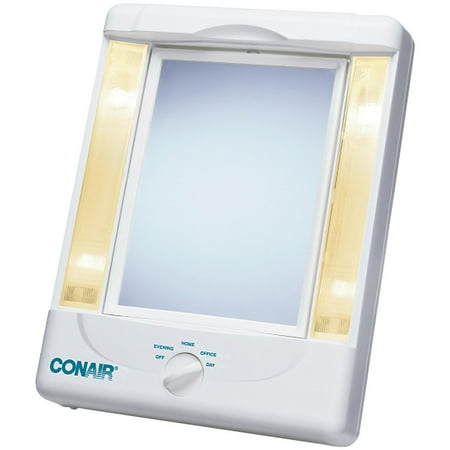 MSRP :

$46.99





Sale :

$42.08

Sold & shipped by The Factory Depot
Product Description

Additional Information

Reviews
Product Description
Look gorgeous for any occasion with the help of this Conair Two-Sided Makeup Mirror with 4 Light Settings. It features an on and off switch that lets you simulate day, evening, office and home conditions so you can always look your best. This lighted vanity mirror is also equipped with a magnifying feature that zooms in on your fAce up to five-times closer. The stand adjusts to any angle and folds down for easy storage when done using.
Additional Information
Lighting Simulates Day, Evening, Office & Home
1x/5x Magnification
Adjusts To Any Angle & Folds For Easy Storage
On/off Switch
Reviews
Junemom
Don't buy
I bought this mirror for my vanity table. Has poor lighting, the different light settings are useless you have to leave it on daylight setting for the best bright light, and even then you won't get what you need because the top lights are white and bottom ones are a warm yellowish tone. The eveing setting is useless. Light is so dim I'll rather use the bathroom light. I don't get the two tone lights concept. It should have one tone and allow the user to dim when needed. It is light weight, which makes it portable but again the lights do not help. Unless you get extra light I wouldn't thrust this mirror. The next price comparable option would be the round chromed mirror if it wasn't for the chemical hazzard warning according to the state of California, so that's a no no for me as well.
ScopingOutSavings
only one that's bright enough for me
PROS: Having 4 levels of lighting is good. The brightest light is definitely light enough (not all Conair mirrors have a bright enough high setting.) Magnification on the other side. Price is half the price of the oval-shaped ones. Some have 2 side mirrors too. CONS: After about 2 years, I had to replace a couple of bulbs. (I would purchase an extra set, of 4 10-watt T-type bulbs to have on hand, in case they burn out.) You can get them through an 800 # for Conair inside the unit or from Amazon, etc. ALTERNATES: They have oval-shaped ones. But the brightest level is very dim compared to this one's. And the lightest one is VERY dim, especially compared to this mirror. It is also double the price of this one. There is also a very small one with LED lighting for around $25. It is a quite small mirror and very short, as well.
ScopingOutSavings
Conair Makeup Mirror
So I purchased this product 12/21/10 for my wife, ordered it "one day shipping" got it 12/24/10 which was not one day shipping but I was happy it was before Christmas so it all worked out. Great product, the mirror with lights has a cool feater because my wife does her makeup on the floor of our room and the only light is a ceiling light or a side lamp which is not enough light also weird angled light, so it was difficult for her to get enough light. So that is the reason for the purchase and she definatly notices the difference. With the double sided mirror it is somewhat loose so it does not "lock" into place it moves a bit but not big issues there especially because it is just resting on the floor most of the time. The light features are pretty cool as well they have the four different settings which she mostly leaves it on sunlight because it produces the most light but it is a cool feature to see what the makeup looks like in different lightings. It can also be positioned on the back to a certain angle of choice, although it cannot be "latched" into a 90 degree angle so it has to rest at that angle (easy chance of falling). Overall product is great for my wife, she loves it and it works perfectly!
benncel
Conair Lighted Magnifying Mirror
Love this mirror. It was a replacement to the exact same mirror I've had before but got lost in a move. The multi lighting settings allow you to really apply your make up correctly for the setting you'll be in, work, home, out at night etc. But most of all I got it for the magnifying side. My vision is going and I needed the magnifying mirror for tweezing. It's perfect & my 12 year old daughter thinks so too. I often have to track it down in her bathroom. Great value too!
aomea
Conair Lighted Magnifying Mirror
I bought this mirror as my friend had a similar one that I absolutely loved! Unfortunately my Walmart did not have it so I went with this one. I had to return as the light was very yellow and it just wasnt what I was looking for.