Infiniti PRO® 1 1/4" Wet/Dry Tourmaline Ceramic™ Curling Iron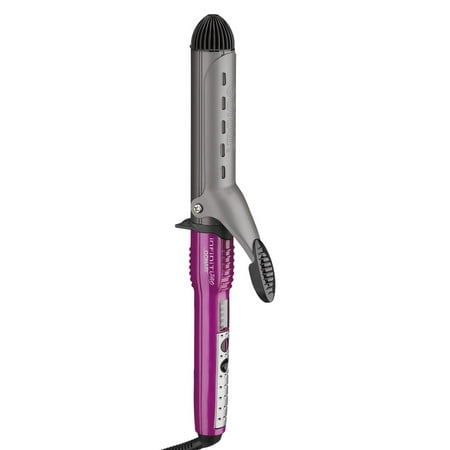 MSRP :

$34.99





Sale :

$11

Sold & shipped by Walmart
Product Description

Additional Information

Reviews
Product Description
The Conair 1.25" Infiniti Tourmaline Ceramic Curling Iron allows you to produce luxurious, voluminous curls that will last. It combines the powerful properties of tourmaline technology and the benefits of ceramic to bring you a superior performance you can count on. Ultra high heat levels are emitted to deliver professional looking curls right at home. You can easily eliminate frizz and protect your hair's natural shine with this Conair ceramic curling iron. The tourmaline ceramic technology also protects your hair against damage while still achieving bouncy curls. It makes it simple to create big lavish curls, thick waves or small tight tendrils. This ceramic hair curling iron has five LED heat settings for a personalized experience. It will even turn off automatically. The large handle of the Conair 1.25" Infiniti Tourmaline Ceramic Curling Iron makes it simple to grip as you curl.
Additional Information
Conair 1.25" Infiniti Tourmaline Ceramic Curling Iron:Powerful tourmaline technology1.25" Conair ceramic curling ironConair ceramic curling iron has ultra high heat levelsFrizz and damage controlKeeps hair protectedCan be used on either wet or dry hairUses nanotechnology to eliminate hot spots while reducing static frizz for healthy hairHas natural ions for a maximum shineMade with an extra smooth tourmaline ceramic surfaceTakes on 30 seconds to heat upDesigned with 5 LED heat settingsWill automatically turn off
Reviews
Teresasreviews
Perfect
I absolutely love this Curling Iron it doesn't make the curls too tight and it doesn't fry my hair.
corinne5110
Favorite Curling Iron!
I LOVE this product! Ive been searching for a good working curling iron that doesnt cost tons of money and this is deffinitely the one. I wont buy another. Its great that it has the different heat settings. I have thin hair, so I put it on a heat setting towards the middle and I literally leave the iron in for 5 seconds and it gives me perfect curls! I get so many compliments on my hair, and many people ask me if I do anything special. But I dont, I just use this! I have recommended it to many people and friends have used it and gone right out to buy their own. 5 starts, its perfect. :))
bdub
Couldn't be better
The plastic tip on the handle broke off after 8 yrs of use, so I needed to replace it as it is really is a great curler. The feet are so stable compared to other wire-type rests. It alway heated up quickly and love the plastic sheath that comes with it so it can readily be stowed away. The heat levels are accurate so you don't fry your hair and I find the 1¼" barrel just the right size for adding a gentle curl to my semi-long thick hair. My sister-in-law originally recommended it to me and she has short thin hair and it gives her a quick perfect lift for her style - very versatile. Considering I got 8yrs use from it, it's more than a bargain.
Marie
Takes longer to get the curly wavy look.
I like this curling iron because it adds bouncy volume to my hair, however, it takes way longer than I had hoped to obtain a curly/wavy look. My old 1" Conair curling iron (that I purchased back in the late 90's) can produce curls way faster. Also, there are 4 heat settings on this iron. If I do not turn it up to the 3rd or 4th level I cannot get the results I want. Although I have a lot of hair (very dense) I do think this curling iron takes a bit longer than it should, even for me. Also, I feel like it's easy to burn or get my left fore finger burned or super hot from holding the tip of the iron. It does not stay at room temperature as my old curling iron tip does. This makes it difficult because I have to hold my hair in the iron longer to obtain the wavy curly look, but my finger gets hot. I would recommend getting heat resistant gloves for your opposing hand that will be holding the tip when you curl your hair. I would rate this average because I expected it to be a bit better. I do like that it comes with a case to cool the iron off right after curling.
KMRinKY
Great!
This is a great iron. I love the 1.25" size, as a 1" can be a little small and a 1.5" can be a little big. This created nice curls that were neither too loose nor tight. I love that it heats up quickly and evenly, and I also love the cover as I have a small child and want to keep her safe from burns. I have below the shoulder, thick hair that holds curl. This iron did a great job curling my hair quickly. The performance is fantastic and the cost is great! I highly recommend!