Waterpik Cordless Plus Water Flosser WP-450, White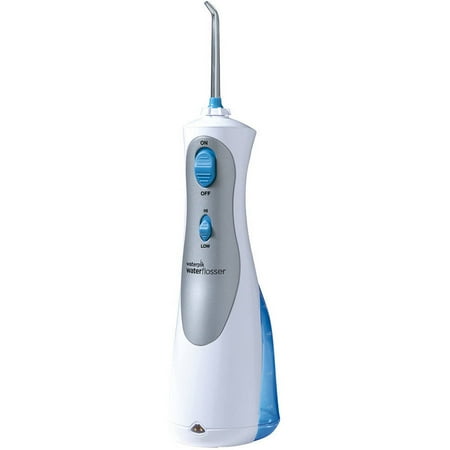 MSRP :

$54.99





Sale :

$42.88

Sold & shipped by Walmart
Product Description

Additional Information

Reviews
Product Description
The Waterpik Cordless Plus Water Flosser (WP-450) is clinically proven to be twice as effective as string floss at improving gum health. It provides an easier and more effective alternative to string floss, ideal for those who don't like to floss. This cordless water flosser offers a unique combination of water pressure and pulsation to massage and stimulate gums. It cleans deep between teeth and below the gum line where traditional string floss can't reach, making it suitable for anyone with braces, implants, crowns, bridges or periodontal pockets. The Waterpik Cordless Plus Water Flosser also includes the special orthodontic tip, clinically proven to be three times more effective than string floss for removing plaque around braces.

Additional Information
Reviews
jazzmaster
Absolutely WONDERFUL Product!
First let me say, I HATE FLOSSING! But it's necessary for healthy gums and teeth. The Waterpik Cordless Plus Water Flosser arrived on 5/14 and I charged the unit for 24 hours before use. I tried it for the 1st time on 5/16. It is so easy and quick to use. I love it! I actually used it several times yesterday because it really feels good, plus your teeth feel extra clean cleaning between the crevices. I plan to order some different water flosser tips for this unit. I highly recommend the product.
WFK762
Battery pack not holding charge after only 8 month
Overall I liked the Waterpik Cordless Water Flosser until recently when it seemed to lose it power. Started charging everyday and that helped. The battery pack is already going bad. I opened up the unit and water has gotten inside and is corroding the negative end of the battery. Waterpik has a design flaw if water is migrating into the unit.
777Honey
I love the ease of use!
This is so easy to use. Yes, you do have to refill the chamber once- but it is so easy! You just flip up the little seal, pour lukewarm water from the tap directly into the water container (attached to waterpik), then flip the seal closed. It takes no more than several seconds, especially since you're standing right by the sink anyway. lol What I generally do is fill it, do all the top teeth until it runs out, then fill it again and do the bottom teeth. I think the jets have the right amount of pressure, (though "high" isn't that much of a difference, only a bit more forceful)- and it is fast to use, dry off, then set aside for the next use. I like it a lot better than the original waterpik- which I also own but found easy to eventually put aside and not use or ignore/dread because of the hassle and the irritating tubing that always seemed in the way or not long enough to reach for me to bend over the sink. With this, I don't dread the process, since the process is made so easy and portable with no tubing. And I think it cleans the teeth just as well as the original. :)
Sisboom
Started out strong...
The first couple of weeks I was in love! This did everything I had hoped and then some. About the 3rd week of using it, a small piece broke off from somewhere. It was floating around in the water reserve but I was not able to see where it came from. The reserve started leaking after that so I emailed the company. They had no idea what it was from either but promptly sent me a new reserve. Huge props to them for great customer service! Another few months passed and it worked great but I could feel it was losing its power. I started having to charge it more frequently but that eventually quit helping also. I now have to keep it charged at all times, only unplugging to use. Yet there is hardly any pressure. I am hugely disappointed in this! For the price, I expected it to last me at least a year, maybe more, but I have only gotten 7 months use out of it and now it is ready to be tossed.
catzrme
If you hate to floss....
So I bought this because I hate to floss and hoped maybe this would be wonderful and impress my dentist. I read all the reviews first then went ahead and purchased it. I have to say you could totally use this to wash your walls, lol! It is kind of messy at first - you do have to keep your head down or just do like everyone else says and use it in the shower. I was hoping to be able to look in the mirror to see what I was doing but that just can't happen. I can clean my teeth on one "tank" full. I use the low setting and find that is quite powerful and sometimes hurts I can't imagine using the high setting. I will admit I have not got into the habit of using this yet and I have not tried out the other attachments yet. But I do prefer it to flossing so far and hopefully when it's time to go to the dentist they will say wonderful things. So while I do recommend this it's not exactly like I thought it would be.