Waterpik Ultra Countertop Water Flosser WP-100, White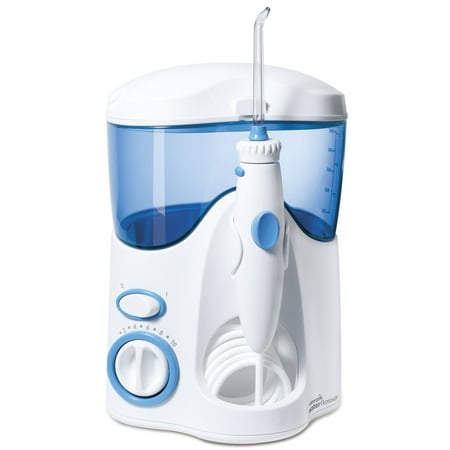 MSRP :

$55





Sale :

$51.99

Sold & shipped by Walmart
Product Description

Additional Information

Reviews
Product Description
The Waterpik Ultra Water Flosser is the easier and more effective alternative to string floss for those who don't like to floss. It is clinically proven to be twice as effective as the string type for gum health. The oral water flosser is ideal for anyone with braces, implants, crowns, bridges or periodontal pockets. It removes 99.9 percent of plaque from treated areas and is three times as effective for cleaning around braces. This Waterpik Ultra Water Flosser provides a unique combination of water pressure and pulsation to massage and stimulate gums, and clean deep between teeth and below the gum line where traditional string floss can't reach. It also features 10 pressure settings, a contemporary design that is smaller and quieter than previous models, a covered reservoir with in-lid tip storage and six unique tips. Whether you prefer gentle or deep cleaning, this Waterpik Water Flosser will meet all of your needs.
Additional Information
Waterpik Ultra Countertop Water Flosser WP-100, White:
Countertop electric water flosser with 6 flossing tips
Tested and trusted - Accepted by the American Dental Association (ADA)
Combines water pressure and pulsations to clean deep between teeth and below the gumline
1 minute a day for a cleaner, fresher, and healthier mouth
Removes up to 99.9% of plaque from treated areas and is up to 50% more effective for improving gum health vs. string floss
Features 10 pressure settings, a contemporary design, 22-ounce covered reservoir with in-lid tip storage, and 6 unique tips
Compatible with 120VAC/60Hz outlets for use in North America only
3-year warranty
Reviews
Jaren16
Flossing Is So Much Faster And Cleaner This Way
I expected a lot from a product with this brand name and I was not disappointed with its performance. The water pressure is adjustable from one to ten - I found #4 setting is forceful enough for me. The water stream comes out of the tip of the flossing head in a pulsing action and it can be aimed at the gum line as well as between the teeth. It leaves my mouth fresh, free of plaque and, most importantly, cleared up a little bleeding that I had. My bathroom counter space is limited so I keep it next to the kitchen sink which makes frequent use convenient and easy. That also allows me to quickly fill the water reservoir. I can floss and allow the water to stream into an empty sink. There are four floss heads that would allow a family of four to each have a different colored floss head. There is also a periodontal head that gives a very gentle pressure as well as a mouthwash head. These heads snap into the flossing wand that connects to the machine through a hose. It feeds in water from the reservoir that easily pulls off or snap into place. Flossing is a bit of a messy business and this product requires leaning over a sink. I have been using it after meals The end result for me is a much healthier mouth.
jdawgchatt
Have had 2 over 6 years
Love this water pic. I use it daily before bed and sometimes twice a day. I use with water peroxide and sometime a little baking soda or salt. This mixture works so well on teeth and gums. If you really use this pic as much as I do , I think it would only last about 3 years at most. The rubber seal and the tube will begin to not be effective. But it is worth it always in my opinion to buy another one.
MamacitaVergara
It removes things you would never imagine to see
This product is a perfect partner for an electric brush, if you don't ever want to get a gum disease you should floss your teeth and use the waterpik unless that's what my dentist said to me, he also encourage me to floss my teeth in the morning when is more hectic and use the waterpik at night when we got more time.
Outlaw53
My water pic
I just had a lot of dental work done, and my dentist recomended I get a water pic, it's the best thing I ever done for my teeth. I love it, I use it 3 to5 times a day.
goodandplenty
Messy, But Effective
First time user of a water flosser. It seems to be working since I floss with a pick flosser and there are no food pieces left behind. I feel confident enough now not to use the pick flosser. The water goes out very quickly, so you need to know how to use it, but I am pleased with the performance. I think I could have gone for a Waterpik Flosser that didn't have as many different flossers since I am the only one using it. It says you do have to replace the piks every six months. I will only be using the piks that can be for general use. I do have a crown and an inplant, but it seems sort of silly to change out a flosser for just one tooth. You would run out of water I think. It sounds like a good idea, but I know I wouldn't change the one flosser to the inplant one then the crown one. I thought I would before I started using it, but I know I won't. I think a person should definitely get one that adjusts the speed. I am using 6 and find that is good for me. I am pleased with this flosser.