Waterpik Cordless Water Flosser WP-360, White and Blue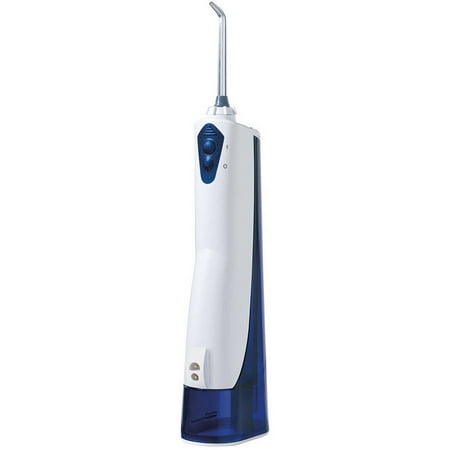 MSRP :

$34.4





Sale :

$31.18

Sold & shipped by Walmart
Product Description

Additional Information

Reviews
Product Description
The Waterpik Cordless Water Flosser delivers a unique combination of water pressure and pulsation to remove nearly 99.9 percent of plaque from your teeth. Not only does this flosser help in removing plaque, it also helps keep your gums strong by improving circulation and it is twice as effective as string floss for improving gum health. This dental water flosser has a convenient hand-held design with two cleaning tips, the High-Pressure Classic Jet Tip and the Low-Pressure Classic Jet Tip. The High-Pressure Classic Jet Tip removes plaque and bacteria between the teeth and below the gum lines and the Low-Pressure Classic Jet Tip effectively cleans sensitive gum areas. The reservoir can hold enough water or mouthwash to clean your teeth for 30 seconds. This lightweight flosser is rechargeable, empowering maximum mobility without the need for batteries. The improved shape takes up less space on counter tops for easy use and storage.

Additional Information
Reviews
Borisk
Bad designed charging port and loosened plug!
I love this device from the first time i use it. After i flossed and brushed i was amazed how much food pieces this devices was able to pull out between my teeth. The small tank doesn't bother me as for more then 2 years i have routine how to floss with it. To refill it take few seconds. Sometimes i put mouth wash to disinfect the tank. The batteries seems to be ok since i always fully discharge them before charge. So why then 2 stars? Well the title of my review says enough. I feel like i can still use this device longer but the charging port has no protection from water. So this put corrosion on the connector pins. Then on other side the charger plug got loose with the time so it doesn't charge your device when you think its charging. Often on the next day i found it completely dead and plugged into the charger. So often this prevents me from using it. Disappointed to see that in the new model they didn't change anything about the charging port. Well on some models they put rubber cap, but still doesn't solve the problem with connector pins and especially loosened charging plug. Otherwise the water pressure seems to be right in order to clean the teeth.
Itala
Bad product
Very bad product!! Used second flosser, any worked 2-3 months no longer!!!!! Money on a wind!
DrWahoo76
Bad product
My dentist strongly recommended this product. I searched several stores and this was the best price on it I found. It was my first experience with the online shopping and pick up and I loved it. Rather than running to different stores to see if it was in stock, I ordered it online and it was ready for pick up three hours later that day. Easy, just picked it up since it was already paid for online. I use warm salt water and do it for 1 minute per night. My gums and inbetween my teeth feel much better and cleaner. The only reason I gave it a good with use is because there is a learning curve with opening your mouth and water flossing. Initially the force of the water was splashing on the mirror but once I got the hang of it, no more problems. I especially like this travel size and it has a charger that comes with it. The place you fill with water is just big enough. I do one fill on top and one on the bottom. I hate to floss so I do tend to use this every night which is why I love it.
brunettegirlLJT
The Most Awesome Water Flosser!!!!!
For years I have been trying my best to use regular string floss, but I just can't! Not matter how easy I am as far as going in between my teeth my gums will bleed everytime. Regular string floss is just impossible for me! Then I had to get braces and that sent a red flag up because you have to use floss to get in between your teeth to keep them clean. I realized I had to think of something to use other than that crazy string floss. Then I looked online and saw this flosser here on Walmart.com. So ok seriously who ever came out with the water flossers they are just pure GENIUS! I absolutely love this water flosser!! My gums are so sensitive that I have to use the blue tip instead of the clear one. But other than that this water flosser is just so cool. Each time I have used it....it feels like I have just left the dentist office. So if you're looking for a water flosser that is simple and less bulky on your counter top get this one. Is easy to use and its so convenient!
TheBookQueen
Great Price, Easy to Use!
I'm glad I bought the Waterpik Cordless model. Some reviews I read complained about how messy it is, but I disagree with that. It's a water flosser -- water is meant to exit back out of the mouth while you do this. As long as you keep your lips together, I've not had any big problems with it (of course, as with most things, you do have to get the hang of things first). I like that it's easy to use. I find that the water capacity is good. I use it on my whole mouth once, then refill with part water and part mouthwash to go around a second time. I've only had this product a few days, but even after my first time using it I could tell that my teeth and gumline was much cleaner! It may not be on par with a cleaning from the dentist, of course, but for at home use this is a great choice. Since the corded model is so much bigger, I am glad I bought this one instead. I have such a small bathroom, and while the Cordless model works well in it, I would have had a hard time finding the space for the more expensive model.