STA-BIL® (22214) Storage Fuel Stabilizer for All Gasoline Engines, 32 fl oz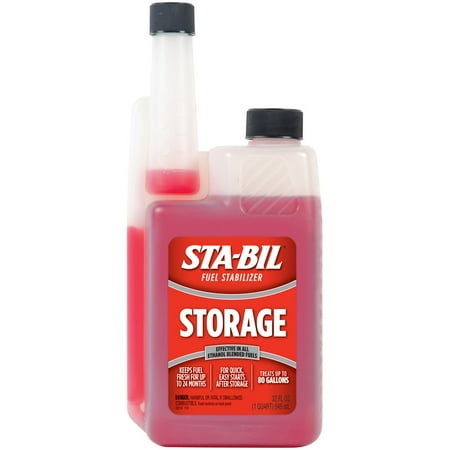 MSRP :

$22.39





Sale :

$8.88

Sold & shipped by Walmart
Product Description

Additional Information

Reviews
Product Description
STA-BIL Storage Fuel Stabilizer is America's top selling fuel stabilizer. Stored fuel can go bad in as little as 30-60 days, causing gum, varnish and corrosion to build up in the fuel lines and engine. STA-BIL is recommended to be used at every fill up in all vehicles and equipment to protect against corrosion caused by today's ethanol-blended fuels. It keeps stored fuel fresh for quick, easy starts year round. For optimal results, treat fuel as soon as it is purchased.
Additional Information

STA-BIL Fuel Stabilizer:
1 oz treats 2.5 gals
For extended storage (up to 2 years) use double the recommended dosage
STA-BIL fuel stabilizer does not contain alcohol
May be used for up to 2 years after opening bottle
Removes the need to drain fuel
Vehicles are easy to start when brought out of storage
Prevents corrosion and build up of varnish or gum
Works with all gasoline and all gas engines
Reviews
BanditTA
Wouldn't think of storing my cars without it!
When I put my classics in storage for winter (6 months here in the Northeast) I would not think of storing them without a healthy dose of Sta-Bil Storage! I have never had any problems with stale gas and they fire right up in the Spring. Fill the tank to the top. add Sta-Bil and run for a few minutes to protect the fuel in the lines as well.
RC1939
Put away for winter
I bought this product, because I'm storing my 1965 Sunbeam Tiger , for the winter. [This review was collected as part of a promotion.]
Bama Swampfox
Part of my equipment plan, every time
I have accumulated many pieces of lawn and garden equipment over the years. Lawn mowers, leaf blowers, hedge clippers, chain saws, edgers, etc. I used to add Sta-Bil at the end of the season but somehow I either forgot to add it, missed the amount or added it to bad fuel. As a result, every spring I had one or more issues - clean or replaced carbs, fuel tanks, and so on. I solved my problem with two things: I only buy pure gasoline - no ethanol - it's available in most places and there is a smart phone app that can help you find a local station. Second, I add Sta-Bil to the fuel can (and oil for the 2atrokes) immediately after I buy it so I never have to guess the right amount in the tool and the gas is always good-to-go. Yes it's more expensive this way but I only use about 20 gallons of gas a year so it's an expense I gladly accept to have zero problems. I've done this for theee years now with 100% success. Spend a little money on the front end and you'll thank yourself every time you pull the cord.
Mizrable
Sta-bil keeps your gas stable!
I've used this product for decades to keep my small engine fuel supply from spoiling during storage. Even in the summer when the mowers use gasoline quickly, I refill my containers with the specified dosage so that the fuel systems are thoroughly covered. Gas stored over the winter for the snow blower & generator are still usable for the mowers if it isn't needed. Because I have consistently used Sta-Bil, I have never had a hard start problem due to spoiled fuel. Even my emergency chain saw starts quickly, & it's the leased used of any of my small engines. Do I recommend Sta-Bil? I certainly do! Even if you forget to put it into the empty gas can before filling, you can add it on top & still get the benefit. It will disperse through the gas on its own & blend as the liquid is agitated during refueling.
Cookie
The old standby for preventing fuel system issues
Haven't actually used yet but have used the product in the past with good results. It seems well thought of by many who use it religiously. I am on a new kick of better maintenance habits and this is one of the products I've chosen to aid in that endeavor. I will be using it regularly in equipment that is used less frequently and definitely for seasonal storage of all equipment fueled by gasoline.