Omron 10 Series Upper Arm Blood Pressure Monitor with Cuff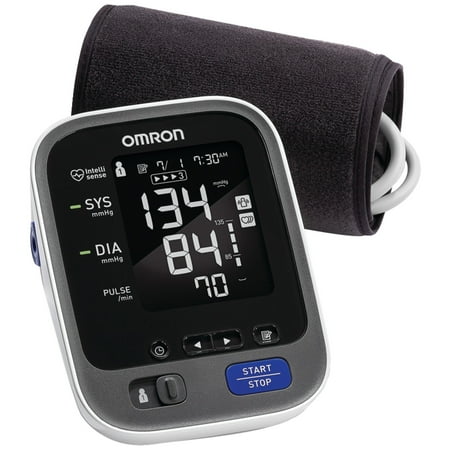 MSRP :

$69.99





Sale :

$64.99

Sold & shipped by Walmart
Product Description

Additional Information

Reviews
Product Description
The Omron 10 Series Upper Arm Blood Pressure Monitor (BP785N) helps ensure consistent, precise readings. With the touch of a button you can learn all you need to know about your blood pressure, and be assured your numbers are accurate.
Additional Information

Omron Bp785n 10 Series Advanced-accuracy Upper Arm Blood Pressure Monitor:
No. 1 doctor- and pharmacist-recommended home blood pressure monitor
Feel empowered by accuracy with exclusive TruRead technology
Accuracy blood pressure monitor helps ensure consistent, precise readings
Accurate results
Simple to use
Large digital display with backlight reduces common user reading errors
Easy-wrap cuff fits arms 9" to 17" (22 cm to 42 cm)
Designed with irregular heartbeat detector
Memory storage with advanced averaging
Operates on 4 AA batteries (sold separately) or the included AC adapter
Reviews
Mnare
Easy to read, easy to use!
I am very happy with this blood pressure monitor, it is easy to use and easy to read! I love that it comes with an a.c. adapter so I don't have to worry about batteries. I did my research on many monitors, and this one had an accurate, and overall excellent rating--that is why I specifically chose this brand. The cuff is large, and will fit up to a 17 inch arm. It is very handy to have the monitor at home so that I don't have to go out to check my blood pressure, and I can keep a closer tab on it. It measures your pulse, and can keep two people's measurements in memory. I would say splurge, and get this monitor, rather than a cheaper model that may have only the small cuff, questionable reliability, and no a.c. adapter--it's well worth the money--your health is worth it too! God bless.
Barto
Great Unit for tracking vitals
Omron Series 10 unit is a really good unit to track your blood pressure. Not only does it track two people readings it holds up to 200 of your previous stats. It's interesting to scroll back to see how your maintaining your blood pressure. My MD was pretty impressed when I brought the unit to his office WHICH ALLOWED HIM TO SCROLL through my readings history. The company is so easy to deal with. I strongly suggest to buy this Series 10 if you want to see how well your doing with your health ! [This review was collected as part of a promotion.]
keywestflamingo
Best Value ever!
So happy I paid a few dollars extra for the one with the A/C adapter. Has option for larger cuff. Very easy for first time user, large numbers, easy to read & quick start booklet. The programs and memory function work great. Used it at the DR'S office & he was pleased with the results. Had a week of stored readings & we used the booklet to bring them up on monitor. Several functions to pick from and easy to program. I use it 3 X's a day & never worry about a bad reading due to weak battery's. I have the battery's in to keep the readings stored, but don't depend on them if I want a correct reading. Mine is plugged in most of time. If I unplug it to take with me the battery's keep the memory safe. I would never trust a battery operated machine with my life. The cuff inflates automatically.
SJBE
Accurate Blood Pressure records are vital
I am managing three very difficult health situations of which dealing effectively with spiking blood pressure is key. The Omron 10 series blood pressure monitor with its three stage system gives the user a truly accurate reading. The machine takes three separate readings with each use then averages the three to give the patient true numbers to manage medication well. Not all machines do the average sequencing testing method thus can give questionable readings. If the user is serious about understanding their situation this is the monitor that can put control of their reality effectively. It is easy to put our heads in the sand hoping that progressive disorders and diseases will some how magically go away. The truth is we can manage so many issues by knowing the truth and working a plan to reinforce our lives. Good luck to you.
phyhoy65
Accurate Blood Pressure records are vital
I bought this monitor on advice from my doctor and have been using it a month or so now. I like the way it functions and keeps tracks of data for me so will know in another month or so the results of being monitored by it. The product is of good quality and easy to use [This review was collected as part of a promotion.]