Omron 5 Series Upper Arm Blood Pressure Monitor with Cuff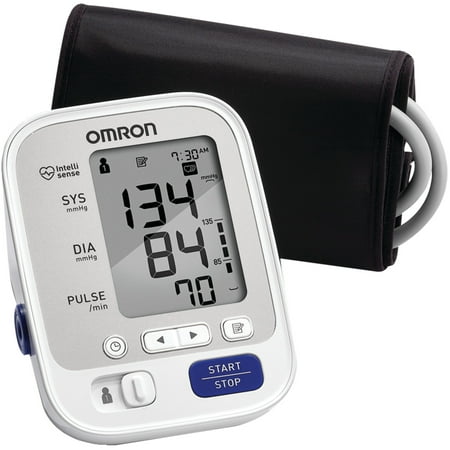 MSRP :

$49.88





Sale :

$39.99

Sold & shipped by Walmart
Product Description

Additional Information

Reviews
Product Description
The Omron 5 Series Upper Arm Blood Pressure Monitor with Cuff helps ensure consistent, precise readings. The model is quick and easy to use and it has a few more features than the 3 Series Upper Arm. These include dual settings for two users, memory storage space for up to 100 readings and a wide range cuff that fits standard and large arms. When you trust your heart to this Omron automatic blood pressure monitor, you will be empowered by accuracy. It compares your levels to normal home blood pressure levels with the BP Level Indicator. The cuff also alerts you instantly if your heartbeat is irregular while measurements are taking place. The Omron 5 Series blood pressure monitor is made with durability so that it holds up against use. It is recommended by doctors and pharmacists so you can rest assured you are getting a quality product.
Additional Information

Omron Bp742n 5 Series Advanced-Accuracy Upper Arm Blood Pressure Monitor:
Omron blood pressure monitors are the #1 recommended brand by doctors and pharmacists for clinically-accurate home blood pressure monitoring, and the #1 selling manufacturer of blood pressure monitors for over 40 years

Two users can store and review last 50 readings each (total 100 reading memory with date and time stamps). Automatically displays the average of your last 3 readings taken within 10 minutes

Note-blood pressure varies constantly due to many factors including stress, time of day, and how you wrap the cuff, may affect your blood pressure. Review the sections before taking a measurement and taking a measurement

Compares your readings with normal home blood pressure levels while also monitoring for irregular heartbeats. The monitor will not inflate above 299 mmHg

Package includes: one blood pressure monitor, one wide-range cuff (fits arms 9 to 17 inches in circumference), quick start guide, instruction manual and 4 AA batteries. For customer support please call 866-216-1333
Reviews
520may
Moron 5 series blood pressure monitor
Good size and accurity. Price is right.
Trwig
Blood
Happy with it but should of cane with a carrying case.
Daisy98
Matches my doctors readings!
Now, I've only had this for 2 weeks-so I can't say if my opinion will continue this way...However, so far-I am elated with this product. It is easy to use and seems accurate. The readings are very spot on to my doctor's. Originally, I bought this because my other had broken (after many years) and when I went to my usual 6am appointment, my B/P was slightly elevated (white coat syndrome) but my pulse was only 48! Well, every morning I check my BP and pulse. My BP is normal to below normal and my pulse runs 50-52. So, my heart-rate is not so scary at 48 BPM at 6am when I'm barely awake. Also, my pharmacist feels that the wrist cuffs aren't as accurate as the arm cuffs. For this reason, I bought the arm cuff.
BPMimi
Great and Easy
Purchased this month, still getting acquainted with it. Set up was very easy and seems to work just fine. [This review was collected as part of a promotion.]
BKirk22
Not Accurate
I brought the Omron 5 home and took five readings back to back. The results varied by 40 points- high BP on one reading and low the next. I took it back to Walmart and asked if I could exchange it with one on the shelf. They wouldn't let me because I made the purchase through Walmart.com, so I got a refund instead. Probably a good thing because I purchased an Omron 10 at Walgreens and it seems to be much more accurate. The Omron 10 has a Tru-Read function that takes three readings in a row in order to make it more accurate. Now my BP varies within 5 points or so every day.