Omron Bp710n 3 Series Advanced-accuracy Upper Arm Blood Pressure Monitor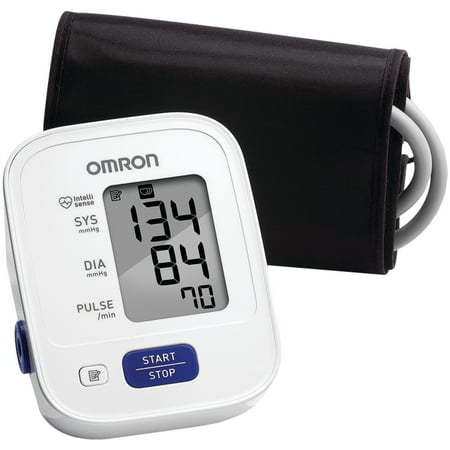 MSRP :

$49.99





Sale :

$29.99

Sold & shipped by Walmart
Product Description

Additional Information

Reviews
Product Description
Our quick and easy Omron 3 Series home blood pressure monitor utilizes a simple one touch mode, which can store up to 14 readings at a time while still giving you an accurate reading every time you monitor. Includes cuff that fits standard and large arms. When you trust your heart to Omron, you'll be empowered by accuracy.
Additional Information
Omron BP710N 3 Series Advanced-accuracy Upper Arm Blood Pressure Monitor:
Number 1 doctor- and pharmacist-recommended home blood pressure monitor
Feel empowered by accuracy with precise readings you can trust
Easy-to-read LCD screen
Stores up to 14 readings at a time
Detects and alerts you of irregular heartbeats while your blood pressure is being measured
Operates on 4 AA batteries (not included)
Reviews
Mary
accurate BPs
I'm a retired RN, know how inaccurate the little BP machines can be, but since my sphygmomanometer is long broken, I decided to try one. I went with Omron knowing it was a good brand. I've been getting very accurate readings with this little machine for 2 weeks now. I'm thrilled about that since I almost bought a more expensive model thinking "you get what you pay for". I've compared readings on both my arms with other large machines & am satisfied that I made a good choice. My new Omron BP was 114/64 on the left arm, and 115/65 on the right arm. There is normally a difference between arms - mine is very slight...but it is accurate. You can click on a button to see recent BPs - each click gives you a different past reading - it would be nice if the dates were with the readings....maybe you get that with a more expensive model, but I'm satisfied with what I have and recommend it. The cuff is pretty easy to secure on your arm, but I can see some very elderly people having trouble doing it themselves.
Britta
accurate BPs
Great little blood pressure monitor. We were advised by my father's doctor to pick one up for him so he could monitor it daily. This is an excellent choice. He has a bad shoulder but it's easy for him to use, and he can keep it velcroed and slide his arm in and adjust from there very easily. It's very easy to read and it keeps a history of his blood pressure readings, so we can keep track for his doctor and make sure that he did it for the day. The only con was the price. It was much more expensive in store than online, by at least $20. I ordered online for store pickup to avoid this, I recommend you do the same.
MsBurma
Our doctor recommended - great monitor
When my mother's doctor recommended she check her blood pressure at home, this monitor was the one she told us to buy - even told us the average price. This was the first one on the list when I went online here to look, so I bought it on doctor's advice. We really like using it - it's very easy to use (one button push) and read, gives pressure and pulse readings, and easy to fit on arm. I believe it would fit anyone in general, unless you have very large upper arms (I'm a plus size woman and it fits me well). My mother has little skinny arms and we have no problem. Very pleased with this purchase, and as always our Walmart online and pickup experience was great - highly recommend for important bp monitoring at a good price. God bless!
donniepooh
Good pproduct for the money
I have had this unit for several years and just now had to replace the cuff. The unit works well and seems to be pretty accurate. [This review was collected as part of a promotion.]
Tipplekid
Simple Good Monitor
My wrist style pressure monitor which I'd had for 5 years was giving me inaccurate readings; not good when you need to monitor your BP. After some research and reading other reviews I decided on the Omron 3 Series. I wanted a basic easy to use monitor that had a arm cuff that would fit my little larger than average arm. Right out the box I was able to take a reading (after installing 2 AA batteries not included). The cuff went on comfortably though inflated there is a little discomfort occassionally but not unbearable. It tracks 14 readings for one person. There are other monitors with more bells and whistles however, if you are looking for an affordable basic monitor easy to use and accurate, the Omron 3 is a good fit in my opinion.