Westcott iPoint Ball Battery Sharpener, Red/Black, 3w x 3d x 3 1/3h, 1-Count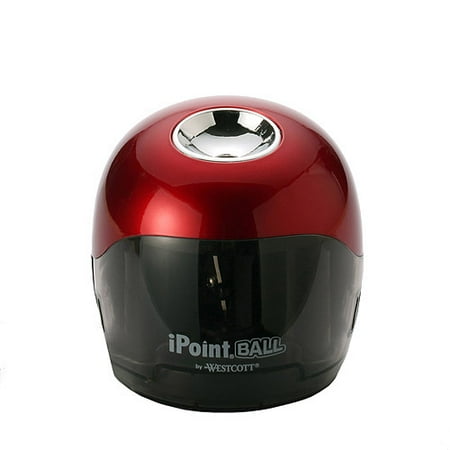 MSRP :

$29.93





Sale :

$9.87

Sold & shipped by Walmart
Product Description

Additional Information

Reviews
Product Description
The Westcott iPoint Ball Battery Powered Pencil Sharpener utilizes double blade technology for faster sharpening. It does not require the use of a wall outlet, as it runs solely on AA batteries. This red Westcott iPoint pencil sharpener has a compact size that, along with its cordless design, makes it easily portable.
Additional Information

Westcott iPoint Ball Battery-Powered Pencil Sharpener, Red:
Requires 4 AA batteries
Double blade technology for faster results
Westcott pencil sharpener is cordless, does not need wall outlet
Compact and portable design
Unique design
Sharpens pencils 2x faster than other sharpeners in its class
Sharp Sense technology
Safety cut-off when the shavings reservoir is removed
Suitable for the home or office
Reviews
JoyfulStones
Not worth the money
Arrived with a surface crack in the shavings holder, but I decided to try it any way. Installed the battery, got a pencil with a broken lead. The best I could get using this sharpener was a very dull point. I will be returning this item.
eaglefan41
Never again
I purchased this item for home use January 2015. It no longer sharpens any thing! It just spins. I will never purchase this line of product again. Thank goodness it was not purchased as a gift!
delighted
Beautiful Pencil Sharpener
It didn't take me long to find out that even though small...this pencil sharper would be perfect for my desk in my classroom. I sharpened every pencil I tried in it...cheap...expensive... it just didn't matter. [This review was collected as part of a promotion.]
Steve
Great for Artists. Great all around.
The blades are sharp. the cut is perfect and a four non-alkaline batteries will last a year. This sharpener is well designed and will work as a desktop or for portable use. It stops cutting when your pencil has a perfect point. Attention artists: This sharpener does an awesome job with colored pencils. I have used it to cut wax based, oil based and watercolor pencils. It does a great job and even soft cores will not adhere to the blades. I thought I would have to run a #2 every so often to clean the blades off. I have never had to. Artists do be warned. We sharpen pencils MUCH more often than the average user. If you draw or sketch daily (I spend a couple of hours a day sketching) the blades eventually do dull up and will split your pencils. Mine last about six months with the amount of use I described. I find that amazing. What this translates to for regular users: You will get many years of use before the blades become an issue.
kesa76
Great sharpener
I ordered this after careful consideration. I wanted an electric sharpener but I really liked the look and size of this one and the good reviews helped me decide. I have to say for a battery powered sharpener, this one far exceeds my expectations. It has power as good as my old electric one and it sharpens better than it also. I don't have to shove the pencil in and hold it for a long time. It takes only seconds to sharpen and it does not chew the pencil up like some sharpeners do. It leaves a nice sharp point. The sharpener is small enough to fit on smaller desks and stores nicely out of the way. It is light weight and easy to clean. The only thing I would like to see different are the color choices.