LiquaFeed All Purpose Plant Food Refills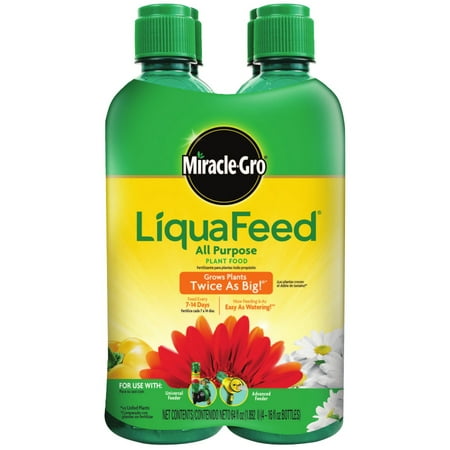 MSRP :

$23.03





Sale :

$11.48

Sold & shipped by Walmart
Product Description

Additional Information

Reviews
Product Description
Grow bigger, better flowers, vegetables, trees, shrubs and houseplants - compared to unfed plants - with the help of Miracle-Gro Liquid Feed All-Purpose Plant Food Refills. They're available in a 4-pack and work well with the Miracle-Gro hose attachments to make feeding just as easy as watering. Just use a Miracle-Gro Liquafeed feeder and apply to your plants every one to two weeks. This product makes plants grow twice as big, so you get large, vibrant plants whether you grow them outside or in your home. LiquaFeed All Purpose Plant Food Refills:
Additional Information
Feeding is as easy as wateringMiracle grow liquid fertilizer is suitable for flowers, vegetables, trees, shrubs and houseplantsEach bottle feeds up to 400 sq. ft.Feed every 1-2 weeksPairs well with the Miracle-Gro hose attachmentsEasy applicationHelps to grow plants twice as bigAvailable in a pack of 4 bottles
Reviews
Ron
Great plant food
My wife waters her plants once a week and uses a small 64 oz. watering can. She puts about 2-3 drops of this product (yes - 2-3 drops per 64 oz. water) into the watercan, adds water and her plants are doing very well. She says this water can will water 2 plants then she has to start over. This 4 pack cost only $7.00, where the other stores (no names) want $11-14.00 per bottle. So with the plants doing very well and the cost savings, we will be getting more when she runs low.
Ereer
Great plant food
Easy way to keep your plants fertilized! No mess or mixing, just move the switch.
TiredofTryingIt
Something Has Changed-I Will No Longer Use This Product
In the past this was my go-to product and it was very effective in feeding my plants. However, in the last 2 years the liquid product no longer works properly after using once. I have discarded old bottles, bought new bottles, and even bought two new hose dispensers. What I now encounter every time is the sprayer only works a couple of times and then it stops dispersing properly. The bubbles tell you it is drawing fertilizer, and after couple of times it stops bubbles and the liquid in the bottle stops dispensing. I loved this product but this product no longer works unless you want to buy all new sprayer & bottles every month. Forget this product because it will stop working/spraying anything but water after couple times. Just buy the powder and save yourself money!
Hollywood
Best ever
I 've use this product for years. I would not buy anything else. I flowers will look terrific
1954onlineshopper
Best ever
I love Miracle grow and the liquid form makes it so easy to apply. It works great my garden always look so beautiful and the flowers bloom full and last well.