LiquaFeed All Purpose Plant Food Refills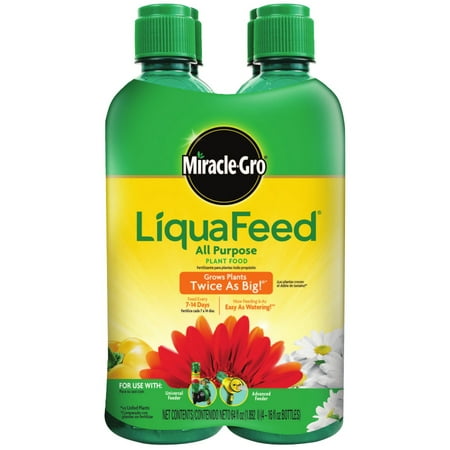 MSRP :

$15.52





Sale :

$10.94

Sold & shipped by Walmart
Product Description

Additional Information

Reviews
Product Description
For all flowers, vegetables, trees, shrubs and houseplants. Feed every 2 weeks with a Miracle-Gro LiquaFeed feeder. Each bottle feeds up to 400 sq. ft.
Additional Information
Feeding is as easy as watering
For flowers, vegetables, trees, shrubs and houseplants
Each bottle feeds up to 400 sq. ft.
Feed every 1-2 weeks
Reviews
RichardTut
Great product
Great and easy to use product that works on garden and pot plants. It gives the plants biger and stronger limbs and leaves.
brofford1
Incredible results!
First let me say when I go into my garage to get my plants some food, it is an easy choice. The colors on Miracle-Gro's® packaging makes it simple to find and trust. The green and yellow has been an essential part of my gardens, flowers, and even the 'wild' growth on both sides of my fence, as an inexpensive way to add some privacy. I have used these bottles of "wonder growth in a bottle" for several years, from the first year they came out I believe. Several years with dependable, beautiful, delicious results. BUY, BUY, BUY!! No problem saying easily, "use this for your gardens"! It surprisingly, covers a big amount of space. Another fact, the watering nozzle is quality, have been able to use the same one for the whole time I started with this system! Take it from me, you will be satisfied and so will your livable, breathable plants. Hope this helps. Good luck and happy growing!!!!!
fastponyrunning
product is hard to use and does not come out of the bottle
I love the plant food itself but the liquid feed machine that attaches to the faucet does not work properly.. 1 bottle is supposed to feed 400 sq ft. Well my garden is ruffly 700 sq ft and the fruits and veggies are not getting feed enough.. I can feed them 4 times before the bottle empties and I water for over an hour by hand each time with the hose.. Also when trying to change the bottles out they do not want to screw in straight and it is a hard struggle each time.. I went and purchased the other feeding machine that takes the powder plant food and you can see what you are feeding..
kathy
miracle liquafeed
The feeder itself does not work. After 45 min spraying I still have 3/4 bottle of liquid left. When it was on sale I bought 6 extra bottles. Disappointed big time.
plshehdan
So Easy!!!
It really does not get any easier than this. I used to mix 5 scoops in a 5 gallon bucket and stir. then I would dip a 1 gallon jug into the bucket and water all of my plants. It took the better part of the day, mixing, stirring and dipping. Now with LiquaFeed, I simply screw the bottle of LiquaFeed onto the feeder and attach my garden hose to the other end of the feeder and water all of my plants. This product works so well. Also, it lasts a long time. I can go around my entire yard, wait one week and go around again on one single bottle. My plants & flowers grow so fast and strong and my flowers are full of blooms.