Pure 'N Simple Honey, 80 OZ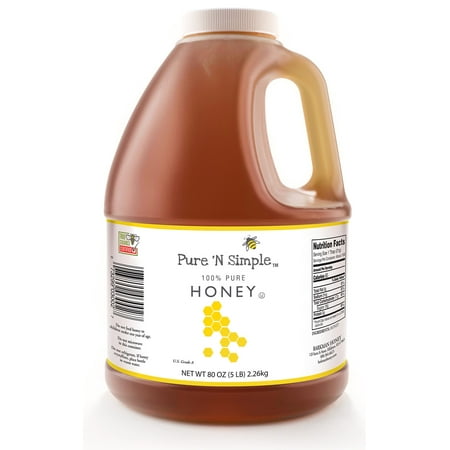 Sale :

$12.48

Sold & shipped by Walmart
Product Description

Additional Information

Reviews
Product Description
Simply made and nothing added. Featuring 80 ounces of honey, a light amber color and slightly richer flavor - this honey is great for those needing large amounts for baking and cooking. Features an easy-to-grip handle for easy pouring and measuring in all your favorite recipes.
Additional Information
Reviews
Jacky
Excellent product
Excellent product
pabpaj
Excellent 100% Pure "Trusted Source" Honey!
I truly believe this is 100% Pure Honey as stated on the packaging. Golden Heritage Foods (the supplier) is one of the first "True Source Certified" honey suppliers in the USA (per their website). I believe them. Pure honey will crystallize occasionally depending upon the temperature conditions and the source of the honey. I conducted the "water test" on this honey and it passed (although that test is not 100% accurate for all honeys as outlined at: http://www.benefits-of-honey.com/pure-honey.html Golden Heritage Food website: www.ghfllc.com True Source Honey website: http://www.truesourcehoney.com/faqs/#4 I hope this information is helpful. I am a very satisfied customer. (BTW, I have e-mailed Golden Heritage Foods this afternoon asking them if their Pure 'N' Simple 100% Honey is the same Food Service honey as their Busy Bee product listed on their website, as I think the Pure 'N' Simple brand may be specifically for Walmart and other mass market food chain retail sale.
overthere
Excellent honey.
I buy this in the Walmart Supercenters and find it to be a great product and excellent value (as honey goes). This is mild flavored honey that doesn't overwhelm whatever it is used in or on. I have sought out different kinds of supposedly all-American or "local" honey in the past and ended up with a jar full of something that tasted like horehound. Great way to ruin breakfast. But this Pure 'N Simple has been consistently great for a number of years. If you don't use this honey up in a reasonable time, it might crystallize in the jug. It is difficult to get it liquified again without risking melting the plastic jug. What I do is cut the top off of the jug and scoop the crystallized honey into glass jars, and then slowly lower those jars into a big pot of not-quite-boiling water. The honey re-liquifies in no time and is perfect again.
anon
Good honey
We have been buying this honey for a couple years. I was introduced to it because was on a list of real pure honey--just as it's name suggests. So it is a good product for a decent price.
Tania
Good honey
Lets just say, I love this honey so much. Such a great size for an amazing price. Will buy again.