Sterilite 3 Drawer Wide Cart, White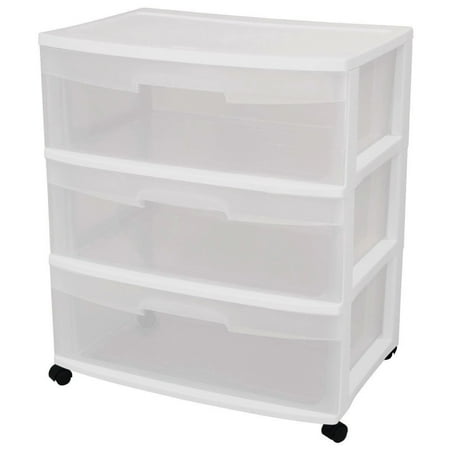 MSRP :

$51.79





Sale :

$17.88

Sold & shipped by Walmart
Product Description

Additional Information

Reviews
Product Description
The 3 Drawer Wide Cart features three wide, see-through drawers that allow for easy identification of contents. This cart is ideal for organizing clothing and linens in the bedroom and bathroom. Casters are included to create a rolling storage option.
Additional Information
Sterilite 3-Drawer Wide Cart, White:
Overall assembled size: 15.25" x 21.9" x 24"
Multi-purpose and versatile storage option
Clear drawers allow contents to be easily identified
Easy pull-out handles with drawer stops prevent drawers from being removed accidentally
Casters are included to create a portable storage solution
Color: white
3-drawer rolling cart offers a practical storage solution
Organize and store a variety of household items
Suitable for use in a bedroom, kitchen, pantry, bathroom, craft room, nursery or dorm room
Made of sturdy plastic
Reviews
CrazyDaveIowa
Purchased for camping.
I have a popup camper and needed kitchen drawers. After some measurements I bought two of these units last summer. After several campouts I am pleased with their performance. Please note I am putting some serious weight into these drawers. Especially the unit that holds my cast iron cookware. As such I had to reinforce one support leg that pulled loose. One small self tapping screw, good to go. As my measurements were off a bit, oops, they do not fit in my camper when folded down, even with wheels removed. They make moving the entire kitchen a snap. House to van, van to site. Much better than totes. My measurements were good and the two units fit side by side under my Lifetime 4 foot table. See picture. The drawers close nicely and while I have not suffered a hard rain yet, I think they will do a great job keeping things dry. I have read of other campers having luck with these fitting inside closets in campers.
Aliphx
Sterilite 3 Drawer Cart
Im satifisfied with quality, price, and usefulness of the product. I was looking for inexpensive storage system, Sterilite Drawer Cart (wide) is the answer. Purchased two from the store, bolted them together like in my pictures.
Wabbitsqueen
Great Dresser
I love these to use as a dresser. I stack one on top of the other without the wheels and it looks like a dresser, gives me more room for clothing and saves on closet space.
Lakishia
Great Storage
The wheels that come with this product are optional you can take out the drawers if you like and the drawers are big enough to store items such as clothes, files, books, beauty supplies, cleaning supplies, etc.. Would recommend for organizers, college students, and kids rooms. I use this product to store my clothes and it works perfectly.
Jooy
Great storage solution!
Great drawers that can hold a lot of items, I used mine to store bags and bed sheets in empty sections under my hanging space in my closet. They fit really well in the otherwise unused area and make good use of vertical space! The drawers slide in and out quite well and are quite sturdy. However, I noticed that if you put a lot of heavy items inside, the individual drawers will feel like they will slide out completely from the weight when you pull them out. They haven't actually fallen out completely yet, but it feels a little concerning. Although when the drawers are all closed, the unit feels very solid and stable. Another thing to note is the drawer may come with a slight defect. I've bought 3 of these and noticed that 2 of them have a minor defect at the top, where the top piece of the drawer dips lower so the drawer cannot close seamlessly under it. I've tried to fix it by bending it into place, but the drawer will pop back out from under the top. Overall this isn't that big of a deal to me, but it's something you may be concerned about. The measurements for the product are accurate, but the height is measured with the wheels removed. The wheels are detachable and will add about 3/4 of an inch to the total height.