Sterilite, 4 Shelf Cabinet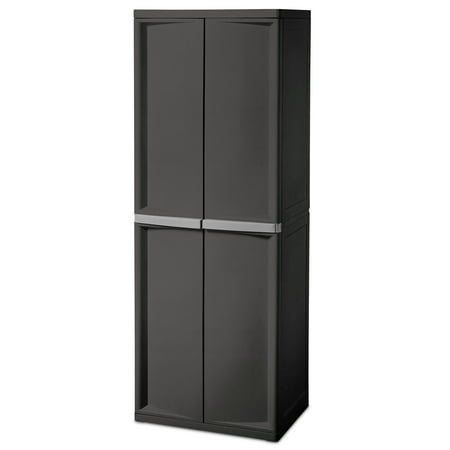 MSRP :

$99.99





Sale :

$84

Sold & shipped by Walmart
Product Description

Additional Information

Reviews
Product Description
Additional Information
Overall Assembled Size: 25 5/8" x 18 7/8" x 69 3/8"
Heavy duty construction
Adjustable shelves
Doors swing open easily and close securely
Accommodates a standard-sized padlock
Reviews
Smile224
Great storage cabinet
These were on sale and I brought 6 of them. I lined all 6 of them up in my garage side-by side and they look great! Before I had tools, camping equipment, paint and household stuff everywhere. I had everything organized before, but it always seemed to look messy with everything laying out around the sides of the garage in baskets, on bookshelves and just stacked on top of one another. With these cabinets everything has a place and I labeled with cabinet on top with what was stored so things could be found easily. I was able to put these together in no time-no tools needed, it just snapped together. I don't know how long they will last but they are made out of thick plastic. The selves seem to be sturdy enough for what I need them for. I put my smaller hand tools, nails etc on the selves but I didn't trust them with cans of paint or power tools so I just put those on the very bottom. You put the selves where you need them. I have been telling everyone about these!!
MJosh1928
Excellent product for the value!!
This review was long due. I read good reviews about this product. I have been looking for a storage shelf like this for around 2 months online and in-stores. I did not want to spend too much on it as its for a 1 BR apartment, from where I might move out in a year or so. I picked it up from my local walmart store. Shipping was quick (1 week). The box packaging seemed to be a bit damaged and got me a little worried. But I came home opened up the product and there was no damage to any part inside. The assembly was the easiest I could have ever imagined. It took me 30 minutes to put this together. The color of the product matched the color of walls in my apartment (added bonus). Its extremely light-weight, yet durable. And it has a lot more room than you can imagine by looking at the product pictures. Look at the pictures in my review to get an idea. This was an ideal storage solution for my kitchen pantry. Highly recommended.
momifox
This unit exceeded my expectations!
We purchased this for our kitchen. This is an extremely easy unit to assemble; my husband did it in less than 15 minutes. It is very sturdy and spacious. It actually has 6 shelves, if you utilize the bottom shelf and the top of the unit. We stored bulkier items in those areas to have them secure and out of the way. I moved all the groceries and other items from a bookcase type system that was in the way and opened up floor space, with room to spare in the storage unit. It was $79.88 in-store, but it was in stock and I could take it home immediately. There were no assembly problems, and it was lightweight to move across the floor. This is the greatest piece of furniture I have ever purchased, but I knew going into it that Sterilite makes very good products, and in my opinion, sometimes puts Rubbermaid to shame!
NavyMomATA
EXCELLENT PURCHASE
We purchased this as a temporary solution to a pantry problem in our kitchen. We liked it so much that we are purchasing another and keeping them as our pantries. I packed quite alot of stuff in it as you can see in the picture..
RetiredEarlyLifeIsGood
Great solution for getting organized
I bought these cabinets to organize my garage and they are perfect. They are easy to assemble and attractive to boot. I like being able to shut the doors on the mess, and hopefully this will cut down on the dust and garage debris which accumulate on all the jars, cans and bottles. Makes me want to order some for the basement. I've only had these a week so I can't comment on whether they will warp in the heat under the weight of the contents. If they do, I will add to the review. The price of the 2-cabinet bundle is more than reasonable. Good quality. I am glad that I ordered them online and had them delivered as I'm not sure even one box would have fit in my car. Certainly more than one would NOT have fit so I would have had to make 4 trips. Shipping was more than reasonable at $2.97 for all four. I heartily recommend these cabinets.