Tampax Pearl Super Plastic Tampons, Scented, 36 Count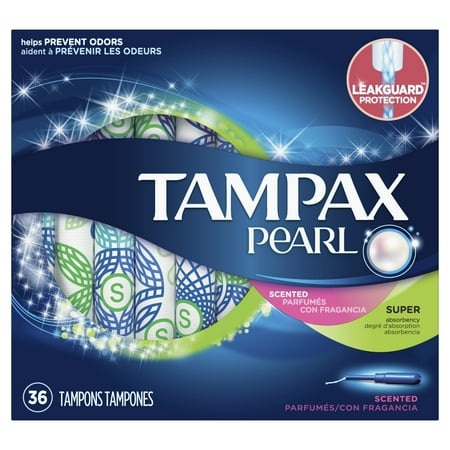 MSRP :

$13.09





Sale :

$6.97

Sold & shipped by Walmart
Product Description

Additional Information

Reviews
Product Description
Get protection and comfort every time! Only Tampax has a unique LeakGuard Braid that helps stop leaks by channeling them back into the core, giving you ultimate protection even on your heaviest days. The Smooth Removal Layer gives you amazing comfort, even on your lightest days. Insertion of the tampon is always easy and comfortable with the smooth Pearl applicator. FormFit protection helps close the gaps that can cause leaks, giving you up to 8 hours of protection. This tampon is also lightly scented to help prevent odors. Tampax Pearl tampons come in a variety of absorbencies so you're protected from your light days to your heavy days. Feel confident with Tampax Pearl, knowing that you get protection and comfort all day.
Additional Information
Tampax Pearl Triple Pack (Light/Regular/Super) Plastic Tampons, Scented, 34 Count:
LeakGuard Braid helps stop leaks before they happen
Smooth Removal Layer gives you amazing comfort, even on your lighter days
Smooth, rounded-tip applicator and Anti-Slip Grip for comfortable insertion
Tampax Pearl tampons give you up to 8 hours of comfortable, leak-free protection and are lightly scented to help prevent odors
FormFit protection gently expands to fit your unique shape
Easy-open wrapper that's water-resistant for durability no matter where you take it
Get three levels of absorbency in one box with this Triplepack
Reviews
Kimmy08
The only tampons I trust!!
These are the tampons I search for every month! They last a while even on my heaviest day which for me is the second day of my cycle. These will keep you dry and able to do your daily routine.
Jenn
Leaks
These tampons are comfortable and discrete but leak so easily! When you remove the tampon you can see that it hasn't even saturated the tampon. Won't be buying these again.
RedSoxFan
Difficult to Insert
I have used Tampax in the past an have never had a problem until now. Evidently they have redesigned the plastic plunger, so now the shape is small, oval and ribbed. It appears that it is ribbed to produce friction so you can better push, but there's something about this new design that makes it very difficult to insert the plunger. I would estimate that I give up on about 1 in 5 tampons and try with a new one. They just won't budge, even though I try lightening or increasing my grip. Sometimes I even try it two handed - talk about awkward! I'm a regular size/shape woman (5'4" 130 lb) with regular fingers, right handed. With that said, the initial insertion (prior to plunging) is smooth and they are comfortable. I use the Supers, and they sometimes leak, but i'm not faulting Tampax for that - I should probably get the next level up. I won't buy this brand again though until they re-shape the design. My overall rating of 2 stars is based on the difficulty to insert the plunger.
Simmerts
Awesome product!
Always thought super plus was the highest absorbency, I was so glad to find this. Sometimes super plus isn't enough but this certainly does the job for those extra heavy days. Ultra has become a permanent addition to the rotation.
Kenzie29
Packaging caused a major mishap
My disposition regarding this product is not necessarily about its overall quality but one major mishap in particular, its packaging. I bought a small box a few weeks ago and had just opened it tonight. Opening the box, I expected lite sized tampons, because that is what I had thought I bought, but to my surprise they were ultra. I understand this could have been avoided if I had read a bit closer. However, I strongly encourage either the lite or ultra tampons packaging is changed in order to avoid less people like myself to make the same silly mistake and end up with the complete opposite product they were interested in.