Tampax Cardboard Regular Tampons, Unscented, 40 count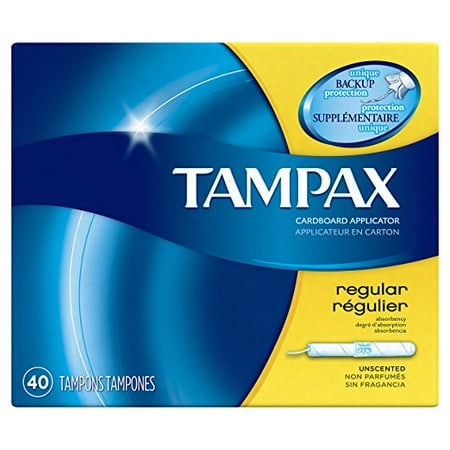 MSRP :

$8.02





Sale :

$8.42

Sold & shipped by Pharmapacks
Product Description

Additional Information

Reviews
Product Description
Tampax Flushable Cardboard Applicator, Regular Absorbency Tampons 54 Count
Additional Information
Tampax Cardboard Regular Tampons, Unscented, 54 count:
LeakGuard Skirt helps stop leaks before they happen
Anti-slip Grip for easy tampon insertion
FormFit gently expands to fit your unique shape
Tampax tampons offer up to 8 hours of comfortable protection
Tampax Regular Cardboard Applicator Tampons
For superior comfort and protection, also try Tampax Pearl tampons
Reviews
fed_up
Going out to buy my first NON-tampax tampon
I put up with the "redesign" for about 2 years, but I cannot take it anymore. I have one super tampax left, so I am going out to the store to buy any brand other than these. They are horrible! On heavy flow days, I can deal. However, my biggest problem is on days when my flow is light because the tampon becomes soaked with urine. I assume this is due to the skirt and super-absorbant string. I even take care to make sure the string does not become wet when going to the bathroom and that the tampon is inserted all the way in, but I can't avoid this. It's absolutely disgusting and never happened to me with the previous (longer & no skirt) design. I can't believe you haven't listened to your customers by now, as there have been reviews about this since the redesign came out- from my memory in early 2009. I only put up with it for so long since feminine hygiene products used to be redesigned so often, I was hoping it would be remedied. Clearly, at this point it is not.
Alpine
Lites with cardboard applicator are the best ever
I have used Tampax Lites with the cardboard applicator for almost 20 years, it's always been my favorite but now I can't find it anymore. As a woman who uses birth control my flow is always very light so I need a minimal tampon. The old Tampax Lite style, that was longer and thinner, worked better and felt better. Tampax has redesigned all their tampons to be shorter and thicker like the o.b. tampons. I find this style to be very uncomfortable, I can feel it the entire time I wear it and it gives me cramps almost instantly and it leaks. Please bring back the old style and the cardboard applicator. I care about the environment and would usually purchase an organic alternative, but the organic tampons have the same bad shape so I always purchase Tampax instead. But I can't justify using plastic applicators since you only use the applicator for about 10 seconds and then throw it away where it lasts forever in a landfill. I want to remain a loyal Tampax customer, help me out by making your best product available!
HELENA
UNAVAILABLE IN GREECE
I use TAMPAX CARDBOARD for 20 years. I recently got informed that only plastic will be available in Greece. This is INSANE. Think of us and think of the planet. EVERYBODY BANS THE PLASTIC AND YOU PROMOTE IT?
HELENI
BRING THE BEST BACK
THEY ARE THE BEST AND I BEG YOU TO MAKE THEM AVAILABLE AGAIN EVERYWHERE. DO NOT SUSPEND THEM BECAUSE YOU DID FOR GREECE.
valdivia1997
Switched from Regular to Super and still leaking
For the last several months, i've been wondering if my flow had suddenly gotten much, much heavier. I always used regular Tampax for my heaviest days, and slender regular for the later days of my period. Several months ago, I had to switch to Supers because I was routinely leaking through regulars very quickly. I had never needed a Super in the 24 years I've been having a period. And the Supers are awful too! I leaked through 2 Supers just today! Tampax, you used to make a great product. I have loved and appreciate the design and cardboard applicator since I first starting using tampons. I don't want to switch to the plastic applicator - there is too much plastic in the landfills as it is. Unless you switch back to the old cardboard Tampax design, with tried and true protection, I will NOT be buying another box of Tampax tampons. I will certainly not continue to buy a product that is guaranteed to cause me embarrassing accidents. No thanks Tampax.