Victor M310S Tin Cat Live Catch Mouse Trap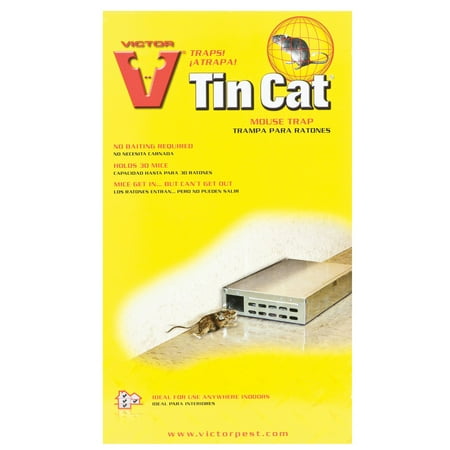 Sale :

$20.14

Sold & shipped by Ron's Home and Hardware
Product Description

Additional Information

Reviews
Product Description
Ideal for people who do not want to see or touch the mouse.
Additional Information
Victor M310 Tin Cat Live Catch Mouse Trap:
Enables consumers to catch and release mice
Catches up to 30 mice
Can be used around food, water, children and pets
Disposable or reusable depending on preference
Victor tin cat mouse trap is easy to set and bait
Ideal for people who do not want to see or touch the mouse
Reviews
desertra
Great Humane Trap
I put some salami in it just to be sure, it caught the mouse with no trauma to the mouse, and I was able to release mouse in a distant field. I got tired of conventional mouse traps catching the mouse by the nose or leg and I had to drown it and there was blood all over, no more.
Sammy
Amazing!
We live near in a rural area, so it's not uncommon for mice to come in the house. I felt so horrible for the old snap traps when they would chatch other parts of their bodies, I really never want a mouse to suffer I just don't want them in my house. So this works like a charm I put some peanut butter in there but not near the ramps, they go in and can't get out until we release them. It recommends driving them 2 miles a way so we do. We have caught 4 mice and I haven't seen any signs of them anywhere else. My only issue is that it can be hard to clean but would recommend this to anyone with a rodent problem.
mousie
It worked great all summer but the last few mice
Very well made of metal with a plastic window on top to see if there's anything in it. We used it everyday all summer and caught as many as 6 at a time, with the average probably 2-3. One day the bait was gone but there were no mice. I thought the ramps might have worn out from overuse so I threw it away and bought a new one. Same thing happened! I think the remaining few mice have learned how to beat the trap, but how are they doing it?! If anyone has any tips to share on how we can make it work again please let us know. I will not use a kill trap. Thanks.
CMDM
Worked As Advertised
Had a mice problem at work. Set it and caught 2 the first night. That's all we had.
Sadie
Could use some improvements
The first 2 times I used it, the mice took the food and somehow got out. I put a heavy object on the top the next time and caught the next 2 mice. They somehow could lift the top up, not secure enough. Also after catching the mouse and taking it down the road to let go, when I opened the container the mouse hid in one of the entrance tunnels, shaking the container the mouse came out and went into the other entrance tunnel. I had to put a rock in front of the empty entrance and shake the mouse out of the other tunnel.