Pilot G2 Bold Point Retractable Gel Pens, 1 Dozen (Quantity)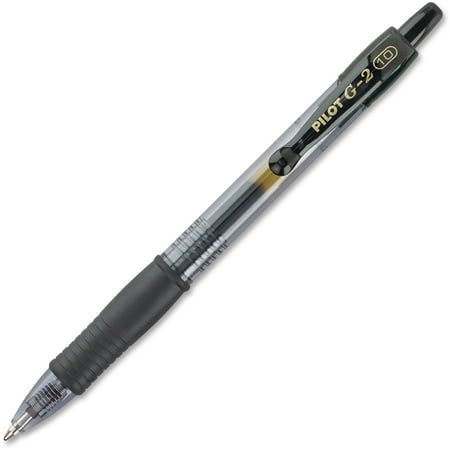 MSRP :

$26.4





Sale :

$12.79

Sold & shipped by Walmart
Product Description

Additional Information

Reviews
Product Description
G2 Premium Gel Roller is the ultimate pen for the everyday overachiever. Smooth-writing gel ink glides onto the page. G2 is proven to be the longest-writing gel ink pen vs. the average of top gel ink brands. Latex-free rubber grip provides long-lasting comfort. Bold point conveniently retracts so no stray marks on pockets or bags, and retractable tip means no cap to lose. Gel ink pens are refillable for lasting use. Pilot G2 Bold Point Retractable Gel Pens, 1 Dozen (Quantity)
Additional Information
Proven No. 1 Longest Writing vs. average of top gel ink brands
Super-smooth writing
Comfortable, latex-free rubber grip
Retractable to avoid stray marks
Refillable for use again and again
Reviews
Unknown Customer
Just what I was looking for
Amazing pens. I would buy again. Shipped about 3 days late but no ones perfect.
vermontresident
Won't write with anything else
It is an absolute pleasure writing with the bold version of these pens. My pen just glides over the paper, and it never skips until it is about to run out of ink. I highly recommend these. I've gotten so spoiled with using them for so long that I won't write with anything else. My only regrets are that I wish they were less expensive and I would be thrilled if they offered the bold version in more colors. I would buy every color they offered!
TheRealRalph
Bold and easy to write with
My wife and i both like bold point pens, which are difficult to find locally, other than in black. We get the gel pens because the ink flows much more smoothly. Together with the shape and feel of the pen itself, it makes for a much better writing experience.
XavierJIG
Best BOLD gel pen, hands down!!!
I love thick writing pens and this is the boldest, darkest, thickest writing gel pen I have found. This pen writes with a 1.0mm thickness. I recently came across a gel pen that claims to be 1.4mm thickness (Paper Mate - Profile). I got extremely excited and rushed to purchase. I was very dissapointed with the boldness of this pen. I wrote with both side by side and, hands down, the Pilot G2 writes bolder, darker and thicker. G2, forgive me. I cheated on you. Never again!!!
Viklet
No-skip pens
I love these pens. I dread the day that they stop making them. They have been a constant in my life for 18 years and I'll never stop using them. They are available in the local office supply store at a savings of over $8.00, but I am disabled and can't go get them so I am willing to pay the difference even though I think it is too high.