Sun Liquid Laundry Detergent, Clean & Fresh, 250 Ounce, 178 Loads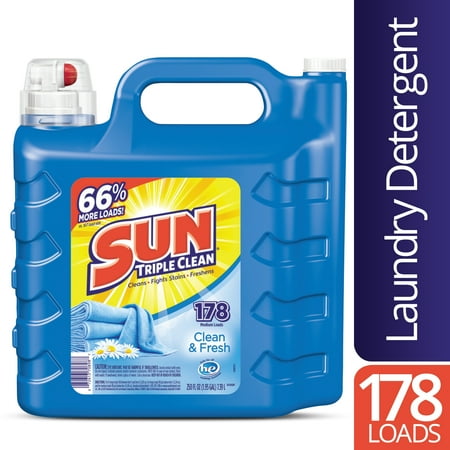 MSRP :

$8.37





Sale :

$7.78

Sold & shipped by Walmart
Product Description

Additional Information

Reviews
Product Description
Remove dirt and tough stains from your clothes with Sun Clean & Fresh Liquid Laundry Detergent. It has a fresh floral scent that leaves your clothes smelling like daisies on a warm summer day. This package of ultra-concentrated laundry detergent cleans up to 160 loads of laundry. Sun laundry detergent is safe for septic systems.
Additional Information
Capture the sunny, breezy sensations of summer with Clean & Fresh
White floral notes recall a field of daisies, apples and citrus notes wrapped in honeydew melon
Clean & Fresh delivers a relaxing freshness reminiscent of a summer picnic
Safe for all washing machines, including HE
This package contains one 250 ounce bottle of Sun Clean & Fresh laundry detergent, enough for 178 loads
Reviews
BeHappyMe
Good, but doesn't fight stains too much..
The clothes is fresh and the colors are bright, but I can't say it fights stains too much.. as it had been said on the can. It's just a lot of detergent for a perfect price. I like the scent and the quality. But I can't say I'll not continue trying other ones. I do not stop on this one. ;))
BicyclingMaMa
Better then the BIG NAME brand
I dont know if I can use the name of another brand or not. If I cant, tell me and I'll take it out or you can take it out. I was useing Tide $17.97 for the big 50 load size. BUT this month was very tight money wize so I had to choose between over priced laundry detergent or a big bag of dog food. Naturally my dogs food came first. I got Sun $7.97!! for the 50 load size. The only difference I or my family could tell was the $10.00 savings.!.!. O.K. time for me to get smart and quit feeding the big name brand CEO's and start putting that $10.00 to other things.
MikeInPdx
Suds aren't necessarily a good thing
I have been using Sun in its various forms since the 1980s. It cleans normally soiled clothing well and will tackle the toughest stains with a little oxi type cleaner and a pre spotter like Shout. Clothing comes out clean, bright, and fresh, but not perfumery. I like that. For those folks complaining about the lack of suds, it's supposed to be low sudsing. Modern high efficiency washing machines require low sudsing detergent, and this detergent is safe for all machines. So, even if you don't see suds, it's doing its job. I have zero to just a few in our old Maytag, and everything come out fine. Overall, if you need a good basic detergent, this deal is hard to beat. It works, is cheap to buy, and works fine in any machine. Just don't despair when you don't see bubbles.
cshrock
SUN Laundry Detergent
My husband is a nurse who believes in only wearing white. Between Oxyclean for stains and SUN to keep the white shining, he still has his white uniforms from 10-years ago. The cuffs and beltlines are frayed, and the shirts are thin, but they are all still white and ready to use if he so chose. SUN is fantastic and it is the only detergent we use. It keeps our whites WHITE and our colors BRIGHT.
Cook1948
Excellent Value and Good Detergent
This is one of the best kept secrets in Walmart. This detergent cleans well, and you get a lot of cleaning power for the money. In this economy, we have to get as much value out of our shrinking dollars as we can. I tried it the first time because of the reviews, and I bought the second time because I like the way it cleans my clothes.