Sun Triple Clean Clean & Fresh Laundry Detergent, 250 Oz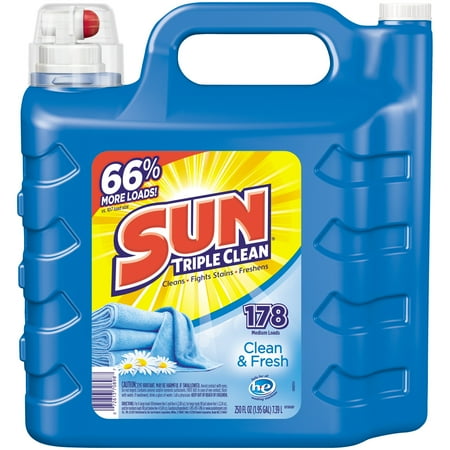 MSRP :

$8.37





Sale :

$7.78

Sold & shipped by Walmart
Product Description

Additional Information

Reviews
Product Description
Remove dirt and tough stains from your clothes with Sun Clean & Fresh Liquid Laundry Detergent. It has a fresh floral scent that leaves your clothes smelling like daisies on a warm summer day. This package of ultra-concentrated laundry detergent cleans up to 160 loads of laundry. Sun laundry detergent is safe for septic systems.
Additional Information

Sun Clean & Fresh Liquid Laundry Detergent:
Up to 160 loads
Sun laundry detergent 250 Fl. oz jug includes 66% more in this container size
Safe for septic systems
Safe for all high efficiency washers
Cleans, fights tough stains and freshens
Easy pour spout and attached measuring cup
Built in handle
Twist cap to vent and help pour speed
Reviews
Bugging
Very Pleasantly Surprised
I bought this product for the price. After having been disappointed with the detergent Xtra, which is also inexpensive, I was apprehensive....but it actually removed grass and dirt stains!!!!!!! The Xtra did not remove any stains. I would say this product removes stains as effectively as All and Tide......Not really sure why it so cheap, but from what I can tell, it is an incredible deal. I recommend it fully! The only downside is that I cannot find an HE version, but it works wuite well in my HE machine.
BicyclingMaMa
Better then the BIG NAME brand
I dont know if I can use the name of another brand or not. If I cant, tell me and I'll take it out or you can take it out. I was useing Tide $17.97 for the big 50 load size. BUT this month was very tight money wize so I had to choose between over priced laundry detergent or a big bag of dog food. Naturally my dogs food came first. I got Sun $7.97!! for the 50 load size. The only difference I or my family could tell was the $10.00 savings.!.!. O.K. time for me to get smart and quit feeding the big name brand CEO's and start putting that $10.00 to other things.
summertimefox
Great Liquid Laundry Detergent
I purchased " Sun Ultra Concentrated Clean & Fresh Liquid Detergent " 250 ounce size. Price was great & the detergent works great & leaves my clothes smelling good. Will be buying again.
bearyshopper2
Exceptional Value!!!
Great cleaning power as well as color retention. Fragrance is very appealing. No allergic reaction from entire family (which is a miracle in itself!!) Will continue to buy - awesome value!!
westwal
Great wash for less price!
It does a good job and clothes smell fresh and clean! It is not true that what you pay is what you get. This product is excellent compared to other pricey brand detergents.