Snuggle Scent Laundry Boosters Cherry Blossom Charm - 26 CT26.0 CT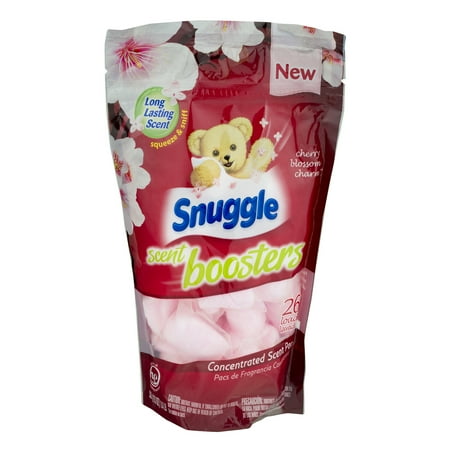 Sale :

$4.45

Sold & shipped by Walmart
Product Description

Additional Information

Reviews
Product Description
Snuggle Scent Laundry Boosters Cherry Blossom Charm™. This product provides an easy and convenient way to give your laundry a big boost of freshness. It gives long lasting scent. Safe for all he washing machines. Dissolves completely on all water temperatures. Great for all types of clothes including activewear and sleepwear.
Additional Information
Snuggle Scent Laundry Boosters Cherry Blossom Charm™.New.
Long lasting scent.
Squeeze & sniff.
Concentrated scent pacs.
Safe for all he washing machines.
26* Loads.
520 g (18.3 oz) 1.14 lb.
Reviews
CMJ38
Snuggle Cherry Blossom Charm Scent Boosters
I tried this product on more than one occasion and I really wanted to like it and experience a cherry scent on my freshly washed and dried clothing, however, that was not the case. According to the directions use one scent booster for regular loads and two for large loads. I washed clothes both ways and I did not experience any long-lasting cherry scent. I smelled a faint scent after washing my clothes but once they came out of the dryer I smelled nothing. I even asked different family members to smell my clothing to see if they noticed a cherry scent and they did not. This was very disappointing because I love and use other Snuggle products. I am a member of Team Snuggle Bear Den and I received a full size product for my honest review and opinions.
MOMMYKMG
Smells Great
I received the Snuggle cherry blossom pacs for free to try out. I must say that it smells great. I really am in love with the scent. I let my Mom try some as well and she loved it.
Disappointed
Very disappointed in this product.
While on vacation I used this product ,it smell so good and the clothes felt and smell wonderful after they were dried. When I used the ones ordered it didn't smell and I could tell no different in my clothes. Very very disappointed. Simply cannot understand what happen.
Koupongal82
Simply Amazing
I am a member of Team Snuggle and have received a free experience or product on behalf of Snuggle® Before receiving this product, I had never tried the Snuggle Scent Boosters before. After trying them for the first time, I am extremely satisfied! My clothes came out smelling amazing. I used 3 scent boosters in one load of clothes. With other brands, I usually have to use 4-6 scent boosters to achieve the desired scent in my clothes. The cherry scent is very light but still noticeable. I would definitely buy Snuggle Scent boosters in the future and recommend to my family and friends.
MJ
Simply Amazing
Love that my laundry smells fresh and clean, especially whites and towels that I don't use fabric softener on.