Snuggle Scent Boosters Blue Iris Bliss, 56 Count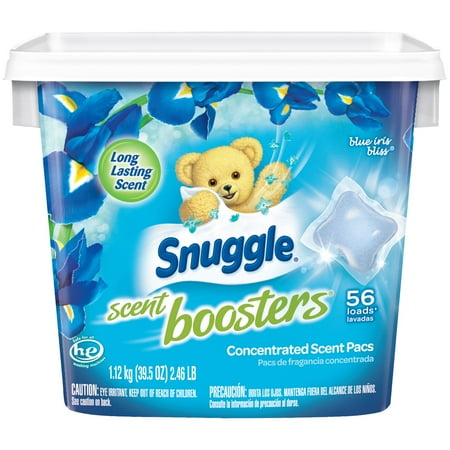 Sale :

$9.38

Sold & shipped by Walmart
Product Description

Additional Information

Reviews
Product Description
Snuggle Scent Boosters Blue Iris Bliss Concentrated Scent Pacs make your laundry smell delightfully clean and fresh. Simply toss one in the washer and enjoy the result. Snuggle Boosters Scent Pacs, 56-count (39.5 oz), are safe for all washers.
Additional Information
Find your happiness with Blue Iris Bliss, a crisp and invigorating mix of bright citrus nuances blended with hints of fresh red berry and finished with warm woody notes and soft musk.
Reviews
poochielover
Smells good, works great!
I recently received a package of the Snuggle Scent Boosters Lavender Scent packs to throw in my wash to make it smell good and keep it fresh feeling and soft. I love trying out anything that has to do with my laundry or wash , any scent, any smell any brand. I just love different good smelling scents and finding the best smell. With these i did one medium size load which had some light sheets so i put 2 packs in and they came out smelling really good but not really strong but that's good because i don't like strong scents. They did smell clean and so fresh smelling with a light scent of Lavender. They also help control static and that is a plus for me. My sheets came out and they were actually not popping when i was pulling them apart. My opinion is a pretty good product and i like the way they are made. They actually dissolve too, not like some that i have used that never dissolve even with the hottest of water. I received this product free from Snuggle Den for testing purposes and the opinions are my own!
UAHOGS
Smells good, but...
I purchased the Scent Boosters because I love Snuggle products. But, the casing (or dissolving wrapper) doesn't completely dissolve in the wash - doesn't matter if the water is hot, warm, or cold. I have had several clothing articles and bedding that after being tossed into the dryer appeared to have a glue like substance adhered to them. So obviously the packet didn't dissolve in the wash but stuck to the articles being cleaned. I've had to soak and scrub the items in order to get the goo out, then rewash. My solution since I bought a large package of Boosters was to cut them all open and pour the contents into a container, I just use a small scoop and add the Booster powder to the laundry soap.
Michelelovesshopping
Snuggle is awesome!
I love how my clothes smell after using Snuggle. Every scent is awesome! You can't go wrong getting this product.
thecaptian
Smells great! Lasting scent.
These are fantastic! The scent boosters aren't a necessity. If pressed. I would pick softener over these. Butttt, they do leave a lasting, pleasant scent. The value is good. I recommend the larger bag. The price is lower per pack. The only complaint I have is the lack of variety. Snuggle comes in so many great scents, its a shame to restrict it to Blue Iris and the purple one (Lavender?). These have been extremely hard to find at our local Walmart. I had to order them from site-to-store to get them. As to if I would recommend these to a friend? Yes, I would. I've given approximately 5 of these out to friends so they could try them. So far, they're a hit!
SavannahMom
Finally - I have the secret
I take care of someone who is incontinent and the odor has been impossible to overcome. I've tried everything! and I mean EVERYTHING. These little blue packs are wonderful. I do use 2 for each wash, but they smell so good after only that first wash. I used to have wash his clothes twice to get the odor out, but not now. Thank you so much for carrying this wonderful product! I am hooked for life!