all Mighty Pacs Laundry Detergent, Stainlifter, Tub, 72 Count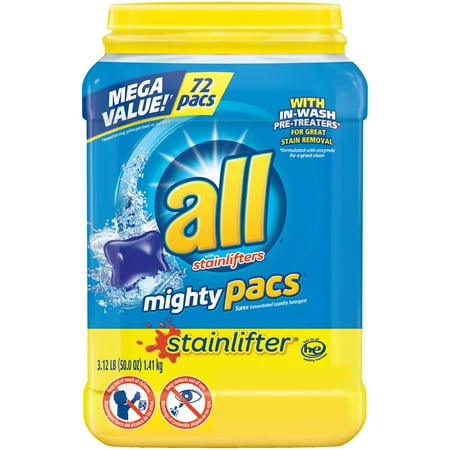 MSRP :

$9.97





Sale :

$8.97

Sold & shipped by Walmart
Product Description

Additional Information

Reviews
Product Description
Keep your clothing clean and fresh with All With Stainlifters Mighty Pacs Super Concentrated Laundry Detergent. The powerful packets are sure to remove those tough, ground-in stains. They are safe for all washers and have in-wash pre-treaters for satisfying stain removal. Use this HE washer detergent for your family's clothes washing needs.
Additional Information
Get a powerful clean with mighty results in one convenient pac per load.
Each little pac delivers concentrated cleaning power with In-Wash Pre-Treaters for great stain removal.
Leave your clothes smelling clean with a fresh scent.
These Mighty Pacs are safe to use in any washing machine and at any water temperature.
This pack contains one tub of 72 Mighty Pacs, with one regular load per pac.
Reviews
danraccay
Doesn't clean well
We used these for a few months and thought they were great at first because they helped my kids not have to measure out detergent. However, over the last month or so, we've noticed a gradual buildup of deodorant and dinginess on our clothing, as well as a gradual decrease in fresh-smelling laundry. This was a problem years ago before using Arm and Hammer powder which took care if it very well. After switching to this, the problem has returned. I suppose we'll just have to go back to Arm and Hammer brand. These pacs were rated well and seemed to be one of the best deals. However, not so if closed aren't getting clean. And, just to clarify, we use two pacs for every load because we always are doing large loads.
Hardworking
Have it all!
I was impressed how clean my husbands work clothes were, no pre-treating required.
crazymama
All the punch for a cheaper price
I love these little things! They smell amazing and our clothes always come out smelling amazing too. I have had no issues with these. Toss one in and you're done. If it's a super big load, toss in two. I usually toss two in when I wash my husband's clothes after he's been working. They help :)
LaRanchera
Give it your All
I had not used any All products prior to making this purchase. The product had a good description and an attractive price, so I decided to give the product a try. What a pleasant surprise. The packets, which I prefer to measured laundry detergent to minimize waste, are easy to remove from the storage jar with a twist-close lid. Except for a very large or very dirty load, one packet is plenty, which makes this purchase a really good deal. The clothing comes out clean and fresh-smelling, and I don't feel like I need to do an extra rinse to get out residual soap.
Sharron
Dissapointed
I'm not impressed with these! I have used Tide liquid and Tide Pods for years but they have become ridiculously expensive so I decided to try something else. I had a $1.00 off coupon for All pods so gave them a try. While they do seem to do an okay job of cleaning my clothes and don't smell too bad, they do NOT dissolve completely and sometimes leave little bits of plastic on my clothes. I didn't realize it was happening until after they went through the dryer which turned the bits of plastic into very hard little dried on chunks of glue:-(