BUNN 10-Cup Velocity Brew BX Coffee Brewer, Black, Stainless Steel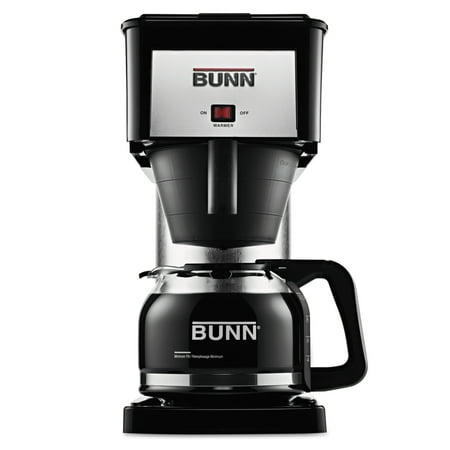 MSRP :

$143.44





Sale :

$116.08

Sold & shipped by Shoplet
Product Description

Additional Information

Reviews
Product Description
Innovation meets the BUNN retro look in a brewer that nods to the past but works for today. Time - Temperature - Turbulence. The 3 Ts needed for flavorful coffee. Here, each T is calibrated to perfection. Also amazing: it does it in 3 about minutes. The brewer for you if you love a classic feel, but demand todays quick technology. From black-and-strong to extra-cream-and-sugar, BUNN home coffeemakers are built like our famous commercial ones - with your enjoyment in mind. When one (or two or three) cups of coffee just wont do, these quick 3-minute brewers are what weve built our famous reputation on.
Additional Information
BUNN 10-Cup Velocity Brew BX Coffee Brewer, Black, Stainless Steel
Reviews
pooh1967
UPC : 072504077840 - BUNN 10-Cup Velocity Brew BX Coffee Brewer, Black, Stainless Steel - PickPanda.com
Love How Fast
LoveJack
My New Good Friend In My Kitchen!
Since I started to like fresh made coffee( I used to drink instant coffee in China, after I started to drink fresh ones, I would never go back to instant coffee anymore), I've had two coffee makers before this months for last several years. My first coffee maker was Mr Coffee brand, it cost me about 60 bucks. It was a big piece of junk, after one month, it started to make warm coffee. It never made tasty coffee anyway. No more Mr coffee coffee maker for me then. Then my hubby's friend bought a Braun coffee maker for us as a gift. He loved this coffee maker. I have to say, it was not bad, but it did maker bitter coffee sometimes. It lasted several years, and it still worked after I dropped it on the floor once. Even Braun still worked, but I was so tired of the bitter taste coffee, I did need a good coffee maker that could make a good cup of no bitter coffee and last a long time. After I heard how good the Bunn coffee makers were for a long time, I decided to give it a try. Bunn makes coffee makers for commercial and home uses. For my first Bunn, I chose the home grade one. I bought the BX-B model on walmart.com, for $94 plus tax, and Free Shipping. Walmart has the best price, and the shipping was fast, just two days. I was so excited to receive it, and couldn't wait to use it. I did have some problems to use it at the first time. The biggest issue was my softened water in my house. I tried to make a full pot(50oz) coffee, the coffee and coffee grounds overflew from the funnel, and made a big mess. What was going on here? Oh, I recalled that on the manual, it said softened water may cause overflow. That was right, I switched my water to filtered bottled water, no more overflow! I did order the flow restrictor free of charge from their website. It is especially for softened water and fine grounds. I didn't get it yet. So I have to see how it works later. But so far,it makes a full pot of coffee in just 3 or less than 3 minutes.Yes, as it promised, It makes the coffee no more bitter and burnt taste! My coffee tastes so good now. This coffee maker is more suitable for people drink coffee a lot, at least once a day. Cause the stainless water tank heats water inside to 200F, and retain that temperature all the time. That's the reason why as soon as you pour cold water in, the hot coffee comes out right away, and a full pot just needs less than 3 minutes. If you just drink coffee every once a while, this coffee maker is not for you. This model I got has a vacation switch, so I could turn it off when I am a way for a while. Cause the water in the water tank does get evaporated to dry if you don't use it for a long while. Now I am so happy with my new purchase. It is a little bit more expensive than other coffee makers, but for the flavor of the coffee, and it lasts a long times as other users said, it is worth the money.
Pops2U
Better & Quicker Coffee
Needed replacement for a SO-SO coffee maker we had for a year or so gave out. Did quite a bit of on-line research but questioned how valuable others' opinions were. Noted numerous BUNN machines had pretty good ratings and that cafes normally have the brand. On purchase did call BUNN to request the water defuser as saw some reviewers noted such needed to prevent over-spray if one had a water softener. BUNN sent one quickly and without charge. Unit works very well brewing coffee quickly and with good taste. Recently "discovered" one can make less than 10-cups by simply adding only the amount for the cups desired since the added water will simply displace an equal amount of the already hot water through the coffee grounds. One thing we had to get used to is not close the upper flap where water is added until the pot is placed under the coffee filter container. For, closing the lid on the fill opening will immediately start a flow of hot water onto the grounds.
CactusCodger
Thinking Bunn? Get THIS model!
After more than ten years of yeoman service--multiple pots daily from very hard tap water--our old BX finally died (warmer stopped working) a little over a year ago, so we sprung for a newer version, the NH, for its more modern look, never mind the higher price. The first NH leaked out of the box, the second took around 8 minutes to brew (so much for "velocity"), and had a disgusting habit of spitting a tablespoon or so of hot water unbidden between brews into fresh grounds readied for the next pot, but we kept it in hopes it would improve with a little use. It didn't, and we lost patience with it. This BX works just like our old one did. Ten cups of great brew (if you grind your own good beans!) in less than three minutes, so fast you'll have coffee before you can get even a cold breakfast ready for the table. Be sure to use the Bunn filters as the brewing process uses them to nearly full depth, and will overflow the cheapies, allowing grounds into the carafe (and your cup). Note to Bunn: if it works, don't fix it!
LoveMyBUNN
Bunn Velocity BXB wins over NHS- better design
I tried to save a few dollars by buying the Bunn Velocity Brew NHS and it did not compare to this Bunn Velocity Brew BXB. This fill tank lid lifts (instead of slides like NHS) which the lift design gives it a better design for triggering the water flow sensor. The filter basket slides in securely with this BXB design where as the NHS design was hard to slide in right and most of the time either did fall out or felt like it was going to fall out. I LOVE this coffee brewer and it is really sharp looking. I was nervous about the stainless steel and how fussy it would be for keeping clean. The stainless steel has a nice finish on it where it doesn't show finger prints and maintains easy. It makes coffee very fast as well as multiple pots back to back fast for large crowds. Very happy with this purchase. Make sure to buy the deeper coffee filters. You can get by with standard filters but the grounds splash onto the upper part of the filter basket so you need to rinse the grounds out of the basket between brews. Great coffee pot for a serious coffee drinker.