PIC FSTIK-RAID Jumbo Fly Stick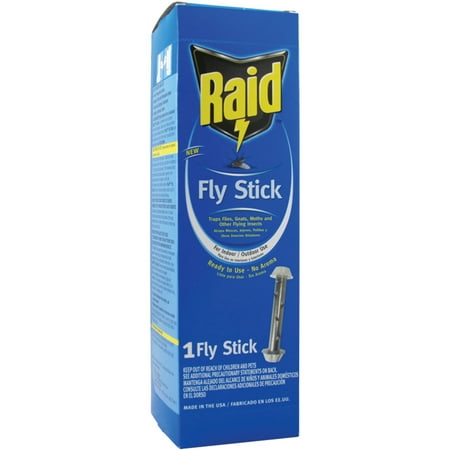 MSRP :

$2.99





Sale :

$2.92

Sold & shipped by Walmart
Product Description

Additional Information

Reviews
Product Description
Control the bugs around your home with the Raid Fly Stick. It is designed for both indoor and outdoor use. It contains no broadcast insecticide and has the capacity to catch over 150 flies per stick. This house flytrap can be safely used to trap annoying houseflies, moths, horseflies and other flying insects. The die-cut packaging protects birds and animals from glue. It comes in a decorative container with a metallic lure for added attractiveness.
Additional Information

Raid Fly Stick:
Raid fly trap is designed for both indoor and outdoor use
No broadcast insecticide
Catches over 150 flies per stick
Die cut packaging protects birds and animals from glue, rendering it safe for houses with pets
Metallic lure for added attractiveness
Package contains 1 trap
Ideal for reducing pest populations during summer months or managing flying insects congregating in the kitchen
Reviews
Sharapstar
Works great for fruit flys
Someone left potatoes rotting in the kitchen and caused a fruit fly infestation. They were all over the bag of potatoes, all over the sink and pretty much everywhere. I tried a fruit fly trap for 3 days and it trapped not 1 fruit fly. I considered using a bug fogger but I have dogs and it's too hot to take them somewhere for 4 hours. I came across the raid fly trap and for $3 figured it's worth a try. The infestation was so bad I couldn't even eat at home because they would land all over everyones food or in our drinks. Absolutely disgusting. Cleaned the entire kitchen spotless and I put the fly trap by my sink which is where they seemed to be the most and the next morning there were bout 100 of those disgusting little bugs stuck to it. My 1st reaction was to throw up because it was disgusting, but at the same time I was relieved. So far I'ved used 2 fly sticks and noticed a significant difference. I've cleaned my drain and got rid of any food out. I still see some here and there flying around but it's not so bad and repulsive to the point where I can't even eat.
KelLou
Works great for fruit flys
This is an amazing fly trap product!! Just sit it on a window ledge inside the shutters or with the blinds up as tall as the stick. As soon as it flys to the window it immediately attracts and sticks to the fly stick! I have had mine in the window since May, it is now September. It lasts so long I really don't need to change it but there are so many flys stuck to it, it's rather gross and could be thrown out. I will definitely buy this product again! The trick is to keep it in a window!!
Kim
Works great for fruit flys
I get one housefly once every month so no dead bodies yet on my fly stick but I think it will work perfectly when the time comes. If not, I'm only out $3.00. Other customer reviews indicate that it does trap a great many flies, so that inspired me to make my own purchase. The instructions on how to remove it from the box didn't apply in my case since the box was damaged in shipping. (The instructions were difficult to understand as well). As you remove it from the box be careful to handle it by the white plastic pieces on the top and bottom. The glue-like material on the cylinder is super sticky but non toxic and will wash off with Dawn dishwashing liquid. Fly stick does not smell and will not stand up unsupported. I hung mine from a push pin in the wall using a black shoestring.
Johnny
Cattle Flys
This fly's are Smart not one in two days,but, But I bought a Back up a Fly swater 2 for $.98cent thanks Walmart
Nique
Works Great
We had a gnat infestation and tried everything. I just bought mine a day ago and the stick caught many of them. I recommend pouring red wine in the cup to attract them. I already bought more.