AcuRite Wireless Weather and Intelli-Time Clock Station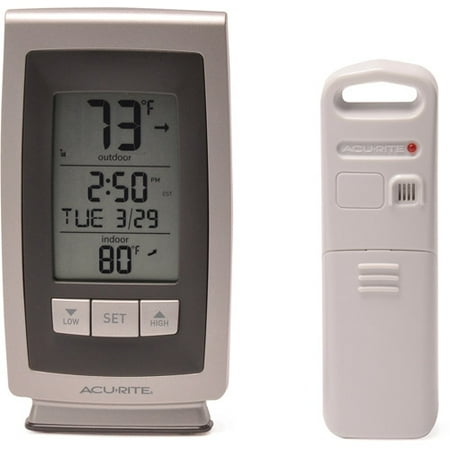 MSRP :

$29.99





Sale :

$17.84

Sold & shipped by Walmart
Product Description

Additional Information

Reviews
Product Description
Pre-programmed with the correct time and date, this combination wireless weather and Intelli-Time clock station provides the most accurate temperature and time monitoring system for your home or office. It is pre-programmed with the time, day, and date, monitors indoor and outdoor temperatures, and automatically adjusts for Daylight Saving Time. The remote sensor transmits up to 330 feet in an open area.
Additional Information
AcuRite Wireless Weather and Intelli-Time Clock Station:
Wireless weather station and Intelli-Time clock automatically sets time, day, date and temperature
Monitors indoor and outdoor temperatures
Automatically adjusts for Daylight Saving Time
Daily calendar displays through the year 2050
Intelli-Time Technology is pre-programmed with the correct time and date
Remote sensor transmits up to 330 feet (100 m) in an open area
For wall or tabletop
Requires 3 AA batteries for the display and 2 AA batteries for the sensor (batteries not included)
Wireless thermometer measures 5-1/2"L x 3-5/16"W x 1"D
Sensor measures 3-1/2"L x 2-1/2"W x 15/16"D
Model# 00754W4
Also available in select Walmart stores
Reviews
abearwhocares
I love! these thermometers---
I have 4 of them -- upstairs bedroom- downstairs kitchen - basement den and garage. I MADE AN ERROR though-- I put up 2 of the outdoor sensors-- 1 in the front and 1 in the back of the house -- wrong. ONLY 1 outdoor sensor is necessary and I hung it in a covered outdoor area but in open air to sense the outside temp. with 2 I was getting mixed signals-- but 1 did the trick and all 4 indoor receivers read the same outside temps-- but still record the varying indoor temps-- upstairs-downstairs- garage are usually different. The key is using a high quality battery [ I use Duracell copper tops] for the outside / inside items so you get strong signals all year round -- cheap batteries won't last or work very long as the outdoor sensor sends a signal frequently. I put new batteries in outside before winter and they last until summer for me. The indoor units usually last a whole year. GREAT gift idea too. Batteries are not included so buy good fresh ones!
Boatnmaniac
Started Off Iffy...Ended Being Great
When I first loaded the batteries it gave some really off temp results with the interior temp showing 6 degrees too high and the exterior temp showing 12 degrees too high. Then the exterior transmitter stopped transmitting (or the interior unit stopped receiving). I took the batteries out and repeated the process 2 more times with the same results. I was about ready to give up and return it but decided to try reloading the batteries one more time. This time it worked just fine with temp readings both inside and outside being with a degree of actual. I've since placed the exterior unit in the bilge of my boat (to monitor the effectiveness of the bilge heater during winter freezes). It's about 30' from where the inside unit is located and has been functioning perfectly for the last 3 weeks. I would have given this a 3 star rating because of the initial difficulties encountered trying to get it to function properly. I bumped it up to 4 star because of the great price. I now hope it lasts for a good while.
BeenThereDoneThat
Some erroneous product info in reviews
I read several reviews posted and felt some clarification is in order. The clock is what is generically referred to as an atomic clock. It receives the time info from gov't times and standards radio stations. Most everyone in the country can get the signal and thus the updates. This should keep the time accurate regardless of how accurate the internal clock is without this standard. However if you don't get the radio updates then you defer to whatever the internal clock is doing. Being a radio signal it is usually recommended that the receivers are not placed near other electrical devices which cause interference and could disrupt or block the radio signal from the time standard station. Battery condition is always a mitigating factor in any of the electronic operation. If problems occur from a previously working unit the first order if business is replacing batterys. For the current price of only $10 this is a heck of a buy. You are getting a lot of electronic technology packed into a very inexpensive unit/units.
Sunshine
AcuRite Weather Station 00754
Was first experience as Walmart customer via internet/mail purchase. And can say that order arrived exactly on time and as specified. Nobody else is selling this unit cheaper than Walmart. It's an excellent choice for amount paid. (If it lasts) Purchased this unit because I am previous owner of AcuRite weather station. And know from experience how long these units last. Outside sensor should last several years if properly protected. (mine are double wrapped in ziplock bags) Gave this product four stars instead of five because of two minor negative differences between the old and the new units.Which,otherwise, are identical. Older unit is slightly larger overall which means readout info is also bigger and easier to see from a distance. And older unit had a detachable base with flat back for hanging on wall. And although newer unit can also be hung, base is molded which doesn't make it suitable for wall. It's a stand-up style. But the real surprise was that the outside sensor on the newer unit works on the older unit as well! Very nice! And now I have the older unit to continue using, as well as the newer one. And that's a good deal.
Swindy48
SO GLAD I BOUGHT THIS
I ordered my product on sale on the internet. It was shipped to my store and I picked it up. I'm a 68 year old woman and thought I'd have trouble with the installation and worried about it. Was I surprised? I opened the package (that was the hardest thing), put in the batteries, took the outside gauge to an outside location and instantly when I came back in the house everything was working. The inside temp was going up , an outside temp was beginning to register. It also shows the date and time of day including what day of the week it is. What a great buy!!!!! This was the easiest thing I ever did. If you see this in Walmart snatch it up. You'll be so glad you did. I've gone 3 years without knowing what the outside temp was and its so handy to walk into the room and see everything I need to know. Thanks Walmart !! Lorraine