AcuRite 00592A4 Wireless Indoor/Outdoor Thermometer with Humidity Sensor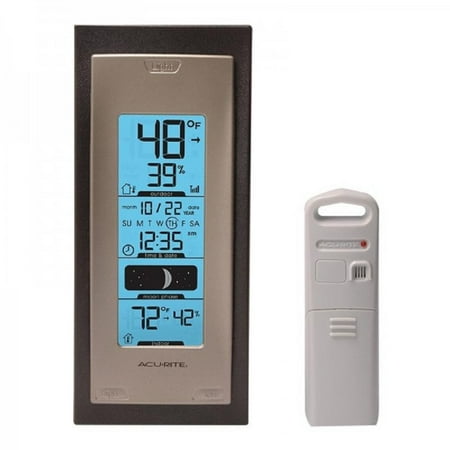 MSRP :

$27.92





Sale :

$32.22

Sold & shipped by Walmart
Product Description

Additional Information

Reviews
Product Description
The AcuRite 8" Digital Temperature and Humidity Monitor with Intelli-Time Clock and Calendar is an excellent tool for your home or office. The AcuRite Humidity Monitor with Intelli-Time Clock and Calendar displays both indoor and outdoor temperatures and humidity levels. In addition, it offers a daily high and low report. With a bright blue backlight, a self-setting calendar and a clock that automatically adjusts itself for Daylight Saving Time, the AcuRite 8" Digital Temperature and Humidity Monitor with Intelli-Time Clock and Calendar is a smart way to stay up to date and ready for whatever nature sends your way. This digital temperature monitor provides precise and reliable readings on an easy-to-read LCD screen. Its self-setting clock and calendar and low battery indicator help keep it accurate with minimal work on your part.
Additional Information
AcuRite 00592A4 Wireless Indoor/Outdoor Thermometer with Humidity Sensor
Reviews
EnergyHandyman
Great product for several reasons.
I buy about 50 of these each year, mostly from Walmart.com to install in homes that my company has worked on either completing a sealed crawlspace or attic weatherization. About 1 out of 50 is faulty, and I try to test them by setting them up with the remote sensor zip tied to the base unit and checking to make sure that the "indoor vs outdoor" temp/humidity is within a few degrees of each other. A good reading is within 1-2 points or exactly the same, and other brands are good when they are within 5-6 points. When faulty, the humidity reads 98% due to an error I assume in the sensor. The main reason I love the design is the huge, flat bezel. I write on it to make it easier for my clients to see "where" the remote sensor is:
nofinesse
Love it!
I purchased this for my grandfather, who loves staying up to date on the weather. Both my grandparents love it, and we all look at it each day. It's nice to have the actual humidity readings from inside and outside, and the actual temperatures as well. We pull up the forecast and compare sometimes. The moon phases are an added bonus, though we primarily bought it for temp and humidity. I will be purchasing a second one to monitor our crawl space humidity levels, as well as inside my own home. *Be sure not to leave the remote sensor in direct rain fall. We had several straight days of very cold weather and wet conditions, with rain and ice nearly non-stop. Our sensor is under a roof overhang, and did OK. Though, I did bring it in after a couple of days and let it dry out, reset the connection, and hung it outside again, because it was reading at 98%, when I was pretty sure the humidity had fallen. It had, and it did need to be reset. In the future, we will be bringing it indoors during prolonged or heavy rain, just to be safe. It has worked fine since we put it back outside.
RetiredInTheRockies
unreliable
When I got it from the store the indoor and outdoor units were several degrees apart sitting right next to each other. I went ahead and put the outdoor unit in a shaded area and it only worked about a day before there was no signal. Checked the batteries and they are good. Looking at other sites on the web this is not unusual for this unit.
MuLou
Huge waste of my money
This unit worked flawlessly for about 5 weeks. Now no outdoor temperature shows. Been corresponding with the AcuRite company to find fix or get new unit. It's like pulling teeth. Very unhelpful. What a waste of my money. Stay away from this unit!!!!!
AllTheBradens
Loved it - until it stopped working.
This monitor worked perfectly for just about a year. It was really nice to be able to see the outside temp/humidity and time on my nightstand while laying in bed. Then the outside display stopped working. I assumed it just needed a new battery. The outside unit required a special battery which we purchased but after trying two new batteries, the outside portion of the display is dead. I am guessing the problem stems from the part that goes outside since the indoor display portion is still working fine. I gave it 2 stars because it did work great for about a year although I had hoped it would have lasted much longer than that for the price.