Basis Cleaner Clean Face Wash 6 fl. oz.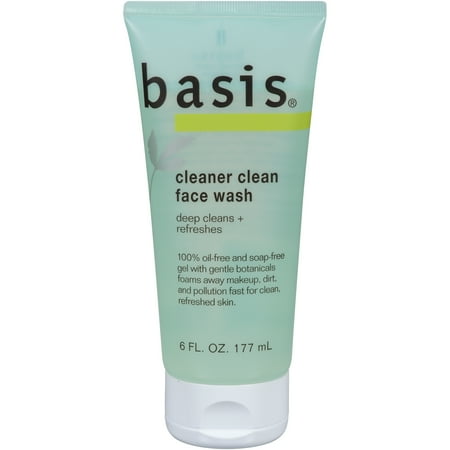 MSRP :

$6.92





Sale :

$6.19

Sold & shipped by Walmart
Product Description

Additional Information

Reviews
Product Description
Remove daily dirt and grime from your pores with this Basis Cleaner Clean Face Wash. It is designed with gentle, soap-free botanical ingredients, making it suitable for daily use. This oil-free face wash, in 6 fl oz, contains mint, lemon-grass and aloe to leave your skin feeling smooth, clean and glowing.
Additional Information
100% oil-free and soap-free
Gentle botanicals clean and clarify
Just right for normal to oily skin.
Reviews
LizzaB
Best facial wash for super sensitive skin!!
I hate shopping for face wash because ANY of the acids used for chemical exfoliation (the most effective type, rather than physical - like scrubs) are harmful to my skin. Generally anything over 2% for most of them will give me painful chemical burns that take weeks to heal. I can get away with very, very low concentrations of cleansing acids every so often, but they don't do much else for me except dry out my skin beyond the help of a heavy moisturizer... I have a hard time finding a cleanser without ingredients too harsh for my face, and when I do they're usually expensive, or most often totally ineffective. Not basis!! Years of using this product have proven that it is gentle while doing its job. This product is a VERY effective makeup remover as well. Your face feels clean and fresh and you feel ready for the day. (My friend with acne problems stayed over the other night and used it... she loved the feel afterwards, too!)
lilmeggietwoshoes
My ALL-TIME FAVORITE face wash!!
Walmart seems to have taken this face wash off the shelves, and I couldn't be more upset about it! I have tried a myriad of facial cleansers over the years, been loyal to one or another for a year or two at a time, but it wasn't until I tried Basis that I knew that I would stick with it forever. I have used Basis for about 5 years now, and I am so disappointed that it seems to be very hard to find now. I love how it leaves my face feeling very clean, but not dry, and my face is never oily anymore. The scent of the cleanser is light and refreshing (I love it! It's one of my favorite things about it!), and even the container is very "user-friendly" in that it doesn't have a pump (which I like because I travel a lot) and it stands on the lid so that it is always easy to access. Basis: I love you! Please come back!
NinjaBoat
Great product!
My skin is very sensitive, and this product caters to that amazingly. A month ago when i got it, i had mild acne, now i have none! My skin also isnt as oily, after use of the product my face feels soft and refreshed. The product doesnt burn or cause irritation either. Well worth the four dollars i paid for it. Extreamly reccomend the product.
JV10
Oh my GOSH what have I been missing!
I've been using (the big N) face wash for over ten years and tried this the other day on a whim - holy smokes! What a difference! I didn't know face washes could be so different! I always liked the "tight" clean feeling of N. I thought that was the right thing to do. Until I tried this stuff. With Basis my face just felt CLEAN! Not tight! Here's why I'm writing this - at 3:00 at work today I didn't have shiny-face. I couldn't believe when I looked in the mirror at work and my eye liner wasn't sloshed down and my eye shadow wasn't all smarky looking. All of my makeup was just - on! My forehead wasn't shiny, nose, nothing. I have generally oily skin, this stuff is a godsend. Oh I washed my hair with it (because it smells so good!) and my hair never felt so clean. Not stripped, just CLEAN. 13 hours later, its still light and feathery. I'm hooked! Try it!!
Leena25
BEST FACEWASH Till date that I have tried
I am so happy that I came on walmart site to look for some nice facewash ... I used it for the first time and I so totally love it .. starting from frangrance to the way it makes my skin feel.. just totally fab product .. and I dont have very oily skin or dry .. its kinda in between normal to oily and varies as per the weather .. but this facewash is so gentle, I can feel my skin so soft and at the same not dry .. will recommend this to any one looking for a gentle face wash but th eone which really takes the dirt out :)