Eucerin Intensive Repair Very Dry Skin Lotion 16.9 fl. oz.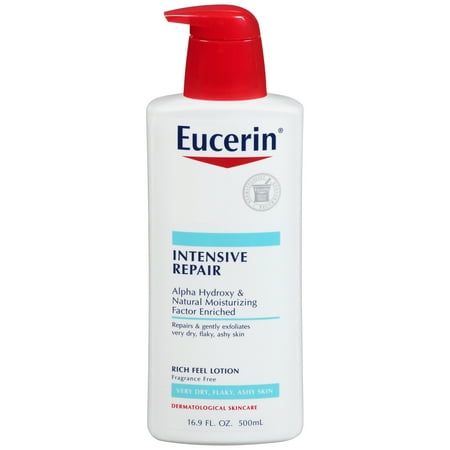 MSRP :

$16.37





Sale :

$9.97

Sold & shipped by Walmart
Product Description

Additional Information

Reviews
Product Description
Eucerin Plus Intensive Repair Lotion moisturizes and gently exfoliates. This dry skin lotion is recommended by dermatologists because of its clinically proven effectiveness in providing serious relief for very dry, flaky skin. With a patented formula that combines natural extra-enriched skin moisturizers with alpha hydroxy, this Eucerin Plus Intensive Repair Lotion is a dry skin therapy that helps keep skin smooth. The long-lasting formula of this Eucerin dry skin therapy keeps your skin moisturized for 24 hours. The nongreasy Eucerin Plus Intensive Repair Lotion is fast absorbing and fragrance free and won't clog your pores.
Additional Information
Dermatologist recommended brand
Combines moisturizer naturally found in the skin with alpha hydroxy to intensively hydrate and smooth skin
Gently exfoliates to improve the appearance of dry, rough skin
Fragrance-free, won't clog pores
Reviews
Yvon
Noxious chemical smell on both products !
Both 'fragrance-free' items had a bad smell. Help!
Ashleigh
This is basically Elmer's glue
I wanted something with a rich feel that would moisturize and lightly exfoliate my skin in the winter. I heard great things about Eucerin, so I decided to pick this up. I did not know what I was in for. Okay, so there is no added fragrance. That's great, that's something I look for in products. However, it smells heavily of chemicals. It stunk up my bathroom for at least 30 minutes after applying, and it was so bad I could not apply it in the morning before school. Second, it is THICK. But not the good kind of thick I was hoping. It quite literally feels like, and now that I think of it, smells like Elmer's Glue. One pump could spread about 3 inches on my skin. The worst part is at that spreadability, it was far too thick to sink in. Finally to my third point, this product leaves a thick, greasy film on your skin no matter how much you apply or how much you rub it. I just picked up a bottle of the Advanced Repair and I am much more satisfied. It has an appropriate texture, good moisturizing capabilities, and lightly exfoliating AHAs. Don't make the mistake I made, get the Advanced Repair.
Navygirl1980
Excellent
I have always had dry skin. Other lotions used to work just fine until I moved to another state and my skin became even more dry. So dry that the skin was hard and cracking, even on my fingertips. I bought all kinds of lotions and tried oils and vaseline to make it go away but to no avail. This Eucerin intensive lotion was pricey but I was desperate and was willing to pay anything at that point. My skin was normal after only a couple days of use. I've been using this lotion ever since and I love it. It was also very nice for my belly when I was pregnant. There is one complaint that my husband has which is that it is greasy which doesn't bother me any.
HitekRedneck
Eucerin Plus Repair Creme Actually works
I've tried every brand of lotion, moisturizer and emolient on the shelves and they are either excessively oils, vaseline based or greasy or water based and absorbed so fast you have to apply every hour. I have used Euecerin on my own mechanics hands, wifes tender hands and our 18 month old babies skin ever since they were born. Everyone recommended Aveeno, but this is better, although expensive in comparison. It works. Nothing else to say.
nitramretep
Highly recommended
Eucerin is the best skin moisturiser on the market. It is a penatrating skin conditioner and an excellent way to eliminate any dry skin issues. After repeated use dry skin is releaved and greatly improved, recommended by my MD. No gimmicks just an excellent product.