Eucerin Daily Hydration Broad Spectrum SPF 15 Body Lotion 16.9 fl. oz.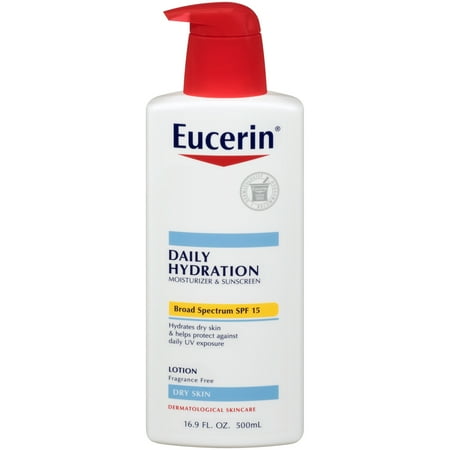 MSRP :

$15.62





Sale :

$9.97

Sold & shipped by Walmart
Product Description

Additional Information

Reviews
Product Description
Keep your skin hydrated and feeling soft with the Eucerin Daily Protection Moisturizing Body Lotion. It has SPF 15 sunscreen, which helps to protect your skin from sun exposure. It is light and absorbs quickly, so it won't feel greasy on your skin. Eucerin moisturizing lotion protects you all day and is dermatologist recommended. It is also fragrance free.
Additional Information
Dermatologist recommended brand
For moisturization and sun protection
Reviews
Robin
My main lotion!
I've used Eucerin for my dry skin for years. I live in Minnesota with the long, cold, dry winters. I like that it has SPF 15 to provide some protection from the sun. It goes on light with faint scent.
refuse to photoage
Read the Label before purchase
I read the reviews online before buying this product and I was mislead. I should've realized that most people lack a thorough knowledge of sun protection to speak knowledgeably about this product. Here's my problem with this lotion: It's a lotion. Not a sunscreen. The SPF 15 is completely useless. It says on the back that it does not protect against cancer or aging because it's ONLY SPF 15. NOT BROAD SPECTRUM. It has SPF 15 protection against UVB rays, NOT UVA. UVA rays are what cause aging and accelerate cancer growth. UVB just give you a tan. I think what most women are concerned about is free radicals that cause aging. If I am correct, invest in a BROAD SPECTRUM SUNSCREEN LOTION for your face and body. Continue using this lotion if it's your daily moisturizer, but add a sunscreen on top of it. Also, SPF 15 is very minimal protection. Go for SPF 30. It will make a difference in the long-run.
Why Mess Up a Great Product?
Why did you ruin a wonderful product?
The addition of sunscreen is the reason I will never use this product again, along with the disappearance of the incredibly wonderful Sunflower Oil. I have used it for years and kept my skin soft and moisturized even during the coldest and most dry winters. The Sunflower Oil formulas was fabulous. Not sure what I will use now, but it won't be anything from your brand.
Jule
NOT the same great product
It looks like I am allergic to the NEW active ingredients. Although it does not only say "New Look!" but also "Same great product", the ingredients have changed, unfortunately! Instead of Titanium Dioxide (1.0%) and Octinoxate (5.0%), it now regrettably contains among other things Avobenzone (2.0%) and Octocrylene. I have the same experience some other consumers have with this body lotion (SPF 15): it is sticky and it makes my skin very itchy. A few years ago the ingredients had changed. I assume that there were several complaints back then, because it was changed back to the Titanium Dioxide, etc. mixture. My question is why has it been changed again to include Avobenzone and Octocrylene? Very disappointed...
Cindy
Not sensitive-skin friendly
I bought Eucerin Moisturizing Body Lotion with SPF 15 Sunscreen for 2 reasons: a moisturizer for dry skin AND the SPF rating. The fragrance-free scent is great and the weight of the lotion is great, too! However, after applying it on my arms, legs, and chest after showering, I broke out with tiny bumps on these places, and have NEVER experienced this with any other lotion before (my skin has never been sensitive). To be sure that it was the lotion that was giving me these hives/bumps, I stopped using it for a time and went back to it. When I did, I got the bumps/hives again. Apparently, there must be something in the lotion that my skin is not able to tolerate. I want to add that I HAVE used another brand of lotion before, containing SPF.