Johnson's Baby Lotion, 15 Fl.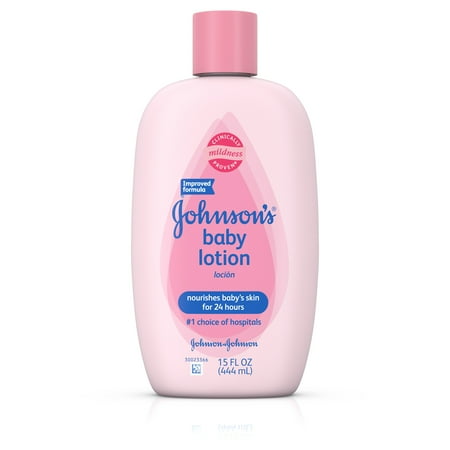 Sale :

$3.86

Sold & shipped by Walmart
Product Description

Additional Information

Reviews
Product Description
We love babies. And we understand that their delicate skin loses moisture more quickly than adults' skin. That's why we created this nourishing formula, which moisturizes for 24 hours to keep baby's skin soft and smooth. Now paraben-free, it is pediatrician- and dermatologist- tested, hypoallergenic, and gentle enough for sensitive baby skin. Moms trust Johnson's Baby Always Mild & Gentle.

How to Use:
Massage lotion over entire body to nourish baby's skin.

Safety Tip:
Keep out of reach of children. Do not use if quality seal is broken.

Ingredients:
Water, Isopropyl Palmitate, Glycerin, Stearic Acid, Glyceryl Stearate, Cetyl Alcohol, Cetearyl Alcohol, Dimethicone, Mineral Oil, Phenoxyethanol, Polysorbate 20, Magnesium Aluminum Silicate, Fragrance, Carbomer, p-Anisic Acid, Sodium Hydroxide, Xanthan Gum, Ethylhexylglycerin, Pentaerythrityl Tetra-di-t-butyl Hydroxyhydrocinnamate, Red 33
Additional Information
Johnson & Johnson's Baby Lotion, 15 Oz
Reviews
SPDEPIERC
The Best!!!
Great lotion, smooth, soft. Scent is mild, not overwhelming.... it does not disappoint.
Cassr1409
Not intended for newborn skin...
Cetly Alcohol, Cetearyl Alcohol, Benzyl Alcohol, Stearic Acid, and Oleic Acid....all ingredients found in Johnsons Baby lotion and other Baby products by Johnsons. They say it is safe on newborns, LIES! I used this on my newborn when I ran out of out the product I normally use for sensitive skin, one night and boy I should of never used that little Johnsons Baby Body Wash in her bath, she broke out all over her body with little bumps. Her pediatrician said it was more than likely because of the switch in using JOHNSONS, because the product has alcohol in it. How is any type or alcohol in products good for newborn skin!?!? That is not equip for newborn skin, or any baby skin for that matter. Once back using the product I normally use for her skin and cleared it up quick. I am sticking to that product. JOHNSONS BABY PRODUCTS are not for babys skin! YOU ARE ONLY BUYING THE NAME NOT THE QUALITY OF THE PRODUCT. I am so disappointed. Don't be fooled by the hype!
DeNecie
Baby lotion irritated my grandson's skin!
My daughter and I used Johnson's Baby Lotion on her 2-week old son and that was a disaster! He broke out in an awful rash everywhere that I used the product. It created red whelps on his face, legs, arms, neck, stomach, and back! Although we stopped using the product after only two days, the rash became so bad that we had to take him to the doctor for treatment. He is now 7-weeks old and we are still treating his skin. At this time, his skin has peeled, changed colors, and has become rough and scaly. He once had even, brown-toned skin; it is now patchy (light and dark), especially in his face. As his grandmother and the one who applied the lotion to his skin, I am extremely distressed because I hate to think that I might have caused permanent damage to his baby skin (eczema). Needless to say, I do not recommend this product. We will continue to use moisturizers and pray that his skin will return to its pre-Johnson's state . . . brown and beautiful!
MrsMacBee
Long time user
I have used this ever since I can remember (I am now retired), has a nice clean not overly perfumed smell without being greasy. I agree with other comments that the "original" was the best and this is not the same.
John
Works great on adults too
I'm 29, a guy and, throughout life, have found myself coated in just about any and every building, engineering or chemical product; cements, plasters, two part paints, oils, glues, caulks, fillers, brick and concrete dust, mud, rust, ash, fiberglass, floor sanding, ceramic, glass and metal dust, grime from Victorian houses long since forgotten about, harsh solvents, concentrated acids & alkalies and the unknown. Which means I need to think a bit more about my skin and get washed before I can sit down for the night, so I don't end up in hospital or leave a trail of mess behind me when I finish working. The Johnsons baby care line is absolutely great. The baby wash makes me sparkly clean again without excessively drying my skin out, and the moisturizer stops things accessing my skin so well in the first place. Plus, I constantly smell baby fresh! Now all I need is a baby care deodorant stick, shaving gel and socks.