Johnson's Baby Lotion For Skin Hydration, 15 Fl. Oz.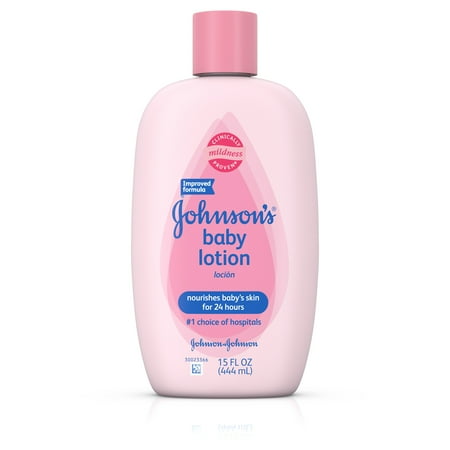 MSRP :

$3.99





Sale :

$3.83

Sold & shipped by Mid-States Distributors
Product Description

Additional Information

Reviews
Product Description
We love babies. And we understand that their delicate skin loses moisture more quickly than adults' skin. That's why we created this nourishing formula, which moisturizes for 24 hours to keep baby's skin soft and smooth. Now paraben-free, it is pediatrician- and dermatologist- tested, hypoallergenic, and gentle enough for sensitive baby skin. Moms trust Johnson's Baby Always Mild & Gentle.

How to Use:
Massage lotion over entire body to nourish baby's skin.

Safety Tip:
Keep out of reach of children. Do not use if quality seal is broken.

Ingredients:
Water, Isopropyl Palmitate, Glycerin, Stearic Acid, Glyceryl Stearate, Cetyl Alcohol, Cetearyl Alcohol, Dimethicone, Mineral Oil, Phenoxyethanol, Polysorbate 20, Magnesium Aluminum Silicate, Fragrance, Carbomer, p-Anisic Acid, Sodium Hydroxide, Xanthan Gum, Ethylhexylglycerin, Pentaerythrityl Tetra-di-t-butyl Hydroxyhydrocinnamate, Red 33
Additional Information
15-fluid ounce bottle of body lotion
Helps soothe dry skin for 24 hours
For babies' delicate skin
Ingredients to help nourish and soften
Baby-fresh scent
Clinically proven to be gentle and mild
Dermatologist-tested and hypoallergenic
Reviews
Ranchhand
Ingredient change?! Why I wouldn't recommend....
Upon a recent purchase I noticed a change in packaging...and it seems ingredients as well. As I compared ingredients, mineral oil is out and coconut oil is in. This new improved product does not make the mark! It is thinner/watery. I have found that after possibly 40 years of using your product, the new and improved has only resulted in drier skin for me... Please consider a change back to a thicker more moisturizing product. With the original fragrance as well. I would recommend the original product but hesitate recommending the new watered down version. Why the change?
Cassr1409
Not intended for newborn skin...
Cetly Alcohol, Cetearyl Alcohol, Benzyl Alcohol, Stearic Acid, and Oleic Acid....all ingredients found in Johnsons Baby lotion and other Baby products by Johnsons. They say it is safe on newborns, LIES! I used this on my newborn when I ran out of out the product I normally use for sensitive skin, one night and boy I should of never used that little Johnsons Baby Body Wash in her bath, she broke out all over her body with little bumps. Her pediatrician said it was more than likely because of the switch in using JOHNSONS, because the product has alcohol in it. How is any type or alcohol in products good for newborn skin!?!? That is not equip for newborn skin, or any baby skin for that matter. Once back using the product I normally use for her skin and cleared it up quick. I am sticking to that product. JOHNSONS BABY PRODUCTS are not for babys skin! YOU ARE ONLY BUYING THE NAME NOT THE QUALITY OF THE PRODUCT. I am so disappointed. Don't be fooled by the hype!
DeNecie
Baby lotion irritated my grandson's skin!
My daughter and I used Johnson's Baby Lotion on her 2-week old son and that was a disaster! He broke out in an awful rash everywhere that I used the product. It created red whelps on his face, legs, arms, neck, stomach, and back! Although we stopped using the product after only two days, the rash became so bad that we had to take him to the doctor for treatment. He is now 7-weeks old and we are still treating his skin. At this time, his skin has peeled, changed colors, and has become rough and scaly. He once had even, brown-toned skin; it is now patchy (light and dark), especially in his face. As his grandmother and the one who applied the lotion to his skin, I am extremely distressed because I hate to think that I might have caused permanent damage to his baby skin (eczema). Needless to say, I do not recommend this product. We will continue to use moisturizers and pray that his skin will return to its pre-Johnson's state . . . brown and beautiful!
BeeDelighted
Please bring back CUCUMBER MELON baby lotion!!! PLEASE..
I'm in my mid-50's now and have been using one scent or another of this baby lotion for all my life, and of course on my own children. I have other lotions and creams, but this is my go-to favorite. The cucumber melon scent was WONDERFUL for a clean (non-baby) scent, and even my husband loves it - and ANY male guests too!! Thankfully I purchased two bottles when I last saw them, but I'm at the last drop. I do enjoy the Lavender scent as well..but the Cucumber Melon I LOVE SO MUCH MORE... The Original scent - well, that one never fails me! And for some reason, for ME, generics just don't seem to be the same - and I have done blind testing..J & J always wins! WONDERFUL PRODUCT! DEAR J & J - IF YOU ACTUALLY READ THESE - I could buy 12 cases of the Cucumber Melon right now, because I have managed to get THAT many people to fall in love with it. I would have my birthday and Christmas gifts SET for the next year!! I put it in a pretty pump bottle in my guest bathroom, and since no one knows it's baby lotion, especially the husbands that visit us (lol), it is ALWAYS A HIT, and THEN a BIG surprise when they learn it's J & J BABY LOTION! PLEASEEEEEEEE BRING THAT SCENT BACK!! (pretty, pretty please...)
Vince
Please bring back CUCUMBER MELON baby lotion!!! PLEASE..
Smells just like baby powder and seems to work well. A little on the runny side though.