Eucerin Original Healing Rich Cream 16 oz.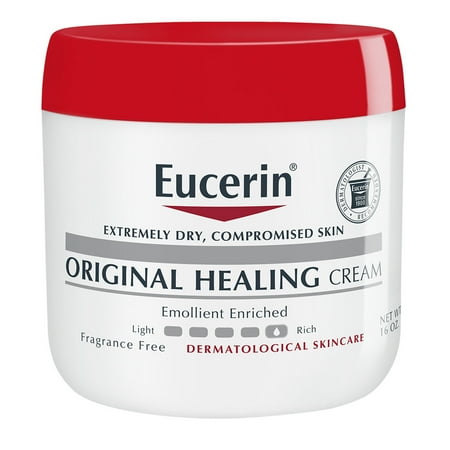 MSRP :

$14.72





Sale :

$12.46

Sold & shipped by Walmart
Product Description

Additional Information

Reviews
Product Description
Treat your skin with this Eucerin Original Healing Creme. Specially designed with a moisture rich formula, this product helps heal and protect problem spots. Eucerin moisturizing cream is non-irritating, fragrance-free and dermatologist recommended.
Additional Information
Provides moisture to help heal extremely dry, compromised skin
Noncomedogenic
Fragrance and dye free
Packaging May Vary
Reviews
birdinparadise
Can't say enough about this stuff!
I actually bought this for my daughter. She has horrible, "splintery", thick calluses on her feet. They crack and bleed. So, my husband has, what I somewhat fondly, call, "Werewolf Feet". Nasty. We've lived at the beach in Southern Baja year round since '96, and our only shoes are flip flops. He has super thick calluses on his feet. He develops huge, deep cracks on his heels, and sometimes under where his toes join his soles. They bleed. He limps. Sometimes whimpers when he walks. So, with a friend's recommendation, I bought some Eucerin for him. When they get bad, before bed, I thickly slather it on his feet, then slip on a pair of little white cotton socks. The results are felt the very next morning! It may take a few nights of this, but it always works! I've been applying it for him for about 9 years now. (I've been trying to get him to use it every night, but he just can't stand wearing the socks to bed... can't say I blame him.) My daughter's just begun using it, but she's also declared it a miracle. Haven't tried it on anything else. Oh. But I have tried the Equate brand on his feet, as well. Not the same. Not worth trying to save a few bucks. Just bite the bullet and pay the extra. Money well spent.
Islandgirl
Awesome Eucerin!!!
This is the BEST acting, skin repair cream I have ever used! If you have dry skin this is the one to use, it's almost amazing how quickly it relieves dry painful hands or any part of your skin.
Everet
Think For Yourself
This is a great product but instead of repeating what everyone else has said with five stars I would like to address the negative one-star reviews. As you can see there are many good and bad reviews about this product. As with anything like this people are more inclined to write bad reviews then good. That in itself is saying something about this particular product since it has more good than bad. I highly suggest researching all the ingredients and you will see that there is a very low chance of any irritation occurring with daily use of this product. Especially with the new formulation. The new formulation is on point for sensitive skin. Just don't get it in your eyes or swallow it. Allergies are real in this wild world so follow proper precautions. Try to think for yourself with all these negative reviews folks. This is an awesome product that will usually banish dry skin and lasts a very long time. I highly suggest using it after a simple colloidal oatmeal bath.
Kati
Works great!
This product helped clear up my child's eczema. It makes her skin silky smooth!
Joann
Marvelous
It works great on really dry skin