Gumout Multi-System Tune-Up 16-oz – 510011W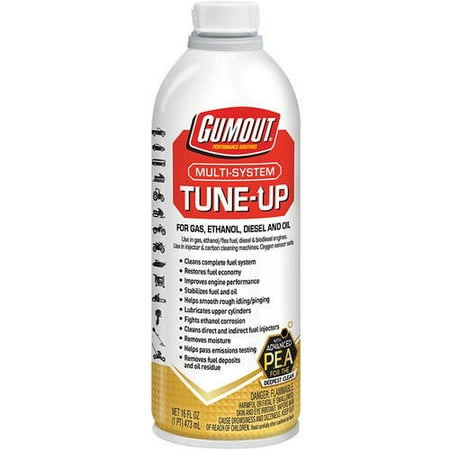 Sale :

$6.47

Sold & shipped by Walmart
Product Description

Additional Information

Reviews
Product Description
The most advanced engine treatment technology. Gumout Multi-System Tune-Up treats all engines with a special blend of premium cleaning agents, anti-oxidants, and corrosion inhibitors. All engines develop performance issues over time, whether they're gas, diesel or ethanol. Carbon deposits reduce performance and fuel economy. Water and ethanol corrode key engine parts. Gumout Multi-System Tune-Up is the most advanced treatment for all types of engines, from cars to lawn mowers. It cleans and conditions using premium ingredients, like PEA (polyether-amine), to help maximize performance, fuel economy and engine life. Multi-System Tune-Up can be added in the gas tank, the crankcase or via induction.
Additional Information
Reviews
TCN76
UPC : 071948100114 - Gumout Multi-System Tune-Up 16-oz – 510011W - PickPanda.com
My vehicle was experiencing some hesitation during acceleration and idle was slightly rough. I used this product as a fuel additive for three successive fill ups. Performance has noticeably improved and I will continue to use this product on a once a month basis as a preventative measure. I am giving 4 stars based on poor bottle design. Do yourself a favor and purchase a funnel. I would say this product performs as should be expected and will clean your system over time when used as directed. To some of the negative reviews I have seen I offer you this wisdom.....There is no such thing as a miracle in a can. This will not overhaul your engine or take the place of regular maintenance.
LJP525
Gumout saved my mower
I had left gasoline in my mower for something close to two years. The carburetor was almost completely plugged with sludge. I put most of the can of gumout in my gas tank and then simply tried starting the mower for the next several days. After the gumout had sat in my tank for four days, the mower started Needless to say, I am quite pleased with the product.
Smith
Additive that really works.Makes a difference
I had used many other products in future but never got result like this one.Car was running little rough. This product made my car run smoother. Wow !!! what a difference. Mileage up. Car drives like new car.
Tony
Worked just as good as Seafoam.
Cost less and worked just as good as Seafoam.
Buck
Worked just as good as Seafoam.
It worked very quickly and my engine light went our!