Mobil Super 5W-30 Conventional Motor Oil, 5 qt.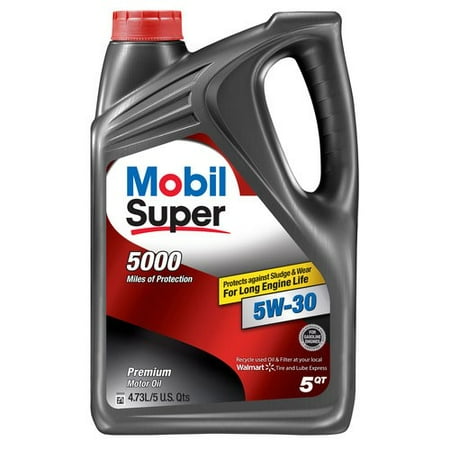 MSRP :

$25.48





Sale :

$19.97

Sold & shipped by Walmart
Product Description

Additional Information

Reviews
Product Description
Mobil Super 5W-30 engine oil offers proven protection to help extend engine life by helping protect against sludge and engine wear.
Additional Information
Mobil Super 5W-30 Conventional Motor Oil, 5 qt:
Mobil premium motor oil
For vehicle engine
Combats sludge to help prevent engine breakdown and extend life
5-qt bottle
5W-30
Easy-to-use conventional engine oil
Protects your vehicle for up to 5,000 miles
15% more cleaning additives, plus friction-reducing additives
Reviews
Retiree03012012
A name you can trust
Mobil Super is a good oil. Most all oils have to meet a standard specification so most brands would be adequate for your car. Making sure that you use the right viscosity is more important than which brand you choose. Mobil has a large R&D budget, so they can offer superior additives in their oils that will help to protect your engine. The only complaint that I have is with their oil change video showing the oil change on a Corvette. They drive the Corvette up on car ramps, then open the oil pan drain plug which is located on the front of the oil pan. With the front of the car tilted up, it is impossible to drain all of the old oil out of the pan. So there is probably a whole quart of dirty oil left in the pan. I would expect professionals to do a better job than that!
MickeyD99
Very good motor oil for the price.
I own a 2006 Toyota Sienna with over 159,000 miles. Got this van with 91,000 mile. Started out using Quaker State, then Supertech (once) and eventually switched to this Mobil Super since my van will turn on the check engine light for oil change at 5000 mile intervals. I've been using Mobil for 2.5 years and it has performed quite well on my Sienna. However, you MUST make sure to change your oil at regular intervals. I also add an oil additive like STP or Supertech. Once changed I see my gas mileage improve. Engine runs smooth. Great price too.
NotALawnRanger
Very good motor oil for the price.
I recently changed the oil in my car and used this oil. If your car calls for 5W-30 oil, this product may be worth trying. It is advertised as having more additives than other conventional motor oils, allowing it to go for up to 5000 miles between oil changes. I don't know if I will let it go that long in my car, but I thought that this formula would be worth trying. It will be interesting to see how it goes.
repaso
Oil is oil.
Oil is oil. As long as you change it out according to manufacturer specifications, I don't think it matters what brand of oil you use.
Randy
Oil is oil.
Mobil oil is the only one to use. I used this to startup and break in a rebuilt engine. Will change over to Mobil 1 extended full synthetic 15000 mile when rings have seated.