Mobil 1 0W-20 Advanced Full Synthetic Motor Oil, 1 qt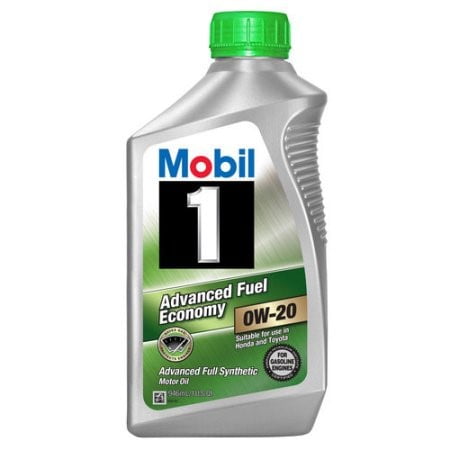 MSRP :

$88.44





Sale :

$7.88

Sold & shipped by Walmart
Product Description

Additional Information

Reviews
Product Description
Mobil 1 0W-20 Advanced Fuel Economy is an advanced full synthetic engine oil designed to help deliver outstanding engine protection and enhanced fuel economy. Mobil 1 Advanced Fuel Economy meets or exceeds the requirements of the latest industry standards and outperforms our conventional oils.
Additional Information
Product Features
Advanced fuel economy
Recommended for most Hondas and Toyotas
Save gas! Protects engines
Official motor oil of NASCAR
Dexos™ approved
For oil recycling information visit Earth911.com or call 1-800-CLEANUP
Packing - Recyclable
HDPE - 2
ExxonMobil Oil Corporation,
Spring, TX, 77389.
mobil1.com
Copyright © 2016 ExxonMobil. All rights reserved. Mobil, Mobil 1, the 1 Icon, and the Pegasus are trademarks or registered trademarks of Exxon Mobil Corporation or one of its subsidiaries. NASCAR® is a registered trademark of the National Association for Stock Car Auto Racing, Inc. Other trademarks and product names used herein are the property of their respective owners unless otherwise indicated.
Reviews
TheDude
Great oil at a great sale price
My local club doesn't carry Mobil 1 so when I see it on sale online I snap it up. I've been using Mobil 1 and changing my own oil since I purchased my 2003 Toyota 4Runner new, and it is my daily driver 15 years and 367,000 miles later. The 0W-20 oil is for my 2013 Toyota Avalon Limited. It is the manufacturer recommended weight of oil. Watch carefully and catch this oil on sale, and you have the best oil out there for a great price.
jeanless
Great oil at a great sale price
Good oil for the price
Monty
Excellent oil as expected from Mobil 1
I've been using Mobil 1 0W-20 AFE oil in my 2016 Honda Accord, direct injected 2.4L since 6200 miles. First oil change after engine break in, OE oil came out and Mobil 1 AFE 0W-20 went in. After 6000 miles of service using Mobil 1 AFE, the oil level dropped about a quarter of a quart as expected. The OE oil evaporated over 6,000 miles as well and is normal for anyone concerned. I check the oil at every fill up at the gas station and keep the oil in the trunk. I live in a dry, very hot, dusty climate and a lot of stop & go traffic. Under my current environmental conditions, it doesn't make sense to purchase a higher end Mobil oil and risk leaving the oil in for a year or when the oil life monitor says to change the oil. 5 to 6 thousand miles or every 6 months between oil changes in Phoenix is cheap insurance. I change it for peace of mind and ensure proper care of my engine. This oil has excellent flow at low temperatures and when you start your car after sitting overnight. Engine is very quiet and smooth when first started. Quick flow is what prevents wear during starts and Mobil has it figured out with this oil. MRV viscosity @ -40 degrees Celcious for this oil is 9200, never seen a spec like that. Most other brands usually only list specs down to -35. A lot starts happening that is important at these extreme low temperatures and there is a big difference in oil performance between -35 and -40 celcious. Hard to beat the specs of Mobil 1 AFE. Great product, readily available, competitively priced and just as good if not better in my opinion over OE oil. Mobil 1 always seems to perform with high end products, highly recommend!
Yooperman152
It's Mobil1!
Great stuff, can't go wrong with Mobil1!
tags62
Good brand and good quality
i always buy synthetic mobil oil for my cars and confident that I'm using quality oil. I'm doing the oil change myself to save money (and walmart sells it much cheaper than automotive stores) and to ensure it's done right. 0W-20 is for my 2011 car and i have a 1998 and 2001 both using 5W-30, both never had any engine issues, i'm always using mobil synthetic.