Mobil 1 0W-20 Advanced Fuel Economy Full Synthetic Motor Oil, 1 qt.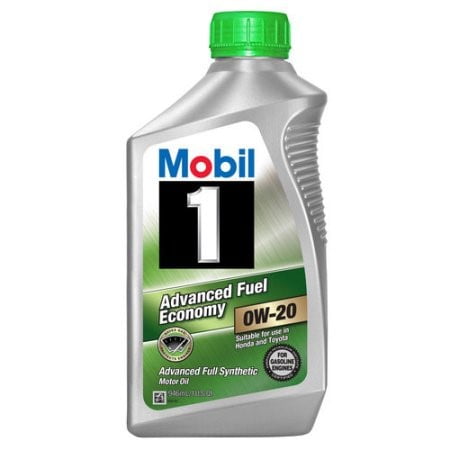 MSRP :

$88.44





Sale :

$8.18

Sold & shipped by Walmart
Product Description

Additional Information

Reviews
Product Description
Mobil 1 0W-20 Advanced Fuel Economy is an advanced full synthetic engine oil designed to help deliver outstanding engine protection and enhanced fuel economy. Mobil 1 Advanced Fuel Economy meets or exceeds the requirements of the latest industry standards and outperforms our conventional oils.
Additional Information
Product Features
Advanced fuel economy
Recommended for most Hondas and Toyotas
Save gas! Protects engines
Official motor oil of NASCAR
Dexos⢠approved
For oil recycling information visit Earth911.com or call 1-800-CLEANUP
Packing - Recyclable
HDPE - 2
ExxonMobil Oil Corporation,
Spring, TX, 77389.
mobil1.com
Copyright © 2016 ExxonMobil. All rights reserved. Mobil, Mobil 1, the 1 Icon, and the Pegasus are trademarks or registered trademarks of Exxon Mobil Corporation or one of its subsidiaries. NASCAR® is a registered trademark of the National Association for Stock Car Auto Racing, Inc. Other trademarks and product names used herein are the property of their respective owners unless otherwise indicated.
Reviews
KJJS1
Long Time User.
I started using Mobil 1 motor oil when it fist came to market. My current cars, 2010 TSX w/54000 miles and a 2012 Highlander w/ 96000 miles use 0W-20. The oil change intervals are 7500 and 10000 miles respectively. There's cars do not burn an ounce of oil. On the TSX, I can see the valve train with the oil fill cap off. Not a speck of sludge. Both cars are V6 and I get 35 MPG, highway, on the TSX and 27 MPG, highway, on the Highlander.
tags62
Good brand and good quality
i always buy synthetic mobil oil for my cars and confident that I'm using quality oil. I'm doing the oil change myself to save money (and walmart sells it much cheaper than automotive stores) and to ensure it's done right. 0W-20 is for my 2011 car and i have a 1998 and 2001 both using 5W-30, both never had any engine issues, i'm always using mobil synthetic.
Jim345
Mobile one is misleading
Going back to using Toyota oil Mobil one refuse to let anyone know exactly what base oil they are using in their synthetic oils any thing that starts with a oil base of 3 is crap anything that using a base oil of 4 to 5 is the real thing check it out sometime
Victor051
Top Quality Oil Mobil 1 0W-20
I have been using Mobil 1 for the last 30 years, both in the United Kingdom, London and here in Canada, Alberta, Calgary for the last 10 years, on all of my Toyota / Lexus vehicles. 0W-20 flows easily at -40C, which is what is required here in Alberta for maximum engine protection and rapid warm up from -30C / -40C. Better fuel efficiency around 2% increase in fuel economy..
bobbyboyjr
better gas mileage on a ford truck
changed the oil and got at least 20% better highway mileage on a v10 4x4 Excursion!!!