Mobil 1 0W-20 Advanced Fuel Economy Full Synthetic Motor Oil, 1 qt.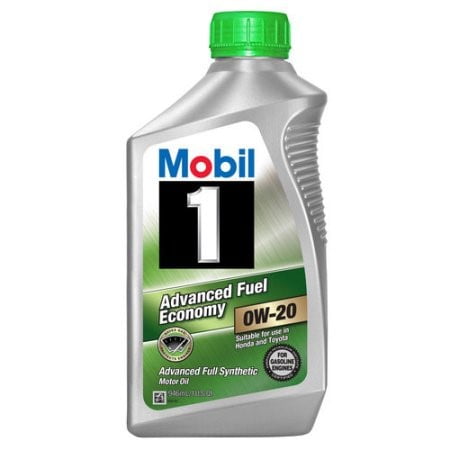 MSRP :

$88.44





Sale :

$7.88

Sold & shipped by Walmart
Product Description

Additional Information

Reviews
Product Description
Mobil 1 0W-20 Advanced Fuel Economy is an advanced full synthetic engine oil designed to help deliver outstanding engine protection and enhanced fuel economy. Mobil 1 Advanced Fuel Economy meets or exceeds the requirements of the latest industry standards and outperforms our conventional oils.
Additional Information
Product Features
Advanced fuel economy
Recommended for most Hondas and Toyotas
Save gas! Protects engines
Official motor oil of NASCAR
Dexos⢠approved
For oil recycling information visit Earth911.com or call 1-800-CLEANUP
Packing - Recyclable
HDPE - 2
ExxonMobil Oil Corporation,
Spring, TX, 77389.
mobil1.com
Copyright © 2016 ExxonMobil. All rights reserved. Mobil, Mobil 1, the 1 Icon, and the Pegasus are trademarks or registered trademarks of Exxon Mobil Corporation or one of its subsidiaries. NASCAR® is a registered trademark of the National Association for Stock Car Auto Racing, Inc. Other trademarks and product names used herein are the property of their respective owners unless otherwise indicated.
Reviews
Alster
The only oil for our cars
I first began using Mobil One synthetic motor oil for my 1994 Honda Civic, which I purchased new in 1993. At 150,000 miles I decided to check my valve lash adjustment. I took off the valve cover and inside everything looked like new. I couldn't believe it. I changed the oil and filter every 7,500 miles, and the valves were still within specs as well. Today I use it in both of our cars, our 2016 Volt, and 2010 Prius, in 0w20 weight now. I will never use any other motor oil then Mobil Synthetic motor oil.
tags62
Good brand and good quality
i always buy synthetic mobil oil for my cars and confident that I'm using quality oil. I'm doing the oil change myself to save money (and walmart sells it much cheaper than automotive stores) and to ensure it's done right. 0W-20 is for my 2011 car and i have a 1998 and 2001 both using 5W-30, both never had any engine issues, i'm always using mobil synthetic.
John
Best oil
Bought for my 2018 Honda Odyssey very good oil at a great price
Robs913
2011 Honda Accord
Bought car new and since the first oil change I have only used mobil1. Specific year models are known for issues, but not mine 70k miles now.
bobbyboyjr
better gas mileage on a ford truck
changed the oil and got at least 20% better highway mileage on a v10 4x4 Excursion!!!