Mobil 1 0W-20 Advanced Fuel Economy Full Synthetic Motor Oil, 5 qt.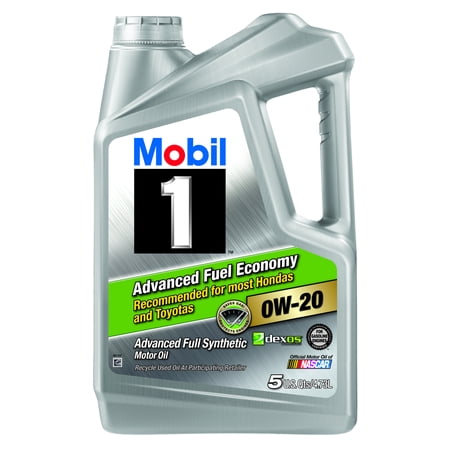 MSRP :

$60.79





Sale :

$25.47

Sold & shipped by Walmart
Product Description

Additional Information

Reviews
Product Description
Keep your engine running like new with the help of this Mobil 1 0W-20 Full-Synthetic Motor Oil. It is an advanced full-synthetic engine oil that is designed to provide exceptional wear protection, cleaning power and overall performance. This Mobil 1 advanced fuel economy motor oil bottle will support your car through oil change after oil change, helping to enhance and extend your engine's life. Its enhanced frictional properties help deliver superb viscosity control. These, alongside its cold weather capabilities, help it to deliver stronger fuel economy for your vehicle. Mobil 1 meets or exceeds the requirements of the industry's toughest standards and outperforms conventional oils. Mobil 1 technology comes as standard equipment in many different vehicles, including select high-performance vehicles.
Additional Information

Mobil 1 0W-20 Advanced Fuel Economy Full Synthetic Motor Oil, 5qt:
Low viscosity, fully synthetic formula
Helps to increase engine efficiency and improve fuel economy up to 2%
Outstanding thermal and oxidation stability
Help to reduce oil aging resulting in long-lasting protection
Outstanding low-temperature capabilities
Quick cold-weather starting and fast protection helps extend engine life
Precisely balanced component system
Excellent overall lubrication and wear protection performance for many driving styles and conditions, from mild to severe
5-qt motor oil bottle for multiple changes
Reviews
BigE1956
Delivered to the Wrong Location By UDS
Oil is excellent! I ordered $150 worth (6-5 quart) jugs. Came in 2 boxes. Checked website to see if it was out for delivery via UDS and it said "Delivered at Front on Friday 8/15/16. Checked my Front Door and there was nothing their. Being home the entire Friday and not seeing it I got worried. On Saturday morning as I was getting ready to call Walmart.com to tell them I never received it, although it said delivered I was expecting to be out $150 and the oil, my neighbor dropped off the 2 boxes and said they were dropped off at his house Friday afternoon. I thanked my neighbor (about 7 houses South of me) and called Walmart.com to report that. Spoke to Julio who said this was the first time using this carrier UDS. He said to make note of this in my survey and he would write it up. I have lots of packages delivered, the address was correct so I just don't think the delivery service was paying attention. Had it not been for a good neighbor, it would tough to argue.
ConsumerReporter2020
39.5 mpg on a 2001 Honda Civic EX
Notes: 228,000 miles 2001 Honda Civic EX sedan - 4 speed automatic Change oil every 10,000 miles Filter used = XG Fram My car is rated at 35mpg by Edmunds. With this oil, I've been averaging 39.5 mpg and actually reached 40 mpg during a 180 mile non-stop road trip. It's important to note that the A/C was not on during these road trips, with the A/C on I only get 35mpg and that's probably what Edmunds was calculating. Not bad considering that my car does have 228,000 miles, I've been using this oil since 165,000 miles and it performs better than their Mobil 1 Full Synthetic High Mileage which only gave me 33mpg. I didn't notice any sealing changes from that oil so that's why I switched back to the Advanced Fuel Economy oil.
NCSam
Best value for your vehicle
Excellent oil for new cars, especially given the amazing price for full synthetic oil.
sdanville
Nothing Better for my Accord
Most of the reviewers write about the prices at WalMart. I will write about the oil. I drive a 2010 Honda Accord. I believe the engineers knew what they were doing and I go by the oil gauge percentage recommendation. The Honda dealer tried to talk me into 5w-20 for triple the price, for 0w-20 the dealer had in barrels so the oil change was only $32. at 9,200 miles the meter read 15% oil life left. I could have gone 10,000 miles. I changed it the 2nd time myself with walmarts mobil one. the oil came out dark brown. It looked like it had 500 miles on it. I like the 0w-20 to squeeze every mile per gallon out if my "full size" car. On a trip I got 32.5 MPG with 4 people and a full trunk exceeding the speed limit. Not small in part because of 0w-20 mobil one. It is so nice changing oil about once a year vs every 3000 miles like the olden days.
pftf
Great Price
Have had no problems with this oil, it runs clean in my 2010 Honda CR-V. Great price compared to others and Walmart carries this grade which is hard to find even at the big auto part stores, especially in the 5 qt. size. Throw in a purolator filter and I can get my oil done for around $30, compared to the $70 a dealer would charge