Mobil 1 0W-30 Advanced Fuel Economy Full Synthetic Motor Oil, 5 qt.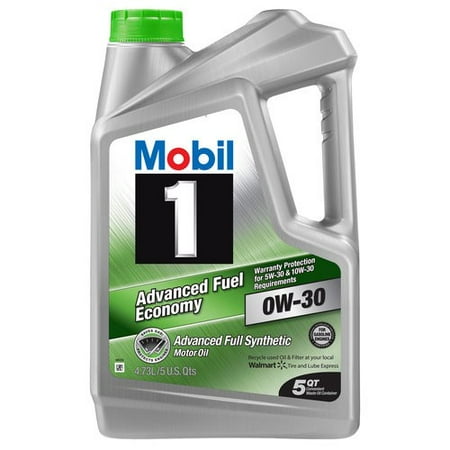 Sale :

$22.88

Sold & shipped by Walmart
Product Description

Additional Information

Reviews
Product Description
pMobil 1 Full Synthetic Motor Oil, 0W-30, is a specially formulated low viscosity oil designed to keep your engine running like new. The oil enables the engine to work more efficiently, and it can improve the fuel economy of your vehicle by up to 2 percent. With the special balanced component system, it has excellent thermal and oxidation properties that help to reduce oil aging. Designed for long-lasting protection, this 0W-30 synthetic oil, 5qt, gives your engine lubrication and wear protection, and it also enhances performance in low temperatures. With improved cold engine starting, it helps to prolong the life of the engine. Made for all driving styles and conditions, this product can be used in passenger cars, SUVs, light vans and trucks./p
Additional Information
Mobil 1 0W-30 Advanced Fuel Economy Full Synthetic Motor Oil, 5 qt.
Reviews
db1981
Great oil regardless of temperature!
I've started switching all my cars & trucks (7) to 0w30 and 0w40. Lot's of people say it's too thin for the hotter areas but this is not the case! The 0w (winter) is the oils viscosity, or flow characteristics, at 40C (104F) or just after start up. The 30 or 40 is the viscosity at 100C (212F) which would be the same as any 10w-30 or 10w-40 engine oil. 0w-30 and 0w-40 flow much easier during and just after start up. This is when most engine wear occurs. However once warmed to operating temps it is no thinner than regular 10w-30 and 10w-40. so you lose no protection once warmed up but gain a lot of protection before that! Plus you get more miles between oil changes! It's a win win!
donkeyjohnson
great deal on a great product
Walmart sells Mobil 1 at the best prices.
shailu01
best price anywhere
Saved $50 on my oil change for SaaB which requires 0-w30 which is hard to find.
chooseanickname65656565
Excellent Oil.
Out of financial troubles I had switched to Mobil's Super 5000 -- For the money, that product worked well, but upon switching to Mobil One Synthetic, my car runs more smoothly, accelerates MUCH more smoothly, and runs significantly cooler. -- I have said this before, but synthetic oil from now on. Its worth it.
Cloudy
Mobil 1 0W-30 Advanced Fuel Economy
This is not a 15,000 mile oil perhaps next time I will get the extended version of mobil 1. This is a great oil in cold environments such as champlain, new york. I remember it being so cold below zero. I remember it took 30 minutes to warm up the vehicle and I was glad that I changed my transaxle fluid to a colder operating fluid. I highly recommend this in Northern states and Canada where the temp get into the teens and below.