Mobil Delvac 15W-40 Heavy Duty Diesel Oil, 1 gal.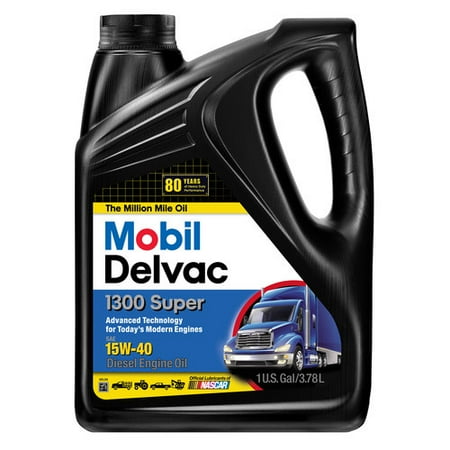 MSRP :

$17.99





Sale :

$10.97

Sold & shipped by Walmart
Product Description

Additional Information

Reviews
Product Description
Mobil Delvac 15W-40 are extra high performance diesel engine oils that help extend engine life in the most severe on and off-highway applications while delivering outstanding performance in modern, high-output, low-emission engines including those with Exhaust Gas Recirculation and Aftertreatment Systems with Diesel Particulate Filters and Diesel Oxidation Catalysts. Fully backwards compatible, Mobil Delvac will also deliver the same exceptional performance in older conventional engines. As a result, they meet or exceed the requirements of the API CJ-4, CI-4 PLUS and CH-4 service categories as well as key Original Equipment Manufacture requirements for 2007 engines.
Additional Information
Mobil Delvac 15W-40 Heavy Duty Diesel Oil, 1gal:
Superior soot-viscosity control
Greater engine efficiency, long engine life and long oil life
Outstanding thermal and oxidative stability
Reduced low temperature sludge build-up and high temperature deposits
Excellent oil consumption control
Lower oil costs due to less make-up oil during operation
Outstanding TBN reserves
Improved corrosion protection and extended drain intervals for both new and old engines using either low or ultra-low sulfur diesel fuel
Stay-in-grade shear stability
Maintains viscosity in severe, high temperature service for greater wear protection and long engine life
Excellent low temperature pumpability
Faster oil flow and reduced wear during engine start-up in low temperatures
Superb resistance to corrosive and abrasive wear
Long life of critical wear surfaces
Component compatibility
Long gasket, seal and after-treatment life
Meets demanding specifications of key OEMs and latest API gasoline service category
Reviews
Harold196
Very good investment ..
I have used Mobil Delvac 1300 for years.. I have a Freightliner Classic XL , with the 500 Hp Detroit engine. I've got over 1,100,000 Miles on the engine and never replaced the piston liners or pistons.. I replaced the engine head at just over 1 million miles and Detroit Service, said that i should run it another 600,000 miles or so and then think about a rebuild.. I use Mobil Delvac , in every auto and lawn and garden engine that i own... Thank you..
Dak27
Great Heavy Duty diesel motor oil
The last LTL trucking company I drove for used Delvac Super 1300 in their fleet of trucks, and ran each truck for over 1 million miles. I was able to look at a few motors having overhead adjustments being done, and all of the motors were incredibly clean inside. Most of my fellow Drivers there weren't gentle on the equipment, and those trucks still held up. When I bought my first Semi Truck, I decided to use Mobil Delvac 1300 Super in it. I have used oil samples done with every PM service, and my results have all come back looking great. In my opinion, Mobil Delvac 1300 is a top quality brand, and at Walmart it's slightly cheaper than the other 2 Big Name brands of 15w40. You can't beat that in my book.
Buck1221
Great Heavy Duty diesel motor oil
Mobil has always made the best oil. This one is no exception, I use it in my Motorcycle with a wet clutch system and no slippage what so ever. Price can't be beat.
ThePhoneCollector
Impossible to Beat
I am new to diesel. My review is based on what I read and the value I got. This jug has a short spout which makes pouring from a larger jug easier, I noted the larger jug does not have the pull out neck. Further, Walmart's current price is impossible to beat. Its actually cheaper by the gallon rather than the larger 2.5gal jug. So I am going from handling a quart oil bottle to a larger jug and this design makes it a better pour and less waste. Its my understanding that mobile has the better oil in this case. My application is a old Onan military generator engine that holds 3 quarts of oil with a filter change. I will stick with it and keep a gallon or two on hand
Erikah
Works in ford just fine
I use it in my f350 with no issues. Does exactly what it is intended to do. And a great value.