Mobil Super 5W-30 High Mileage Motor Oil, 5 qt.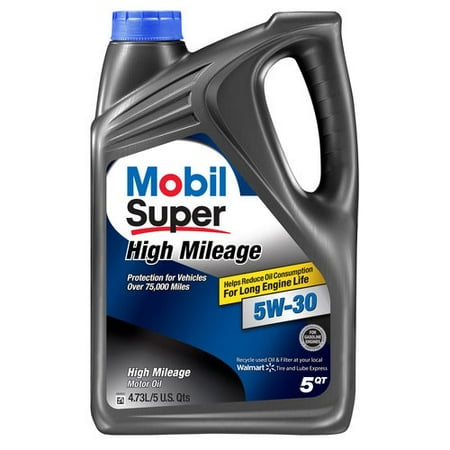 Sale :

$15.66

Sold & shipped by Walmart
Product Description

Additional Information

Reviews
Product Description
Stay prepared with the Mobil Super 5W-30 High Mileage Motor Oil (5-quart). It makes a smart choice for regular maintenance. This Mobil super motor oil works to combat sludge and help prevent engine breakdown. Formulated uniquely for vehicles with a lot of mileage, this item is intended for engines made before the year 2000. It comes in a 5-quart bottle that allows for easy portability and storage. Stay on top of your engine maintenance with this high mileage engine oil.
Additional Information

Mobil Super 5W-30 High Mileage Motor Oil, 5-quart.:
Mobil high mileage engine oil
For vehicle engine
Combats sludge to help prevent engine breakdown and extend life
5-quart bottle
Easy to use
For engines made before the year 2000
Reviews
Ray
Walmart should carry this oil in stock.
This is high quality motor oil. I usually use discount coupons and get my oil changed on the 08 Camry LE at my Toyota dealer. However, when I change the oil myself, I use this oil every time it's available. The Camry LE has about 165,000 miles - no leaks and no noticeable oil consumption.
TDWAREAGLE
2000 GMC Sierra
I like the fact I could order this product period, considering Wal Mart doesn't carry conventional oil on the shelf anymore. It makes it real inconvenient that you can't buy this in the store anymore. I still own two older vehicles that I still run conventional oil in.
HappyUser
Happy User
Great product
Gerber
Oil put it back on the shelves!
Mobil always been good oil can't believe Walmart doesn't have it in the stores anymore! But you can still get it online.
NY11725
Great Oil
One of the BEST conventional high millage oils you can buy. I would rate Pennzoil HM #1 and Mobil Super Hm #2. I bought a used 99 S-10 few months ago. Have no clue what the previous owner was running but I put the Penn in, and noticed a huge difference. 3000 miles later I decided to give Mobil a try and I of course notice a difference coming from the dirty Pennz to the clean Mobil but I can't really tell a difference between the two because they're both great high millage conventional oils. I'm using the Mobil Super High Millage with a K&N High Performance Oil Filter. I DO NOT use FRAM. I wouldn't run a FRAM if FRAM was the only filter available. I rather use the same oil filter again than a FRAM. I used Bosch with the Pennz because there was no K&N in stock at the time but this time around there was so I grabbed it. I'm not sure if I'll stick with the Mobil or go back to Pennz next change but I have 3k miles to decide. I wish there were more conventional high millage options but there really isn't. A truck this old I wouldn't go to a synthetic blend even if I ran lucas oil stabil with it because it would prob cause leaks to arise so I'm keeping her on a conventional high millage oil. Those are the two she'll get and nothing else. In conclusion, if you need to run a conventional high millage either go with the Mobil Super HM or the Pennzoil HM, and stay away from FRAM oil filters. Some people say FRAM is good but I'm telling you it's not. I would never tell someone to run a FRAM oil filter. I work at AutoZone and I tell all my customers to go STP instead if they're looking to go the cheap route. If you don't want to spend the money on a K&N oil filter then go STP, Bosch or Mobil 1.