Mobil 1 5W-30 Full Synthetic Motor Oil, 1 qt.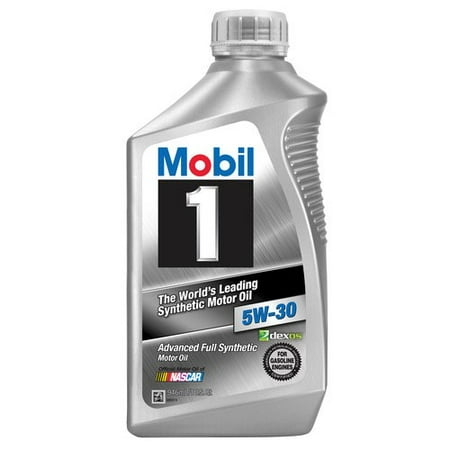 MSRP :

$80.5





Sale :

$8.18

Sold & shipped by Walmart
Product Description

Additional Information

Reviews
Product Description
Mobil 1 5W-30 is an advanced full synthetic engine oil designed to keep engines running like new by providing exceptional cleaning power, wear protection and overall performance. Mobil 1 oil meets or exceeds the requirements of the latest industry standards required by modern gasoline engines. Mobil 1 technology comes as standard equipment in many different vehicles, including select high-performance vehicles.
Additional Information
Mobil 1 5W-30 Full Synthetic Motor Oil, 1 qt.
Reviews
KNORCO
The only motor oil I use.
I have used Mobil 1 for many years in everything from autos to motorcycles, lawn mowers, snow blowers, firearms, etc. It has generally kept my machines running long and strong. It also lasts at least 2x as long as dino oil. Just make sure to use a proper oil filter for long life synthetics.
bassjammer7
Very good stuff
This oil does what it says it can do. Provides excellent lubrication to the engine and increases fuel mileage. I ran the Mobil 1 5W30 for 15 years in my 1995 Ford Ranger 2.3 four cylinder. I bought it brand new. I changed the oil between 5000 and 8000 miles. But the oil can go longer if it needs to. The oil never let me down. I believe it also helped the trucks battery to last 14.5 years. Because synthetic oil is so slippery that it takes less energy to start a vehicle. Thus making your vehicles battery last longer. And when I owned my Ranger I was living in Michigan. So my truck saw 8 very cold Winters. Then I moved to Mississippi and the truck saw 7 very hot Summers. My trucks engine did great in both climates thanks in part to Mobil 1 5W30. As for engine cleanliness; the 2.3 has an oiI splash plate under the lone valve cover. I scratched off the black paint on it where the oil cap goes to promote to people how clean Mobil 1 keeps an engine clean. No sludge ever appeared on the scratches. Use Mobil 1 with confidence. It wont let you down.
KM74
2016 F150 Oil pan gasket leakage
of the engine and transI have been using Mobil1 oils in all my vehicles since 2006. Subaru, Chevy and Fords. I recently bought a new 2016 F150 with a 2.7 Eco boost motor. I was warned by a technician friend of mine to not use Mobil1 in it or the the pan gasket would start leaking. I asked the salesman and he said there should be no problem with that. Upon my oil change at 18000 miles, I noticed a lot of oil in the underside shield of the engine and trans. I took it in to the dealership and the pan was leaking. They replaced the pan as the gasket is part of the pan and installed new Motorcraft recomended oil. I am now a bit reluctant to go back to Mobil1 as the warranty will be off in 15000 more miles Do you have any information about pan gasket failures of Ford Eco boost engines? Thanks for your troubles.
Skip
Seems to still do a good job after reformulation
Been using Mobil 1 for decades. Almost considered switching when Mobil 1 was changed from what a consumer thinks when he reads " true synthetic".....to what the government allows to be called a true synthetic. Have two Jeeps with checkered history's in regard to their engines....an '02 3.7 and an original 2012 Pentastar V6 engine ( before the head mods of newer Pentastars). The '02 3.7 supposedly has an unexceptably high rate of catastrophic engine failure because of too small oil channels...that when slightly gunked up...allows too little oil flow and the early Pentastar engines... which before valve guide hardening in newer versions... suffered from premature valve guide wear and failure as a result of heat and substandard lubrication. Hoping that the high detergent content and above average wear protection and reduction of oil breakdown...to make the difference. These engines will put Mobil 1 to the test
62beezer
outstanding product,lot's of history with mobil1
proof is in the miles. my2003Ford Ranger4.0 just turned 174,500plus miles with this oil. used wix filters until high mileage mobil 1 filter became readily available 125, 000 miles were in dallas , tx traffic and hot texas weather,balance in Missouri weather since retiring. still no oil consumption or leaks, gives me20- 22 mpg, 5spd, 4x4 with 4.10 gears. use same oil in my john Deere 445 lawn tractor, john deere4x6 gator, new scaggs turf tiger zero turn mower and new ford f150 4x4 eco boost 3.5 whichjust turned 35,000 miles, with no consumption, As a side note, use 5W40 mobil1 in my 65 hp john deere turbo diesel 5320 tractor, just turned over1000 hrs.with no oil consumption. my wife's Toyota Avalon 2014, run 0W20 mobil1 with mobil1 filter, change oil once a year, usually just a bit over 10,000 miles. does not us a drop of oil, currently at 50,000 plus, will change after bad weather is out of here , southwest missouri . current oil still looks clean on dip stick. gave us 35mgp round trip to Dallas, tx, over thanksgiving nearly 900 miles on the road. why use any other oil, as is readily available even in rural Missouri.