Mobil 1 10W-30 Full Synthetic Motor Oil, 1 qt.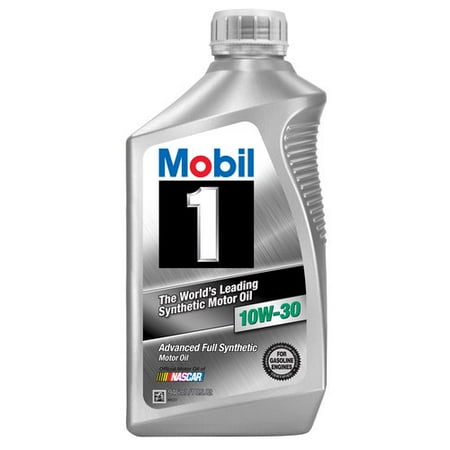 MSRP :

$6.97





Sale :

$5.73

Sold & shipped by Walmart
Product Description

Additional Information

Reviews
Product Description
Mobil 1 10W-30 Full Synthetic Motor Oil, 1 Qt is an advanced full synthetic engine oil designed to keep engines running like new by providing exceptional cleaning power, wear protection and overall performance. The formula meets or exceeds the requirements of the latest industry standards required by modern gasoline engines. Mobil motor oil technology comes as standard equipment in many different vehicles, including select high-performance vehicles. A reliable alternative to standard fuel, the lubricant will keep your engine running smoothly even on longer distances. Good for a range of vehicles, the full synthetic oil can be the go-to when capping off or changing out your current lubricants. Designed for warm or cold weather, it can adjust to give you the performance you need even under more demanding conditions. Created with extending engine life, the Mobil 1 10W-30 Full Synthetic Motor Oil, 1 Qt can be used to promote stability and keep oxidation at a minimum.
Additional Information

Mobil 1 10W-30 Full Synthetic Motor Oil, 1 Qt:
Advanced full synthetic formula
Helps prevent deposits and sludge build-up to enable long engine life
Excellent overall lubrication and wear protection performance for many driving styles
Outstanding thermal and oxidation stability
Proven performance during the maximum oil change interval recommended in a vehicle's owners manual
Enhanced frictional properties
Mobil Motor Oil helps aid fuel economy
Excellent low temperature capabilities
Quick cold weather starting for ultra fast protection
Helps to extend engine life
Reviews
Patty
This product is amazing !
We use this in 4 of our vehicles.It is a wonderful product.Our old Ford work van went 400,000 miles .Yes!
Deano
Pushing the limits
I use Mobil 1 synthetic oil in my 2011 Dodge Nitro 4.0 litre engine, my owners manual say change the oil every 8000 miles or 6 months. Your website recommends I use Mobil Super Synthetic 10w30 since it will go 7500 miles. I dont mind pushing my engine to 10,000 miles between oil changes with Mobil1 because I know it will protect my engine, I check my oil every week and it never goes down . a testament to how good your oil is.
ThePhoneCollector
Amazing and Versatile Oil
I use this stuff with so many things. My compressor motor calls for this. You can use it in your nailers and long term use or storage will not harm the orings like so many oils do. My pressure washer and the list goes on. Love your equipment use this oil.
JFL993
1986 Briggs & Stratton 140 CC lawnmower.
I have used MOBIL 1 SYNTHETIC in all my Porsches (street and track) since the 80's, but that is another story. This story is about a lawn mower which I bought new and ran "wide open" as a residential "bush hog" for 32 years. I changed the oil every spring with MOBIL 1 SYNTHETIC and noticed each year the oil while dirty (because of the atrocious operating environment) the engine used no oil and performed flawlessly. I became fascinated at about 20 years when I realized this lawnmower was falling apart in every way, wheels, carb, housing sheet metal, studs and bolts backing out of the engine, it was a complete wreck EXCEPT: it burned no oil and suffered no mechanical failures after running for decades and thousands of hours wide open (wished I had a HOBBS). To say the least, I loved this mower, my friends and neighbors howled at my eccentricity, but I paid them no mind, I know and understand true devotion, PLUS I had an ongoing SCIENCE PROJECT which I was going to push (literally and figuratively) to its conclusion. At 30 years the mower deck was "fully ventilated" and was probably dangerous, it needed its third set of wheels and the whole affair was just simply "string and bailing wire". None the less, I was not giving up on "The Red Devil"...I had owned this mower half my life and I was beginning to wonder who was going to be the last one running. I had hoped to open the engine one day and examine the wear index. However, at 32 years my better half insisted that "The Red Devil" had to go. I presented it to a young ARMY vet (who had admired it from afar) with the understanding that he would only use MOBIL-1 SYN and contact me IF the engine ever needed to be taken down as I wished to see the mysteries within. In great solemnity he assured me he would honor the terms and nervously loaded The Red Devil it into his truck. I take great comfort in knowing that if there is a heaven for lawn mower engines, "The red devil" is holding court! I concluded years ago that The Red Devil's longevity was 100% due to MOBIL-1 SYNTHETIC. To this day, I can not hear a mower run without harking back to all the good times with The Red Devil. In spite of all my pleas, my attorneys say I do not have a case against MOBIL and have suggested therapy.
Chris
Best oil you can buy
I've been using Mobile One for Years. i bought my 99 GMC Sierra 5.3 v8 new from the lot. always used mobile one for every oil change at 4,500 miles. i am currently at 524,790 miles and still doesn't skip a beat!!!