Mobil 1 10W-30 Full Synthetic Motor Oil, 1 qt.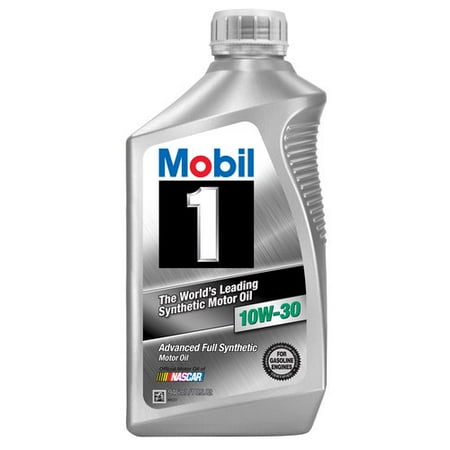 MSRP :

$92.99





Sale :

$7.89

Sold & shipped by Walmart
Product Description

Additional Information

Reviews
Product Description
Mobil 1 10W-30 Full Synthetic Motor Oil, 1 Qt is an advanced full synthetic engine oil designed to keep engines running like new by providing exceptional cleaning power, wear protection and overall performance. The formula meets or exceeds the requirements of the latest industry standards required by modern gasoline engines. Mobil motor oil technology comes as standard equipment in many different vehicles, including select high-performance vehicles. A reliable alternative to standard fuel, the lubricant will keep your engine running smoothly even on longer distances. Good for a range of vehicles, the full synthetic oil can be the go-to when capping off or changing out your current lubricants. Designed for warm or cold weather, it can adjust to give you the performance you need even under more demanding conditions. Created with extending engine life, the Mobil 1 10W-30 Full Synthetic Motor Oil, 1 Qt can be used to promote stability and keep oxidation at a minimum.
Additional Information
Mobil 1 10W-30 Full Synthetic Motor Oil, 1 Qt:Advanced full synthetic formulaHelps prevent deposits and sludge build-up to enable long engine lifeExcellent overall lubrication and wear protection performance for many driving stylesOutstanding thermal and oxidation stabilityProven performance during the maximum oil change interval recommended in a vehicle's owners manualEnhanced frictional propertiesMobil Motor Oil helps aid fuel economyExcellent low temperature capabilitiesQuick cold weather starting for ultra fast protectionHelps to extend engine life
Reviews
ThePhoneCollector
Amazing and Versatile Oil
I use this stuff with so many things. My compressor motor calls for this. You can use it in your nailers and long term use or storage will not harm the orings like so many oils do. My pressure washer and the list goes on. Love your equipment use this oil.
ROB1951
Mobil 1 has taken my 2012 E Class 110000 + miles.
Ran Mobil 1 in my 2012 BENZ E Class. Still doing great at 110,000 + miles.
Charlie025
Quality Beyound None!
Mobile 1 has been the only oil that I have used since it's inception onto the market. The time between oil changes has been around 7,500 miles and the vehicles do not show any excessive usage between changes.
Deano
Pushing the limits
I use Mobil 1 synthetic oil in my 2011 Dodge Nitro 4.0 litre engine, my owners manual say change the oil every 8000 miles or 6 months. Your website recommends I use Mobil Super Synthetic 10w30 since it will go 7500 miles. I dont mind pushing my engine to 10,000 miles between oil changes with Mobil1 because I know it will protect my engine, I check my oil every week and it never goes down . a testament to how good your oil is.
Patty
This product is amazing !
We use this in 4 of our vehicles.It is a wonderful product.Our old Ford work van went 400,000 miles .Yes!