Mobil 1 10W-30 High Mileage Full Synthetic Motor Oil, 5 qt.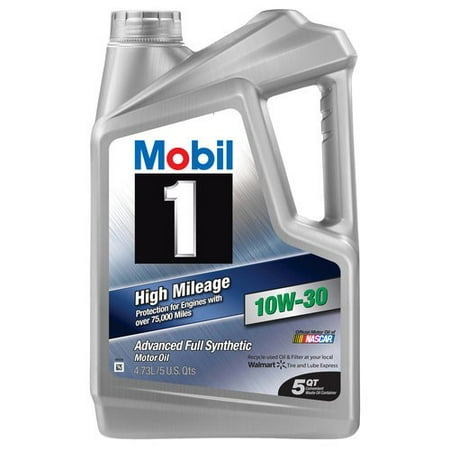 MSRP :

$33.79





Sale :

$26.68

Sold & shipped by Walmart
Product Description

Additional Information

Reviews
Product Description
Additional Information
Mobil 1 10W-30 High Mileage Advanced Full Synthetic Motor Oil, 5 qt:
High mileage motor oil specially designed for older engines
Provides wear protection, cleaning power and overall performance
Reduces deposits and sludge
Contains a seal conditioner to keep seals in working condition and help prevent leaks
Ideal for passenger cars, SUVs, light vans and trucks
5-qt bottle ideal for multiple oil changes
Helps older engines last for a longer time
Reviews
RichboroMan
Excellent Product
I really like this product. It really pays for itself. I would normally change the oil in my Vehicle every 3000 miles or 3 months. But Mobil 1 allows me to change the oil as long as the filter lasts. The oil is synthetic and unlike natural oil does not break down. So if you by a filter that has 3X capability you can change the oil every 9 months. Even though the oil is more expensive it works out to become cheaper because you only change the oil every 9 months. This oils co-efficient of friction is less that natural oil and causes less wear on the engine components (Cylinders and such) hence the engine should last longer. A friend of mine kept his Ford escort (4 cylinder) for 10 years and put 170,000 miles on it, the engine still ran great when he got rid of the car. In addition, since less energy is required to get the engine up to speed (less friction) the car get slightly better gas mileage. Ditto for the acceleration.
Freckles321
Excellent Product
This oil is great for older cars. We have an Oldsmobile Cutlass that is going on 300,000 miles! We have two other cars going on 200,000 miles. We don't do nothing special but keep the oil changed and other minor things. At Christmas we got 20% off the regular price of this oil on Cyber Monday. Super excited for this savings. :)
AmmoEngineer
Only place to get it in the 5 qt container
Half the price of getting it anywhere else. Walmart is the only place you can find it in the 5 qt jugs. Only issue I've had is it keeps selling out and I can't always get it when I need it.
OldMan2010
5 Star
Always used Moble 1 and when I went over 110,000 started using Moble 1 High Milage synthetic. Great oil pressure and don't need to add oil between changes (5000 miles).
Pete
Great Deal
Much cheaper than buying 5 single quart bottles. Recommend investing in a cheap funnel.