Mobil 1 10W-30 High Mileage Full Synthetic Motor Oil, 5 qt.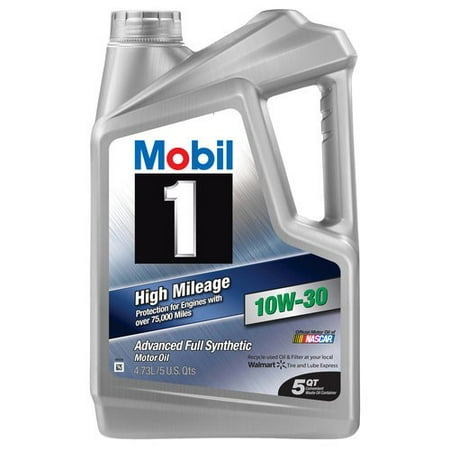 MSRP :

$33.79





Sale :

$22.88

Sold & shipped by Walmart
Product Description

Additional Information

Reviews
Product Description
Additional Information
Mobil 1 10W-30 High Mileage Advanced Full Synthetic Motor Oil, 5 qt:
High mileage motor oil specially designed for older engines
Provides wear protection, cleaning power and overall performance
Reduces deposits and sludge
Contains a seal conditioner to keep seals in working condition and help prevent leaks
Ideal for passenger cars, SUVs, light vans and trucks
5-qt bottle ideal for multiple oil changes
Helps older engines last for a longer time
Reviews
RichboroMan
Excellent Product
I really like this product. It really pays for itself. I would normally change the oil in my Vehicle every 3000 miles or 3 months. But Mobil 1 allows me to change the oil as long as the filter lasts. The oil is synthetic and unlike natural oil does not break down. So if you by a filter that has 3X capability you can change the oil every 9 months. Even though the oil is more expensive it works out to become cheaper because you only change the oil every 9 months. This oils co-efficient of friction is less that natural oil and causes less wear on the engine components (Cylinders and such) hence the engine should last longer. A friend of mine kept his Ford escort (4 cylinder) for 10 years and put 170,000 miles on it, the engine still ran great when he got rid of the car. In addition, since less energy is required to get the engine up to speed (less friction) the car get slightly better gas mileage. Ditto for the acceleration.
Oz
Excellent Product
I've been using Mobil1 in all my vehicles for years. No complaints. Priced right at Walmart and the 5 Qt container is real handy too.
armydad
Savings on oil changes.
The savings, can't be beat. No were else can you go for such savings on automotive products.
Patty
This product is amazing !
We use this in 4 of our vehicles.It is a wonderful product.Our old Ford work van went 400,000 miles .Yes!
Deano
Pushing the limits
I use Mobil 1 synthetic oil in my 2011 Dodge Nitro 4.0 litre engine, my owners manual say change the oil every 8000 miles or 6 months. Your website recommends I use Mobil Super Synthetic 10w30 since it will go 7500 miles. I dont mind pushing my engine to 10,000 miles between oil changes with Mobil1 because I know it will protect my engine, I check my oil every week and it never goes down . a testament to how good your oil is.