Mobil 1 5W-20 Full Synthetic Motor Oil, 5 qt.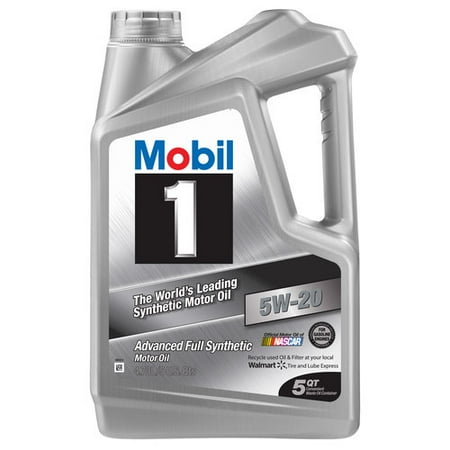 MSRP :

$158.99





Sale :

$25.47

Sold & shipped by Walmart
Product Description

Additional Information

Reviews
Product Description
Additional Information
Features-
5W20 Synthetic Motor Oil
5 Quart
Pack of 4
Meets Or Exceeds The Requirements Of The Industrys Toughest Standards
Including Select High Performance Vehicles
Dimension - 4-4 x 8-1 x 12-67 in
Item Weight - 9-54 lbs-
SKU: TRVAL58389
Reviews
NCBART
0W-20 Oil Doesnt Even Come Close to Guarantee
Hello, I have changed my daughters oil twice now and not even getting close to the guaranteed milege. The first change I only had 8K miles on it and the life was down to 15%, so I wasnt even going to get 10K out of it. I decided to give it a second chance since it was a brand new 2017 Honda H-RV, but the second change I only have 5K miles and the life was at 50% so I am going to be lucky to get 10K out of this change. I will definitely not be using this product again and will try another brand. And for the cost of this product, it should live up to its claims.
Trackerrrr
Excellent oil for the price
Full synthetic for less than $5 a quart, no auto parts store beats that. I use Mobil 1 in my Towncar and my Yamaha motorcycle and have had zero problems with this oil. For basically the same price as dino oil you get much better cold start oil flow and overall protection.
none
Synthetic Oil
To really judge how oil performs, I think it has to be tested over time. Most folks don't keep their cars long enough to know just how much difference there is between dino oil and synthetic. With that said, I have used synthetic oil long enough to know the benefits. I have maintained a friends vehicle since she got it new in 2001. 300,000 plus miles later, the engine still runs great. I have similar experience with a Poulan Pro riding lawn mower . . . 15 years of service and the engine is still as strong as the day I got it. Time between oil changes is extended vs. regular oil as well. I do use the Mobil 1 filters along with Mobil 1 synthetic oil. What makes it all that much better is that the price between synthetic and regular oil isn't all that much different as it has become more popular.
DouglasCarl
Synthetic Oil
Best motor oil for your car - especially if you want to keep it into high mileage. Both my wife and I also noted we were getting a few more miles per gallon after we switched to a full synthetic oil.
Goldnchild
Mobil 1 or NOTHING
I use nothing but Mobil 1 in my vehicles. Walmart has the best online prices that I found on 5 quart jugs.