Mobil 1 5W-20 Full Synthetic Motor Oil, 5 qt.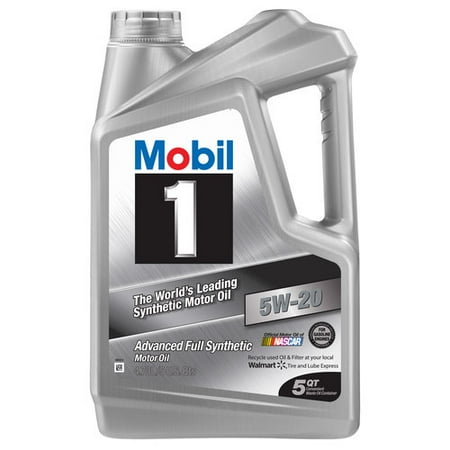 MSRP :

$25.47





Sale :

$22.88

Sold & shipped by Walmart
Product Description

Additional Information

Reviews
Product Description
Additional Information
Features-
5W20 Synthetic Motor Oil
5 Quart
Pack of 4
Meets Or Exceeds The Requirements Of The Industrys Toughest Standards
Including Select High Performance Vehicles
Dimension - 4-4 x 8-1 x 12-67 in
Item Weight - 9-54 lbs-
SKU: TRVAL58389
Reviews
Bob
Synthetic oil points
First, is synthetic oil better than traditional oil? Yes. Does you car benefit from synthetic? Maybe. I've spent many years on the road, often exceeding 50, 000 per year. Drove many cars over 200,000, no problems, all with traditional oil. But, two of my cars have four camshafts, high tech everything. Not going to take a risk. Add the extended mileage between changes and the cost is about the same.... last - Is this oil better than any other synthetic? I doubt there is any significant difference and there is no reasonable way to show the benefit of one brand in a traditional automobile.
none
Synthetic Oil
To really judge how oil performs, I think it has to be tested over time. Most folks don't keep their cars long enough to know just how much difference there is between dino oil and synthetic. With that said, I have used synthetic oil long enough to know the benefits. I have maintained a friends vehicle since she got it new in 2001. 300,000 plus miles later, the engine still runs great. I have similar experience with a Poulan Pro riding lawn mower . . . 15 years of service and the engine is still as strong as the day I got it. Time between oil changes is extended vs. regular oil as well. I do use the Mobil 1 filters along with Mobil 1 synthetic oil. What makes it all that much better is that the price between synthetic and regular oil isn't all that much different as it has become more popular.
Trackerrrr
Excellent oil for the price
Full synthetic for less than $5 a quart, no auto parts store beats that. I use Mobil 1 in my Towncar and my Yamaha motorcycle and have had zero problems with this oil. For basically the same price as dino oil you get much better cold start oil flow and overall protection.
Jay1921
Excellent oil for the price
Mileage improved....they make a good product you can trust.
DouglasCarl
Excellent oil for the price
Best motor oil for your car - especially if you want to keep it into high mileage. Both my wife and I also noted we were getting a few more miles per gallon after we switched to a full synthetic oil.