Mobil 1 5W-20 Advanced Full Synthetic Motor Oil, 5 qt.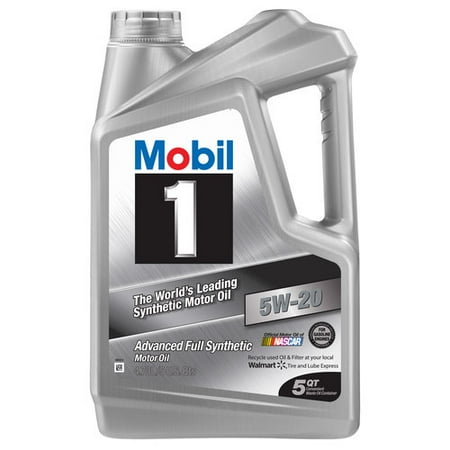 MSRP :

$158.99





Sale :

$26.68

Sold & shipped by Walmart
Product Description

Additional Information

Reviews
Product Description
Mobil 1 5W-20 Motor Oil is a specially formulated synthetic oil designed to keep your engine running like new by providing exceptional wear protection, cleaning power and overall performance. The oil helps to reduce deposits and sludge to protect your engine and give it a longer life. Made for all driving styles, this product will ensure that the engine stays lubricated to deliver optimal performance without overheating or oxidation. This Mobil 1 Motor Oil, 5qt, is designed to last for the longest oil change interval recommended for vehicles, and it can also improve the fuel economy of the engine. With excellent viscosity control, this oil meets or exceeds the requirements of the industry's toughest standards and outperforms conventional oils. Mobil 1 technology comes as standard equipment in many different vehicles, including select high-performance vehicles.
Additional Information
Features- 5W20 Synthetic Motor Oil5 QuartMeets Or Exceeds The Requirements Of The Industrys Toughest StandardsIncluding Select High Performance VehiclesDimension - 4-4 x 8-1 x 12-67 inItem Weight - 10-07lbs-SKU: TRVAL58389
Reviews
Brian
Runs like new
I have been using Mobil1 in my car for a long time and after over 225,000 it still runs like new without any engine work. Wal-Mart offers the best price for this oil.
Edward
Awesome Product!!!
I've have used Mobil One 5W20 since purchase of my new 2011 Toyota Camary , I was shocked as I found out ( damaged oil pan ) leaked out ALL ENGINE OIL from a returned trip from Texas to California!!! Over 1800 miles with no Damage to engine!!
Diamondjim
Mobil 1 full synthetic 5-20
I recently purchased a 2004 Ford F-150 with 137,000 miles on it. The 5.4 Triton engine was quite loud upon startup. I was told it was a noisy lifter. I'm not sure what oil was in it but I decided to try Mobil 1 full synthetic 5-20. I'm happy to report that it really quieted the engine substantially. It was noticeable almost immediately. I figured if NASCAR drivers use it that it was good enough for me. I also used the Mobil 1 oil filter. Well worth the price. I'm sold on Mobil 1 and plan to stick with it. I will get easier start ups this winter in the Idaho cold plus I will get longer life between oil changes.
Trackerrrr
Excellent oil for the price
Full synthetic for less than $5 a quart, no auto parts store beats that. I use Mobil 1 in my Towncar and my Yamaha motorcycle and have had zero problems with this oil. For basically the same price as dino oil you get much better cold start oil flow and overall protection.
none
Synthetic Oil
To really judge how oil performs, I think it has to be tested over time. Most folks don't keep their cars long enough to know just how much difference there is between dino oil and synthetic. With that said, I have used synthetic oil long enough to know the benefits. I have maintained a friends vehicle since she got it new in 2001. 300,000 plus miles later, the engine still runs great. I have similar experience with a Poulan Pro riding lawn mower . . . 15 years of service and the engine is still as strong as the day I got it. Time between oil changes is extended vs. regular oil as well. I do use the Mobil 1 filters along with Mobil 1 synthetic oil. What makes it all that much better is that the price between synthetic and regular oil isn't all that much different as it has become more popular.